Coronation of the Mehtar of Chitral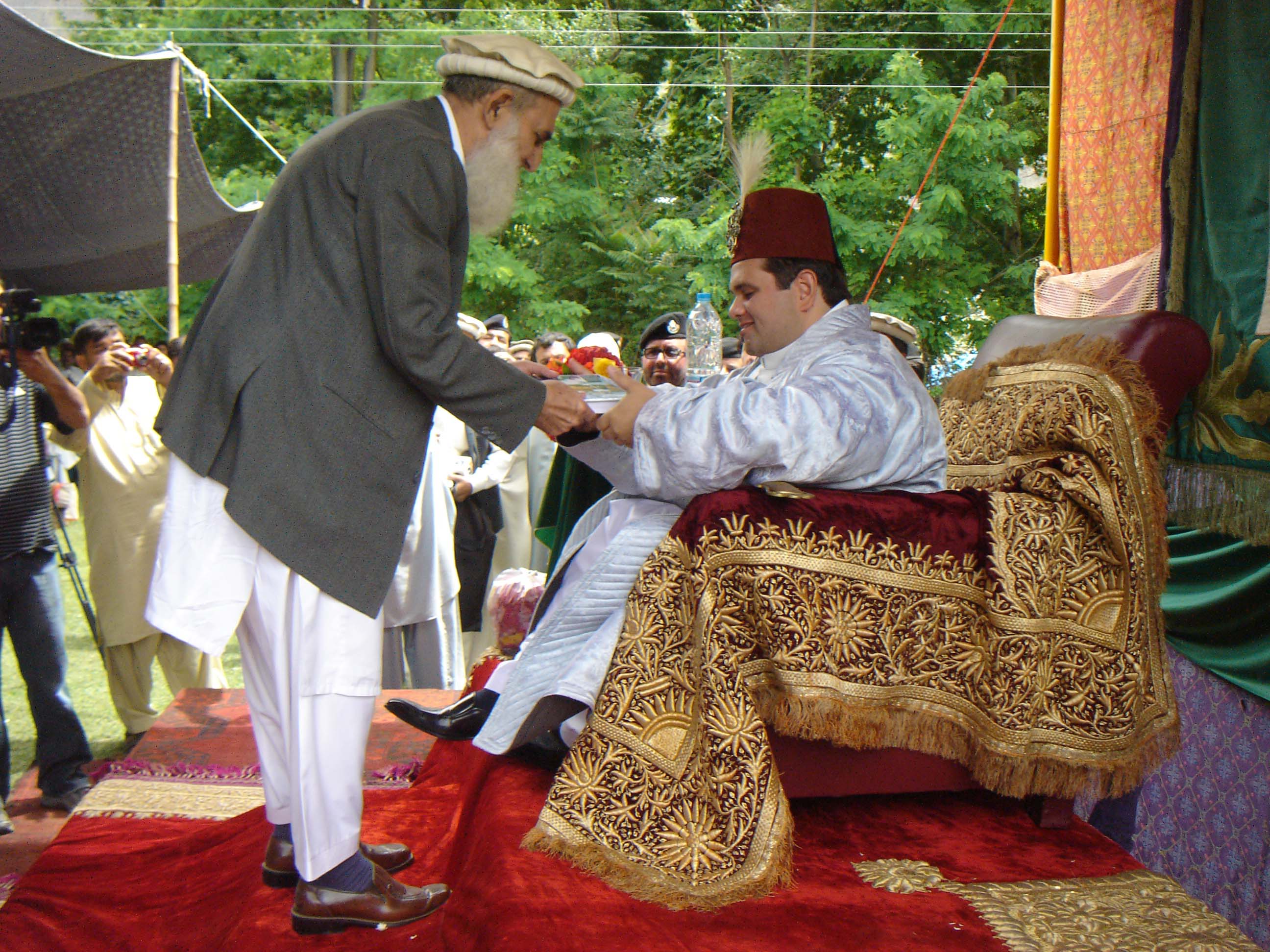 Gul Hammad Farooqi
Chitral: Crowning cum coronation ceremony was held at Chitral Royal (Shahi) Fort after 58 years. Saiful Mulk Nasir was Last Mehtari Chitral who died on October 18, 2011 and was laid to rest at Shahi graveyard. His young son Fatihul Mulk Ali Nasir was at that time nominated his successor.
Born on November 27, 1983, Fatihul Mulk is a law graduate, BA from university of Buckingham UK and LLM from USA. He was formally crowned as the symbolic Mehtar of Chitral the other day in an impressively colourful ceremony attended by the people of Chitral, as well as foreign delegates and other guests. Prominent among the participants were princes of the royal families of adjoining districts of Yasin and Amb and foreign diplomats like Pehin Colonel Retired Abdul Jalil Ahmad High Commissioner of Brunei Darussalam, Ambassador of Phillipine Jesus J Yabes and H.E E San Myintoo Ambassador of Myanmar.
Raja Jalaluddin of Yasen and current Chief Justice of Gigit-Baltistan High Court and Salahuddin Sayed, former Nawab of Amb, also attended the ceremony and felicitated the Mehtar on behalf of their people. Haji Hidayatullah, Minister for Livestock and Dairy Products, represented the provincial government.
Earlier, Shahzada Muhayudin, Dr Inayatullah Faizi, Maula Nigah, retired bureaucrat Islamuddin, Sahib Nadir Advocate, Siffat Zarin and Sardar Agha congratulated the Mehtar and expressed their symbolic allegiance from their respective clans and area people. Later, a music party was arranged at the lawn of the fort where artists across the district performed.
Shahzada Fatehul Mulk Ali Nasir, the eldest son of the deceased Mehtar of Chitral Saiful Mulk Nasir, received his LLB (Hons) degree from University of Buckingham UK and LLM from University of Miami, USA. He belongs to the famous Kator family who ruled Chitral from 1595 to 1969 when the state status of Chitral was abolished by the then military ruler Gen Yahya Khan and merged in Pakistan. Although after the abolishment of state status of Chitral, the Mitar has lost all his administrative, legislative and judicial powers but like British people Chitralis hold their traditions in high esteem and it was explicitly demonstrated by them in the coronation ceremony. Like British Monarch, the Mehtar can use the institution to bring about harmony and unity among Chitralis who belong to a diverse social and sectarian background. If he worked hard honestly for the prosperity and betterment of the people, he would always find Chitali people at his back and call. Would the young and highly educated Mehtar of Chitral be able to transform the dreams of Chitralis into reality by becoming the true custodian of glorious Chitrali culture and making Chitral a model district of Pakistan? We wish and pray that he succeeds in his mission. well known writers Professor Israruddin and Professor Karim Baig presented their books to new Mehtar on Chitral history.
A musical concert cultural show was also held in the adjacent of Shahi Fort. A friendship Polo match (Game of Kings) was also played at polo ground Chitral in Afternoon which was attended by new Mehtar as well as foreign diplomats and a large number of people which was ended peacefully due to exemplary peace of Chitral.