National Budget: 16 billion earmarked as GB "Block Development Allocation", 13 billion for Diamer Dam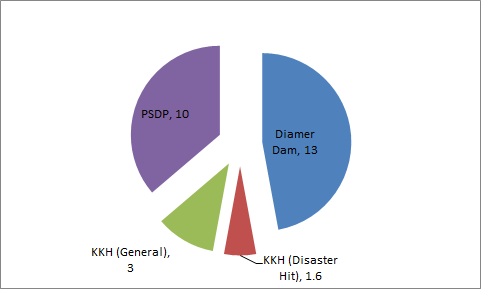 Our Correspondent 
Islamabad, June 1: The federal government has earmarked slightly over 16 billion rupees for different projects in Gilgit – Baltistan region as Block Development Allocation. This includes 3 billion rupees for expansion and repair of the KKH and 1.6 billion rupees for restoration of the Karakuram Highway affected due to damming of the Hunza River. 100 million rupees have been allocated for extension of Fiber Optic Cable to the remote reaches of Gilgit – Baltistan and Azad Jammu Kashmir region. Around 7 billion rupees have separately been allocated for different projects, including 4 hydral power projects.
Other steps proposed in the budget are appointment of 5,000 police personnel, hundred percent increase in salary of police officials, provision of monthly economic support to 50,000 households under Benazir Income Support programme, launching of mega development projects as part of PSDP at a cost of ten billion rupees, besides expansion of Gilgit and Skardu airports and upgradation of Sost Dry Port for increasing trade links with China.
University students at Masters and PhD level will benefit from the federal government's plans to pay tuition fees of the students of GB, AJK and FATA.
13 billion rupees have, separately, been allocated for completion of the Diamer Dam.
5 billion rupees have been allocated for "institutional capacity building" in GB, the federal finance minister said in his budget speech.
Thousands of employees of the federal government in GB will also benefit from the 20% ad-hoc raise in salaries and pensions.