Biking to the Extreme North – Part III
Kaiser Tufail
The third leg promised to be different as we had to negotiate the 18-km longAta-abadLakethat, in one of the vagaries of Nature, came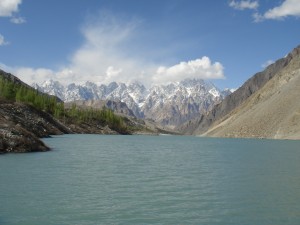 into being three years ago as a result of a massive landslide damming theHunzaRiver.  We arrived at a dirty little jetty, where disorder and confusion vied with dust and a merciless sun to rile the coolest of nerves.  It took some tough shouting to ensure that our bikes were not mishandled as they were hauled onto the boats.  Thereafter started a 90-minute ferry, what with a deafening putter of the diesel motors for a serenade, as we watched the reflection of the towering mountains in the turquoise waters of the lake.  Disembarking a little short of Hussaini, we found ourselves in Gojal Tehsil or theUpperHunzaValley, where Hunza's Burushaski language largely gives way to the Afghan-linked Wakhi.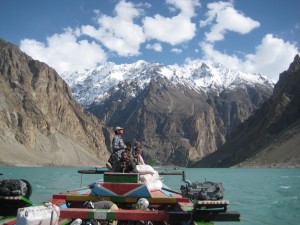 Already tired and profusely hungry, the stretch from Hussaini onwards to Pasu was torment for our lower limbs.  We had to get off the bikes when even the lowest gear refused to generate forward motion over the precipitous mountains.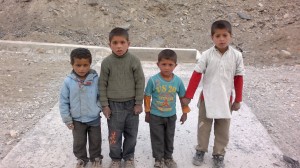 After a good two hours of lugging our wobbly selves along with the bikes, we finally hit downhill.  In the fading light of the day, a 'Welcome to Pasu' road sign came as a godsend and we raced to get toSarai Silk Route, a small but adequate hotel.  As everywhere else, our requirements centred on a hot bath and enough to eat, both of which were available promptly.  Over dinner, our waiter who preferred to speak only in English, explained that he was basically a tourist guide and in this lean season, was doing odd jobs.  Those with better means were offering the services of their vehicles to the locals to get to the ferry at Hussaini and back.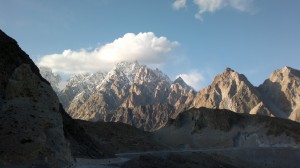 TheAta-abad Lake has hampered the movement of tourists as well the locals, who have to pay hefty amounts to get their goods across.  A permanent solution seems years away, though it is my considered opinion that two modern berths at either end, suitably equipped with cranes to service heavy duty barges, might be a functional interim solution.
The hearty dinner we had at Pasu gave us reason to rest an extra day, for Shahid had taken ill not long after the meal.  In the meantime, I sauntered around the apricot and apple orchards and, took some striking pictures of the serrated Pasu peaks also known as the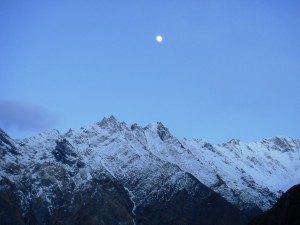 Cathedral Spires.  The day after, we set course for the fourth leg to Sost, which is the dry port for trade withChinavia the Khunjerab Pass, 80-km further east.  After another arduous day of cycling which saw us through the beautifulvillageofKhaibar–  where everyone looked like a Bosnian or a Croat – we arrived in Sost.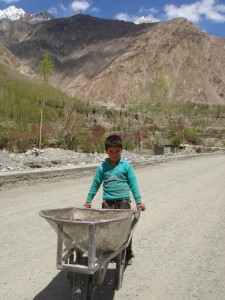 A rather shabby town despite the natural beauty all around, we were hard-pressed to look for accommodation.  Due to an unusual influx of two busloads of Japanese tourists, the PTDC Motel was fully booked; however, we were permitted to set up our tents at the little camp site in the hotel premises.  Once again a hot bath and, some very appetising food served by a most eager-to-please waiter Shams-uddin, lulled us to an early sleep.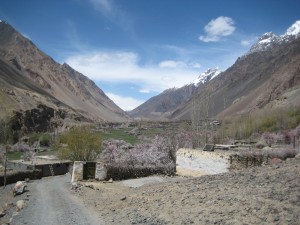 It was a wonder that, having biked for more than 200-kms over a rubble of a highway, our cycles held out, with not even a puncture to stop our progress.  We were glad that much of our cycling was over, but in all earnest, we knew that the remaining trek wouldn't be Boy Scout stuff.  Physical rigours had expended the last of our calories and will power had been sapped to the last grimace. KilakPasswas still 7,000 feet above and, a perilous 55-kms beyond.  Our trainer in boot camp of yesteryears, the late Sqn Ldr Sabir, had always reminded us that when all else is spent, determination surely lends a helping hand.  We had loads of it and it was time to tap into this resource.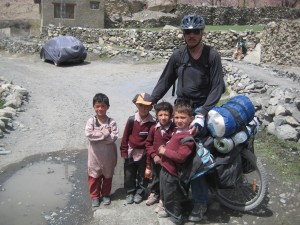 As we set out from Sost for Misgar about 15-km away, we were excited about seeing this last outpost of the British Empire.  During the 'Great Game' of the late 19th century, Misgar served as an important station for keeping an eye on Czarist Russia's involvement, gauging the extent of Chinese influence and, trying to manipulate the double-dealing Mir of Hunza to side with the British.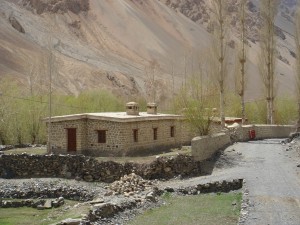 Much earlier in 1844, Mir Ghanzanfar Khan of Hunza had driven out some Kyrgyz settlers in the area in an effort to assert his authority and, to secure exclusive trade relations withChina.  After evicting the intruders, the Mir ordered his small expeditionary force to settle there permanently, which is how the Burushaski-speaking Misgar village emerged in the predominantlyWakhi-speaking of Gojal, Upper HunzaValley.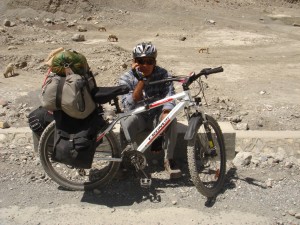 About an hour out of Sost, we diverted off theKarakoram Highway, onto a very steep jeepable track that led to Misgar.  During the climb, one had to keep the eyes off the deep gorges and plunging ravines, lest a flash of dizziness caused a fatal wobble.  After some of the toughest cycling so far, we reached the outskirts of the village, welcomed as usual by little children asking for their share of pennies.  Misgar is set in a valley of verdant fields and rushing streams surrounded by towering snow-clad mountains.  Terraced gardens, awash with pink apricot blossoms, were tended by colourfully clad womenfolk.
We had planned to hand over our bikes to the village numberdar (headman) and, on making an inquiry about his residence, were held back for a cup of tea by a stranger.  Our host Irshad-ullah would not let us go without taking a little rest and he brought in his excited children who met us most courteously.  After some invigorating tea and biscuits, we took leave and headed for the numberdar's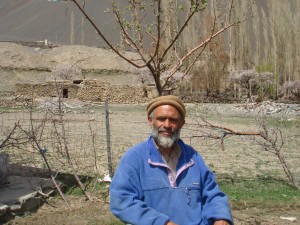 residence at the far end of the village.  A surprised Ata-ullah welcomed us at his home and insisted that we stay over for a night as we were tired.  When we told him that we were hard-pressed due to our schedule and wanted to start our trek immediately, he got busy with arranging porters for us.  In the meantime we readied the backpacks, tents, sleeping bags and our food supplies which were to be carried along, while the bikes were safely kept by Ata-ullah.  In an hour, we were hiking off to Runghil, about 13-km away.  On our way out of Misgar, we passed by the old post and telegraph office that was an important message despatch facility for the British and, continues to be fully functional nearly a century after it was established in 1916.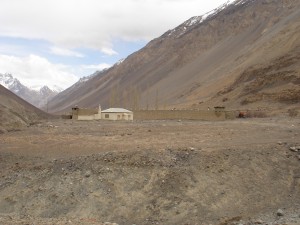 Five kilometres out of Misgar, we came across the Qalandarchi Fort, another relic of the 'Great Game' where the British maintained a small garrison to keep an eye on Russian and Chinese activities across the frontier.  We decided to survey the fort on our way back, so more about it later.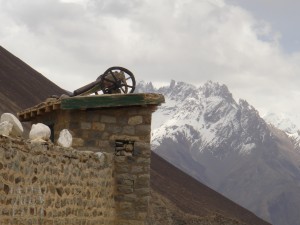 From Misgar to Kilak, there are several shepherds' way stations having a single stone hut each, where a team of four shepherds lives during the summer grazing season.  The shepherds take short monthly breaks to Misgar in rotation for visiting their families, and for restocking their food supplies.  A single team tends a flock of as many as five hundred sheep and goats, most of which are later sold off in the markets of Gilgit and Hunza.  Runghil was the first of these staging posts where we camped for the night, reaching there just before night fall.  Our porters being educated up to high school had kept up a good conversation, filling us up on the terrain, flora and fauna, as well local lore and history.  Out of mobile phone coverage, we started using the handy satellite phone to call our families daily about our progress and well-being.
Next morning, a nourishing breakfast of oatmeal and coffee cooked by Shahid over firewood got us going to our next destination of Morkushi.  Being a mere seven kilometres from Runghil, we reached Morkushi by midday and decided to give ourselves a rest as some tough trekking was expected the following day.  Morkushi is another shepherds' way station and large herds of goats could be seen grazing in the alpine meadows at an elevation of 12,000-ft.  Juniper, birch and willow are the common trees of the valley.  Wild rose grows plentifully, and some delightful White-winged Redstarts (Phoenicurus erythrogaster) could be seen perching on the bushes, seemingly filling in for the roses that had not yet blossomed.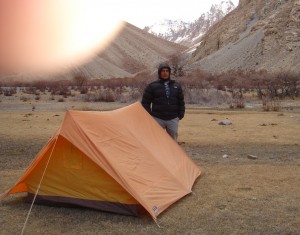 "Down in the little wood of stunted birch trees by the river," wrote the explorer Sir Aurel Stein about the site where he had camped in 1900, on his way to Kashgar via Kilak Pass.  We too, found a place to camp in the woods by the river and Shahid soon got to work building a fire for a meal of rice and vegetable soup, while I collected some ice-cold water from the nearby river.  The Kilak andMintakaRiversmeet at Morkushi, flowing in from the north-west and north-east respectively.  Interestingly, while the sandy bed ofMintakaRiveris sparkling white, that of Kilak River is jet black seemingly laden with antimony compounds, though a proper soil analysis might suggest a more complex composition.
The final part of this story will be posted on Thursday, 21st June 2012. Keep visiting and share with your friends 🙂 
Read Previous Parts (Click on the links below):
Part II