Civil society condemns target killing of 19 people in Naran Valley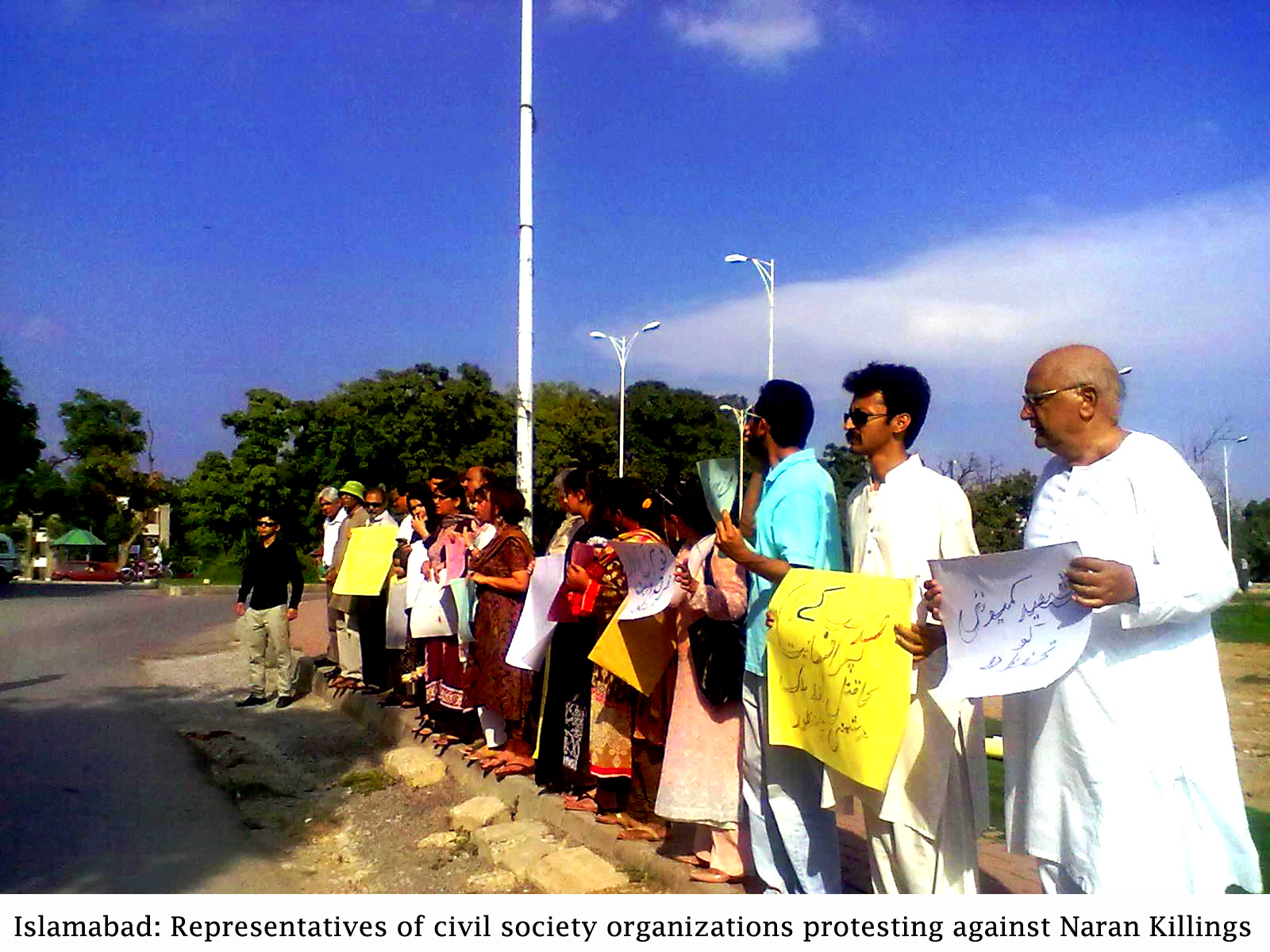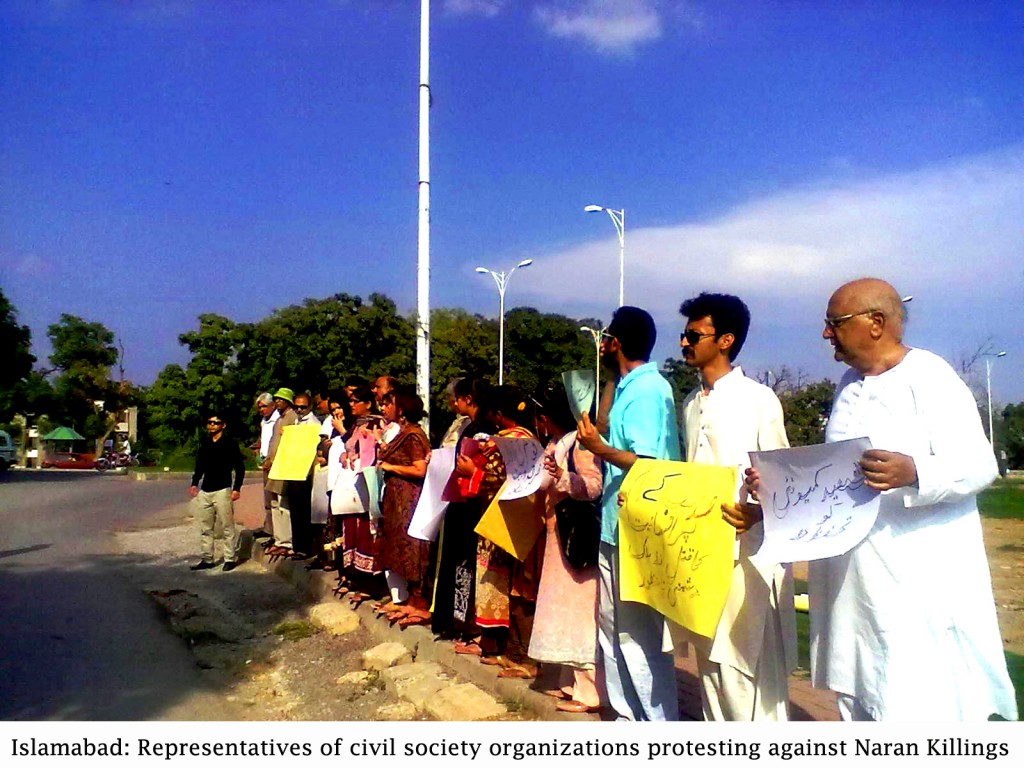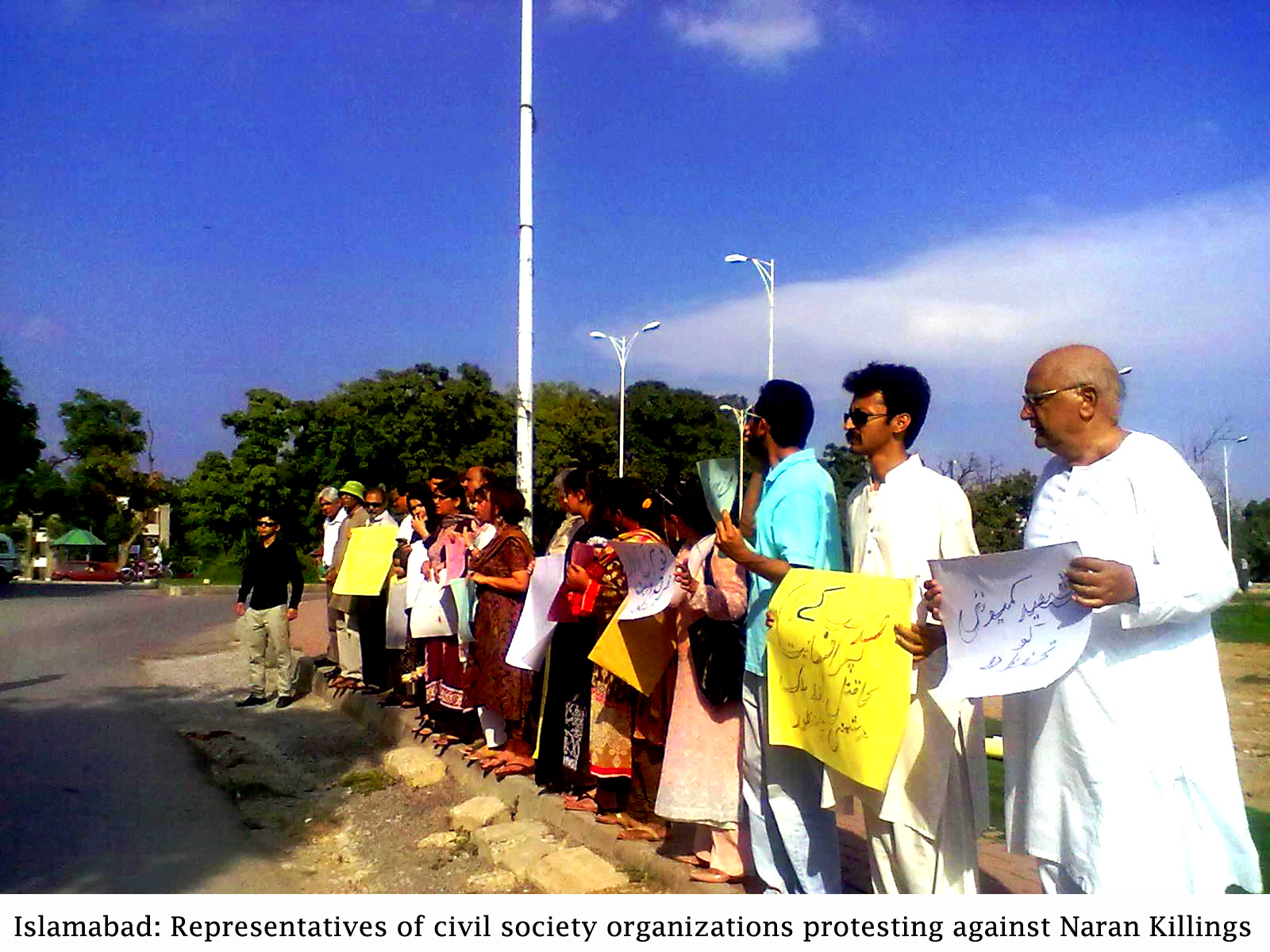 Islamabad: Civil society activists gathered in front of National Press Club to condemn the target killing of 22 innocent people because of their religious faith when they were on their way to Gilgit-Baltistan.
The protestors chanted slogans against the target killing on the basis of religion and sect and demanded the government to provide protection to Shia community.
They urged the government to immediately arrest the perpetrators or otherwise resign. They said that hundreds of people belonging to Gilgit-Baltistan are forced to spend Eid in Islamabad as they do not feel secure to travel on the only road leading to their native areas.
They said that the alarming rise in the trend of sectarianism in general and targeted sectarian violence against Shia community in Gilgit-Baltistan and Balochistan in particular is a matter of grave concern for all conscientious citizens of Pakistan and pointed out that the failure of government to provide protection to religious minorities instils a huge sense of insecurity among the people across the country.
"We have constantly been protesting on these crimes against humanity and have been demanding the government to take stern action against the perpetrators involved in committing these heinous acts. To our utter disappointment nothing substantive has been done so far by the government to stop the violence which is pushing the country towards a civil war situation," said human rights activist Farzana Bari.
She blamed the establishment for such incidents and said that the government has always announced enquiry committees after such incidents but no such committee had been able to provide relief to victims and their families.
"This is the fundamental responsibility of the government to establish the rule of law in the country and provide protection and safety to all its citizens irrespective of their cast, creed, gender, class and ethnicity," she said adding that she feels ashamed to be the citizen of country where crimes against humanity are committed on daily basis with such impunity.
Executive Director Potohar Organization for Development Advocacy (PODA) Samna Nazir urged religious political parties to play their role and issue statements against religious groups involved in sectarian killings. She regretted that no religious party has condemned the brutal killing in Gilgit-Baltistan. She also demanded ban on all groups operating in the name of religion or sectarianism in the country.
Rehana Hashmi from Sisters Trust termed this incident a part of ethnic cleansing going on in this particular area and said that no Muslim can kill innocent and unarmed Muslim brothers especially during the holy month of Ramazan. She regretted that identity cards have become a source of insecurity for the innocent citizens within their own country.
Mustafa Kamal and Kamil Jan from Gilgit-Baltistan Volunteer Movement said that the road to Gilgit is not safe for any one either Sunni or Shia. They urged the Supreme Court of Pakistan to take Sue Moto notice of the brutal killings and said that such incidents depict the failure of the central government in providing security to its citizens. "This is not the first time such incident has happened in this area. The government and highest judiciary has always ignored the issue," said Mustafa Kamal.
Chairperson International Human Rights Association, London, Barrister Rubab Mehdi Rizwi said that the incident was an open act of terrorism. She said that it is heartbreaking that so many families have to face the tragic death of their loved ones just before Eid.
A statement endorsed by civil society organisations including Movement of Justice, Pattan Development Organisations, Sungi Development Organisation, Rozan, Human Rights Commission of Social Justice and Peace, Women Councillor's Network, Awami Party Pakistan, Women Action Forum, SPO, Sister's Trust, Sachet, Labour Qaumi Movement and Shirkat Gah was also shared with the media on this occasion.
The statement appeals to all political forces in the country to speak with one voice without any reservation to condemn religious militant groups involved in fanning sectarianism in the country and killing of innocent people because of their religious belief. It demands ban on all sectarian organisations in the country and urges the government to come up with an affective strategy to defend religious minorities and sects in the country.
The statement notes with disgust that despite claims of some of the banned religious outfits who publicly take the responsibility for these horrific crimes against humanity in Balochistan and Gilgit-Baltistan, no action has been taken against these organisations.
Courtesy: The NEWS