Convention of Primary Teachers Association held in Chitral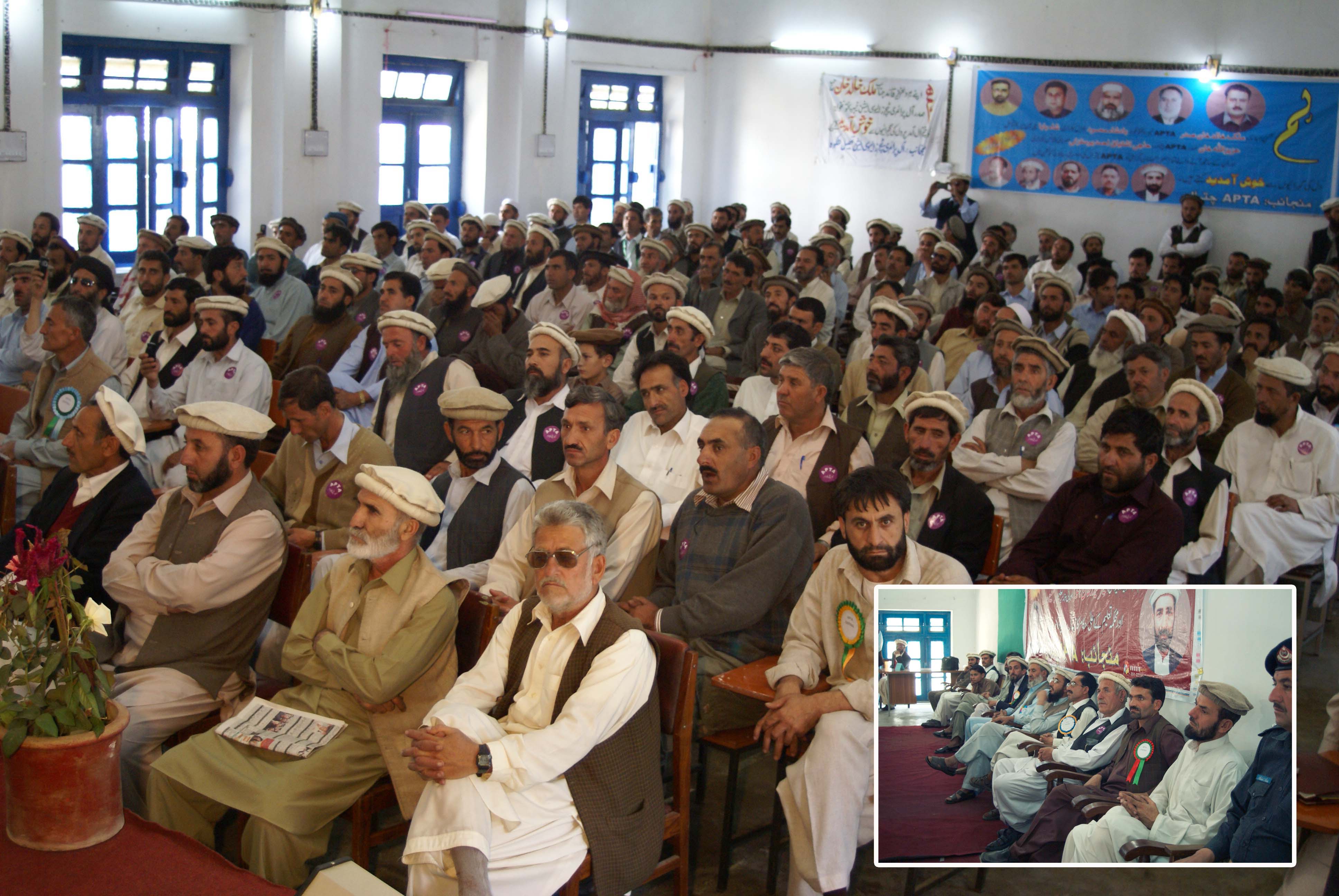 Gul Hammad Farooqi
CHITRAL:  Second convention of the All Primary Teachers Association (APTA) was held today at Commerce college hall Chitral. Provincial president of APTA Malik Khalid Khan was chief guest on the occasion while the convention was presided over by Muhammad Ashraf, President APTA Chitral district.
Addressing on the occasion the speakers thanked provincial government especially chief Minister Amir Haider Khan Hoti, education Minister Sardar Hussain Babak and high ups of education department for fulfillment of their long awaited genuine demand of   up gradation of primary school teachers and enhancing their scale from 5 to Basic pay scale 15. The speakers said that this is the only government who owed their promise for giving real status to primary school teachers. Hence this is moral obligation of teachers to perform their duties with great honest and sincerely to restore public trust on government schools. and to motivate them to enroll their children in government schools for quality education. They said that only teachers can change a nation by educating their students because no nation can develop without knowledge and modern education. They said that although primary school teachers facing great problems due to shortage of class rooms and teachers in primary schools but even than they determined to create a useful nation by teaching their students with great zeal and zest and to look after them for preparing them a useful citizen.
They said that our campaign will be continue and we optimists to enhance PST scale to grade 18, District president of APTA Muhammad Ashraf announced by declaring 10 model schools different parts of Chitral who will be monitored by him, EDO Education and authority for best education.  He emphasized on teachers to never loss their prestigious and APTA will never support any defaulter teacher who not perform his duty. He stressed upon teaches to must enroll their children in their own schools and he did so practically by enrolling his school in government school.  Traditional gifts of Chitral were presented to provincial office bearers of APTA and other guest who participated this convention from other districts. School children presented Hamd, Naat sharif and national anthem. Provincial president Malik Khalid also announced 4000 cash awards for students who performed in sophisticated way.   Stage secretary Sharifullah stressed upon his colleagues to play vital role in educating the nation. A unanimous resolution also passed during the convention in which they thanked to provincial government and demanded for solving problems of primary schools problems by construction of more class rooms and fulfillment of vacant posts in these schools. They also passed a resolution by condemning blasphemy film makers and demanded from government to struck off diplomatic relation with USA. Haji Azizur Rehman, Sanaullah, Muhammad Rafi, Muhammad Ishaq, Muhammad Jamil, Azizullah, Badshah Mahmood, Malik Khalid Khan and Muhammad Ashraf. A large number of teachers of primary schools participated in second annual APTA convention.