What does CPEC mean for Gilgit-Baltistan?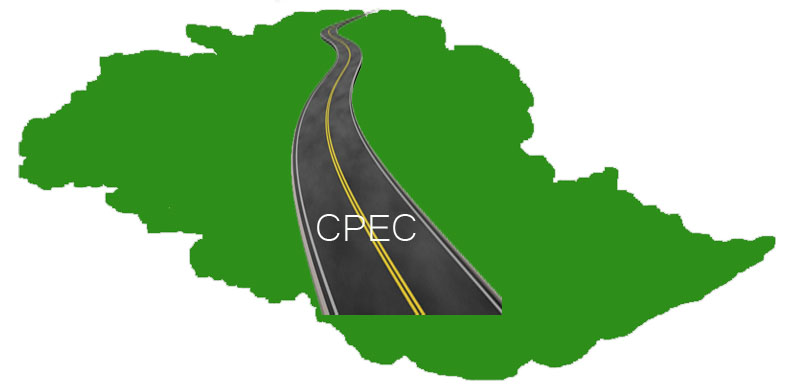 By: Yasmin Farman
China Pakistan Economic Corridor (CPEC) is a part of One-Belt One-Road (OBOR) initiative of the Chinese government to expand its economic horizons around the globe. CPEC is famously coined as a "Game Changer" for Pakistan, as it is expected to enhance economic development in the country. However, some have also argued that it is "the end of the game", basing their arguments on the challenges associated with this gigantic project.
CPEC aims to develop Special Economic Zones in Pakistan through a combination of infrastructure projects including transportation, energy and port development. CPEC will connect Western China with Gawadar port in Baluchistan province of Pakistan.
China transports 80% of its oil, through Strait of Malacca to Shanghai on ships and covers a distance of16000 km which takes around two or three months, whereas via CPEC it will cover 3218 km, shrinking down the shipment time to a few days.
The initial budget for CPEC was projected near $45 billion. However, the portfolio is reported to have grown to $110 billion. It is important to note that CPEC is not just a road rather a network of connectivity, industrialization, energy generation, promotion of trade and tourism.
While discussing CPEC, the importance of Gilgit-Baltistan (GB) cannot be neglected, because GB is the gateway for CPEC, and also the proverbial Chicken Neck.
The mighty Karakorum Highway (KKH) – known as the 8th wonder of the world – was built in 1968-78 to connect China to the Western World by giving access to Arabian Sea. CPEC will continue to build on the existing KKH, passing through the mountains of Gilgit-Baltistan. The KKH will be improved and few new roads will be constructed for smooth travel, moreover new bridges, tunnels and railway track is expected to construct to connect Kashgar city of China to Havelian in Pakistan. As GB shares its border with China therefore the business terms has remained friendly between this region and China for past many years, although the Free Trade Agreement was signed between the two countries in 2006.
What does CPEC have for the people of Gilgit-Baltistan?
The distribution of CPEC related projects all overall Pakistan shows that GB is going to gain very little from this project, as so far no hydropower project or industrial project is included for this region, other than the Magpoondas Special Economic Zone and the Optic Fiber connection.
However, if we look at some indirect impacts of the project, the it is apparent that GB is likely going to benefit in terms of business development, energy generation, infrastructure development and telecommunication. The connectivity through road and train plus intra-city roads will aid to increased social and economic integration. Moreover, resource development is expected in the region as people are getting trainings, learning Chinese language and business skills.
CPEC is also fraught with myriad challenges for the region including potential negative influence on local environment, indigenous economy, and the culture. With roll-out of KKH expansion and construction of other roads and due to increased transportation the ecology of the region will be badly affected. Only smoke emitting from trucks will be left out for the local people to inhale while the foreign traders, businessmen and entrepreneurs will reap profits. It will also exacerbate an already dire situation of solid waste management across GB especially in Hunza valley and Gilgit city.
In order to understand the economic opportunities and threats CPEC poses to the people of GB we must try to understand indigenous economy, local capacity and livelihoods of the people. Most of the people in this region rely on small scale farming and agriculture, a considerable portion of the population are salaried persons with the government and private sector, and a small fraction of the population is engaged in small scale enterprise and businesses. Owing to lack of industry in the region, lack of experience in trade and business development, the indigenouspeople are likely to get engaged in menial jobs. Unfortunately, the academia is either not doing any good by producing good workers instead of inculcating business acumen in the young people.
In addition, local cultures will be invaded with the flow of Chinese and people from all across Pakistan.  The already vanishing languages will be further endangered. The local people, while in the pursuit of coping with the cultural shocks, it is likely they tend to assimilate in other cultures by adopting their values, traditions and language. This has already been the case in some of the smaller segments of GB such as Dumaki language for which Aziz Ali Dad has beautifully captured in his thoughtful writings; A Vanishing Voice.
What should be done to mitigate the CPEC challenges and to benefit from the opportunities?
It is crucial for the local people to organize,discern and prepare themselves accordingly. People of GB are unaware about their legal stance, citizenry rights and the potential impacts that CPEC is going to bring with it. To be able to understand what CPEC is, in what ways GB and its people are going to get affected, how we could respond to the challenges and opportunities, at community, society, and state level, I propose some of the followings steps should be taken;
Establishment of a CPEC related Think-Tank in Gilgit-Baltistan
There is a dire need for a think-tank where development practitioners, researchers, business experts, political leaders and even students willcome together to engage in research, advocacy, and planning regarding CEPC. This platform could serve as the evidence-based research group with a primary mandate to guide and advocate policy makers – members of Gilgit-Baltistan legislative assembly GBLA – to formulate policies that will protect indigenouspeople, its economy and culture. GBLA should have the ability to bargain with the government of Pakistan as well as with the government of China to promote and protect the rights of local people. Unfortunately, the current GBLA hasn't taken any specific measures to promote This entity will also engage academia especially Karakorum International University to conduct research, offer specialized courses to help prepare young minds for CPEC and equip young people with marketable skills.
Strengthening Role of Civil Society
GB has already experienced dramatic economic transformation primarily stimulated by Aga Khan Rural Support Programme through community mobilization and social action. Almost every village in GB has a grass root platform known as Village Organizations, Women Organizations and Local Support Organizations. These institutions need to be strengthened and empowered through intensive training, sensitization and capacity building.
The importance of social organization was highlighted by the present General Manager of AKRSP, Mr. Muzaffar Uddin, while giving his interview to PTV World "One thing which we learnt from AKRSP's experience is that when Karakoram Highway (KKH) was constructed, those communities took maximum benefit from KKH than those areas of people where they were not organized so what I personally think is people who have a plan or who are organized will get maximum benefit of CPEC, otherwise it would be like the Indus River, we see it rise and fall but can't get benefit of that. Similar thing will happen with CPEC we will see trucks going and coming but won't get any benefit. One very important aspect which is part of RSPs movement, we call it Human Capital. Investment has been done initially and now we need to expand it more relevant to all these opportunities then we can I think get maximum benefit from mega investments, which are for people's benefit so it's about how we organize ourselves to get maximum benefit."
Capacity Building and Training
Various training programmes should be introduced across GB to tape the opportunities. This may include high level technical skills such as IT, information management, international trade laws and marketing as well other technicalskills like cargo management, transport management, hotel management and tourismpromotion. Introduction of Chinese language in school curriculum could be another important milestone to be better equipped to handle effects of CPEC.
Youth Development Programmes
Specialized programmes should be introduced preparing youth for the future.  This may include awareness raising sessions, mobilizationand trainings. Different youth forums and platform should be made to engage youth in discussions related to CPEC and its impacts on socio economic dynamics of GB. Student politics at school, college and university level in Gilgit-Baltistan should be introduced as this will help them understanding and taking interest in politics of the region as well. Teachers should support students in carrying out different researches on CPEC and its implications.
The writer is a development practitioner based in Gilgit. Email: jasmine-ali@hotmail.com