Chilas: Prisoners protest against "mistreatment"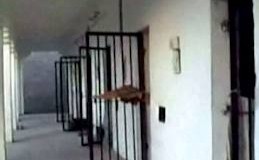 Mujeeb
Chilas, October 19: Inmates at a jail in Chilas scuffled with officials and went on a strike, after an aged prisoner was allegedly roughed up by the jailer, on a "petty issue".
According to reports a gauze on the window of the meeting room at District Jail Chilas was damaged by someone. The Jailer started investigation into the matter and in the process scuffled with two inmates. He, later, files cases against the two inmates at a nearby police station.
This infuriated the other inmates and they refused to go back into their cells. The efforts to negotiate the matter had failed, reports said.
he prisoners have threatened to continue the strike till removal of the jailer.