Attabad Anniversary: Activists demand annulment of politically motivated cases, restoration of KKH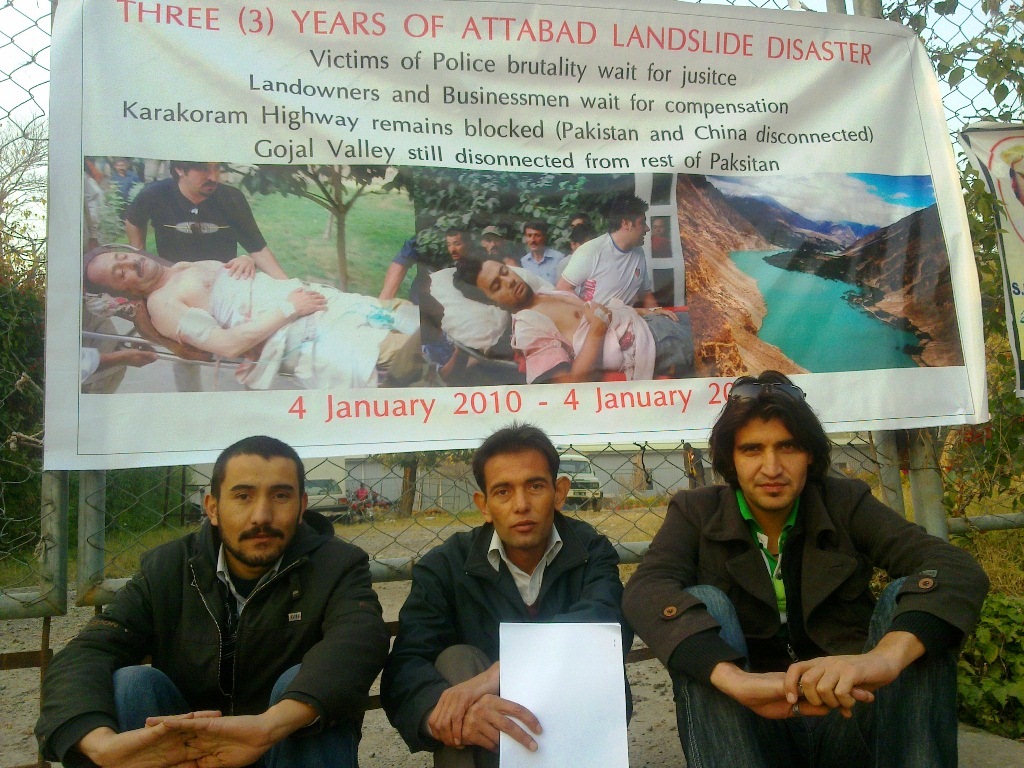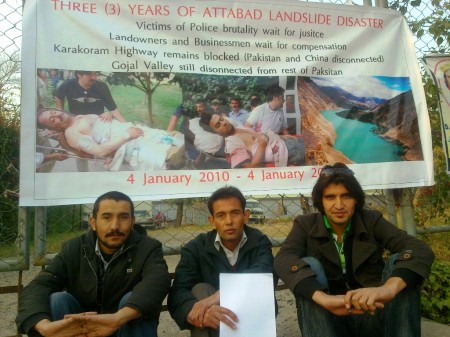 Our Correspondent
Islamabad, January 4: Three young activists from Gojal Valley, upper Hunza, staged a protest sit-in in front of the National Press Club in the federal capital. Sitting the whole day in front of a banner, they gave away handouts to media, requesting them to highlight the issues of the people affected by the Attabad landslide and the disasters that unfolded during the last three years.
A resolution handed out to the press stated that the PPP led coalition government in GB had registered dozens of cases against rights activists and affected people, instead of compensating them properly. They said that students and local youth were targeted through registration of FIRs, to keep them silent, in the face of police brutality that led to the death of a father and his 22 year old son in Aliabad, Hunza.
The handout also read that the government had completely mismanaged the disaster response and recovery phases and deprived the people of their rights, while using local police force to keep them silent and oppressed. They also said that the police officer who ordered shooting of two unarmed protesters is free and enjoying the benefits of promotion and other perks. The fate of a judicial investigation into the brutal incident of murder still remains unknown and unheard.
The activists demanded release of water from the dammed Hunza River on war footings. They said that the Gojal Valley's entire population remains disconnected from other parts of the region. They also said that the Karakoram Highway remains blocked, which is against the national interest of Pakistan, being an international route connecting the country with China.
They also demanded annulment of politically motivated and baseless cases against activists, youth and students.