GB Chief Minister, Syed Mehdi Shah, boycotts Kashmir Solidary Day event in Islamabad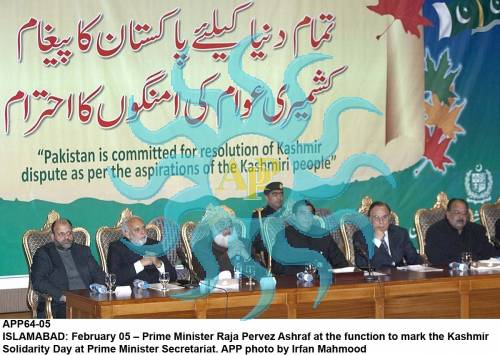 Our Correspondent
Islamabad, February 5: Chief Minister of Gilgit-Baltistan, Syed Mehdi Shah, condemned the Kashmiri leaders and organizers of the Kashmir Solidarity Day main event in Islamabad for "neglecting the leaders of Gilgit-Baltistan".
He said that while the Kashmiri leaders use rhetoric to controversially portray GB as a part of Kashmir, in reality they have no respect whatsoever for the people of Gilgit-Baltistan and their leaders.
The organizers had made the Governor of Gilgit-Baltistan, Syed Pir Karam Ali Shan, to sit in the audience while low-level Kashmiri ministers and leaders took the center stage, along with Pervez Ashraf, JUI's Fazlur Rehman and Manzoor Wattoo, at the key solidarity event held in the federal capital.
Public circles have hailed Mehdi Shah's decision to boycott the event.
It is pertinent to note that the Kashmiris controversially claim Gilgit-Baltistan to be a part of the state of Kashmir but during the last six decades they have opposed political and constitutional rights for Gilgit-Baltistan.
Many in Gilgit-Baltistan believe that the Kashmiris are still treating the people of GB as residents of their colony. Many people also consider this "derogatory" behavior to be a continuation of what the Kashmiri leaders started in 1949 by signing the notorious Karachi Pact, an agreement that deprived the people of GB of their basic rights.