Muhammad Iqbal from Skardu is among winners of Engineering Projects Competition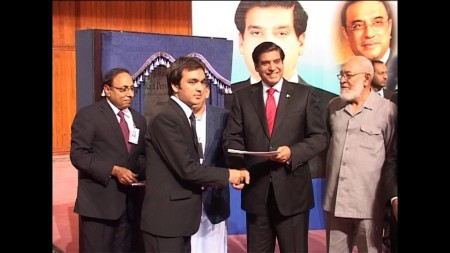 Islamabad: Muhammad Iqbal, a promising young student from Gilgit-Baltistan, has developed an engineering project that stood second among top eight projects created by students from across the country.
According to details, Muhammad Iqbal, an ex-Cadet of Skardu Cadet College  currently enrolled at UET Peshawar, has developed a project which will be used by WAPDA, Pakistan.
Muhammad Iqbal received the prize for winning the engineering competition from the Prime Minister, Raja Pervez Ashraf, at a ceremony held in Islamabad.
Around 700 students had participated in the competition, in which Iqbal's project got the second position. He has now been hired by hired by PSEB(Pakistan Software Export Board) based on his excellent performance.
Information shared by Syed Mehdi Shah, a student.