Hafeez Sheikh promises inclusion of Gilgit-Baltistan in the NFC Award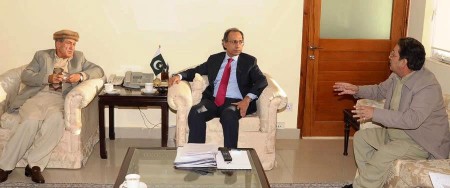 Monitoring Desk
Islamabad: The Gilgit-Baltistan region will be given representation in the National Finance Commission (NFC), said Federal Finance Minister Hafeez Sheikh while talking to a delegation led GB governor Syed Pir Karam Ali Sha and Syed Mehdi Shah, yesterday.
The Federal Finance Minister was apprised of the financial issues being faced by the nascent government of Gilgit-Baltistan.
Abdul Hafeez Shaikh told the delegation that the expenditure incurred on internal security of Gilgit-Baltistan will be paid by the federal Interior Ministry.
He also said that Gilgit-Baltistan will be invited to attend the next meeting of the National Finance Commission, the federal body responsible for resource allocation and planning.