PIA accused of mismanaging Gilgit bound passengers' baggages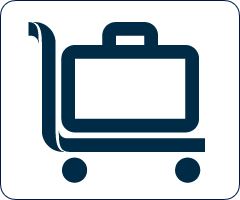 Our Correspondent
Islamabad, February 21: On reaching Gilgit from the Jinnah Airport, Islamabad, passengers are shocked routinely to find out that their luggage was not loaded on the Pakistan International Airline's plane carrying them. They are told that due to dearth of planes and shortage of time, the operational procedures for boarding are not followed strictly because the same plane then flies to several other locations in other parts of the country. Many a time, the conveyor belt at the airport stops functioning due to which the "briefing" time increases manifolds.
Many disgruntled passengers complain, according to a PIA official, because their luggage reaches Gilgit after two to three days or, in some cases, after a week or even more.
This unease has been experienced by a large number of passengers, including a senior government employee who traveled to Gilgit last week. He told the media on the condition of anonymity to divert the PIA authorities' attention towards this malpractice and bring an end to the agony of the passengers.
The Gilgit and Skardu bound PIA operated flights are also routinely cancelled due to bad weather or for other reasons. It appears that even those who get the chance to travel are not treated properly.
The national flag-carriers' image, due to inefficiency, deterioration of quality of services and allegations of corruption, has been in a downward spiral for a long time now. It is right time for the authorities to put their acts together and move the company forward by enhancing service quality.