Chief Secretary takes notice of the conditon of municipal machinery in Gilgit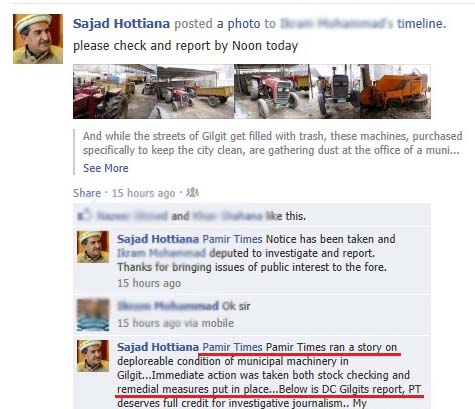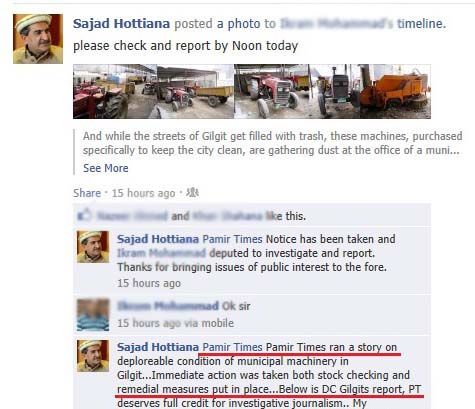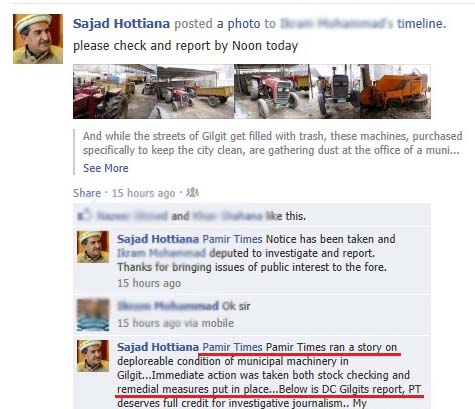 Our Correspondent
Gilgit, February 26: The Chief Secretary of Gilgit-Batlistan, Sajad Salim Hottiana has directed the Gilgit administration to take remedial actions, taking notice of a pictorial report highlighting issues of wear and tear was posted by Pamir Times on Facebook. 
The Chief Secretary, who maintain a robust presence on the social networking site, immediately asked one of his officers to submit a report. As a follow-up to the story, the Chief Secretary then posted a report submitted by the Deputy Commissioner of Gilgit, Arqam Tariq, online.
According to the report submited by the DC's office, some of the machines are in need of repair and many are in functional condition.
The huge mechanical Sweepers purchased a couple of years back have not been used since 2011. It has also been reported that the mechanical Sweepers are not cost friendly, because their fuel consumption is higher and the brushes are also fragile.
The DC's report, along with comments about Pamir Times by the Chief Secretary, posted by him online can be downloaded by clicking HERE 
The current Chief Secretary has won accolades by directly coming in contact with the people on the social network, as well as by visiting homes of local people in remote parts of the region. He has also created a Facebook Page dedicated to Gilgit-Baltistan, where he posts photographs of the region, and details about his work.
It has been learnt from reliable sources that the tech-savy Chief Secretary wants the youth of Gilgit-Baltistan to build their capacities in the field of Information and Communication Technology (ICT), to be able to compete in the fast globalizing world. He can do the region a favor by subsidizing import of laptops and other ICT items, like camers, printers, desktops and internet gadgets, from China.
The Netizens from different parts of Gilgit-Baltistan can be seen on Facebook urging the Chief Secretary to take action against the hundreds of  illegal appointments in different departments in Gilgit-Baltistan, a trend that has disappointed a very large number of competent youth who cannot afford money to bribe the ministers and bureaucrats.