Karachi: Student from Shigar among victims of the Abbas Town blast, 6 GBians injured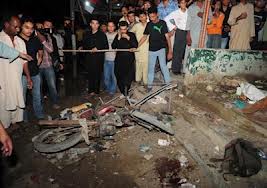 Monitoring Desk
Karachi, March 3: A student from Shigar Valley, Baltistan, is reportedly among victims of the twin-blasts in Abbas Town Karachi which claimed around 45 lives today. At least six students from different parts of Gilgit-Baltistan were also injured in the incident, of whom two are reported to be critical condition.
The deceased student has been identified as Syed Ahmed Shah.
A large number of students and professionals from Gilgit-Baltistan study and live in Karachi, mostly dwelling in areas where people from their sects make majority of the population.
The deaths and injuries have shocked the entire country, including Gilgit-Baltistan.
It is pertinent to  note that the security has been heightened in different parts of Gilgit-Baltistan and along the Karakoram Highway since yesterday due to terror threats.
Meanwhile, various Shia organizations have declared three days of mourning to condemn the blasts.
Chief Minister Gilgit-Baltistan, Syed Mehdi Shah, has also condemned the terrorist attack.