Shahzada Amanur Rehman to contest elections from Chitral as independent candidate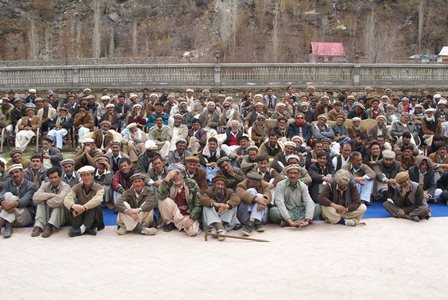 Gul Hamaad Farooqi
Chitral, March 29: Residents of Lutkoh, constituency of former provincial Minister Saleem Khan rejected former parliamentarians, accusing them of failing to address the peoples' problems.
Addressing a huge public meeting at Garamchishma the speakers said that Provincial Minister Saleem Khan remained member of provincial cabinet but he badly failed to blacktop road link to his native town. The speakers said that Royal family of Chitral always serves the people and they will never forget their sacrifices, especially that of Shahzada Amanur Rehman, who donated his land free of cost for link road of Cheerweel village.
On this occasion Taimor Shah Khaleefa of Ismaili communities stressed on his supporters to support Shahzada Amanur Rehman and cast their votes in his favour.  Haji Manzor Qadir General Secretary of Trade union Chitral said that we should to elect honest and sincere candidate to work for development of our area not to enhance their bank balance.
Addressing on the occasion Shahzada Aman announced to contest election as independent candidate from PF 89, saying he was joining the field of politics to serve the people. He said that the other elected reps cheated the local people for long time, making money from the government exchequer, while the locals are without basic necessities of life.
He also presented his manifesto, saying the road for the valley will be constructed on priority basis. As well as road to Shahsaleem , Karimabad, Arkari valley will also be constructed. He said, "If I am elected from this constituency I will promote education in the valley as well as to upgrade hydro power house for Chitral town. He said that I will upgrade hospital of Garamchishma and to establish colleges and school in the valley.  Besides him Mir Ajab Shah, Mehtab Alam, Subadar  Shahbaz, Qurban Baig, Khush Muhammad and Rehmatullah Khateeb of Jamia Masjid Garamchishma also spoke on the occasion.  A large number of people from the entire valley assured to support him and to cast their vote in favor of Shahzada Amnur Rehman.