Hunza: The visually impaired get an association of their own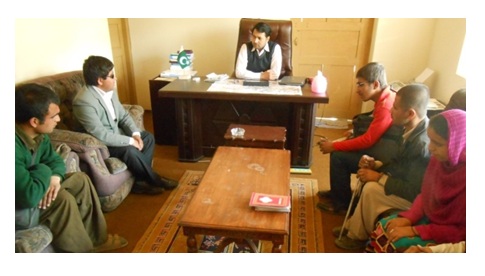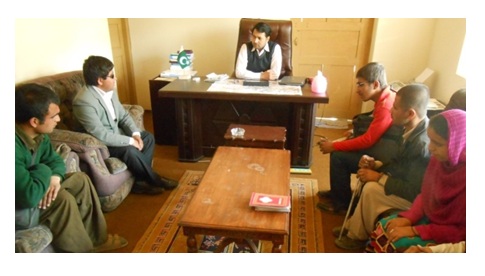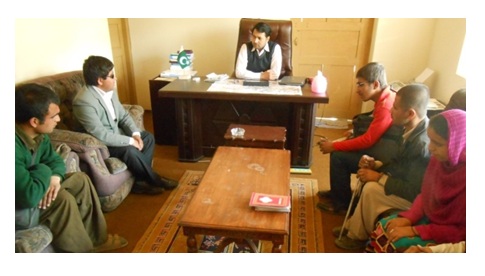 Hunza, April 13: The visually impaired persons (VIPs) of Hunza Valley have formed an association of their own, with the help of Karakoram Area Development Organization (KADO).
The office bearers of the association met the Deputy Commissioner of Hunza-Nagar, Capt. (retd.) Shehbaz Tahir Nadeem on April 12, 2013 to acquaint him with their association and its objectives.
The president of the association, Mr. Khush Ahmed briefed the DC about various issues faced by them especially with respect to education, skill enhancement, employment opportunities and other special needed in the district. He requested the DC H-N to speak to the concerned authorities of the concerned government departments especially the Pakistan Bait-ul-Maal and Social Welfare and Special Education department to establish their offices in the district of Hunza-Nagar and work for them.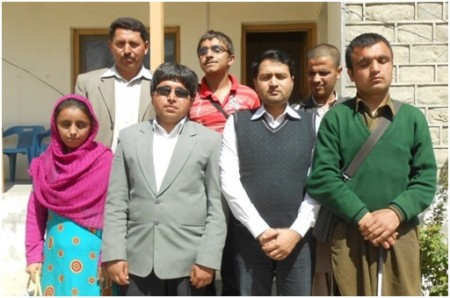 DC Hunza-Nagar congratulated on formation of their association and appreciated their proactive efforts. He assured them that he will try his best to fully facilitate, not only the visually impaired and blind persons, but all those persons with special needs in the district.  He told them that he will ensure that 2% job quota in the Govt. departments (which is already allocated by the government of Pakistan) will be given to the Special Persons in the district. He mentioned that he will also speak to the concerned organizations both public and private to facilitate them and work for their inclusiveness in the society.
Other office bearers of the Association of Visually Impaired Persons included Mr. Khush Ahmed-President, Mr. Mushtaq Ahmed-Gen. Secretary, Mr. Shakur Ali-Finance Secretary Mr. Shahid Nadeem- Executive Member, Ms. Samina-Executive Member, Ms. Kulsoom Bano- Executive Member, Mr. Nazeem Khan-Executive Member. It is pertinent to mention that this is interim cabinet formed at initial stage to organize all other members.