Youth of Gilgit-Baltistan and the elections in Pakistan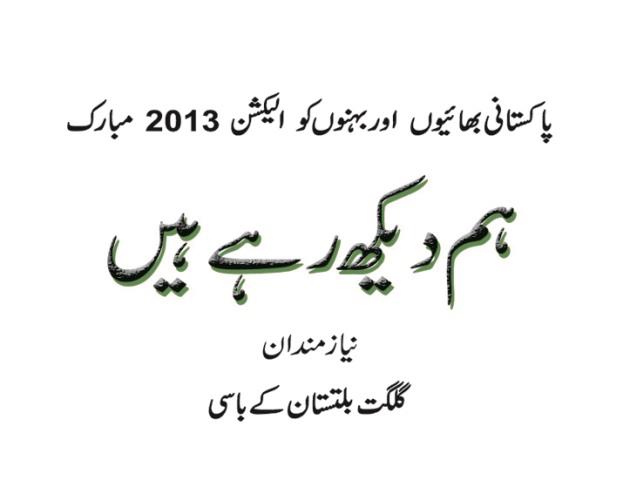 Islamabad, April 28: A large number of young people hailing from Gilgit -Baltistan can be seen managing, or attending, political campaigns for their party candidates contesting the national election 2013, in the twin cities of Islamabad and Rawalpindi.
The youth, despite of being aware of the constitutional and political deprivations of their land, are participating in the election campaign with the hope that a better party's government in the center will have positive impact on the situation in Gilgit-Baltistan.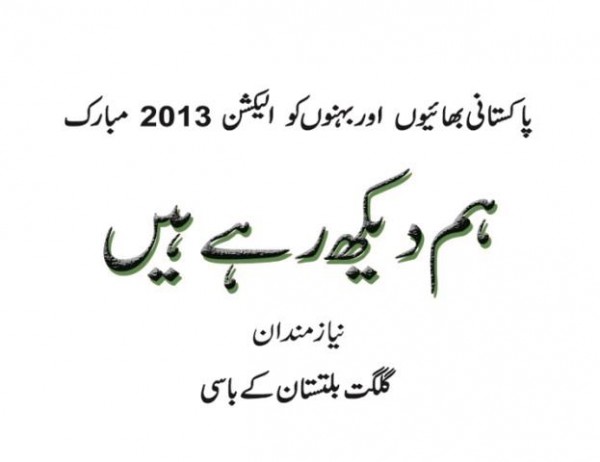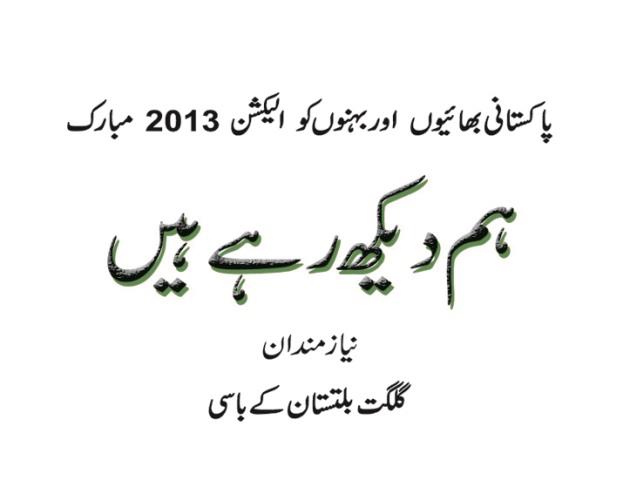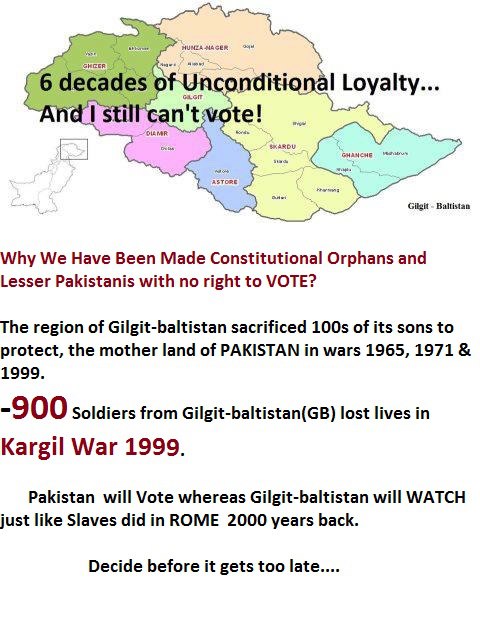 They can be seen on campaign stalls and in rallies of Pakistan Peoples Party, Pakistan Muslim League (Nawaz), All Pakistan Muslim League (APML) and Pakistan Tehreek-e-Insaf (PTI).
Many students are also busy running campaigns for religious parties, like Jamat-e-Islami, JUI, Islami Tehreek and others.
While campaigning for their respective federal parties, a large number of the youth are using the election to make the deprivations of their region heard.
The federalist youth, who are very large in number, are countered by supporters of nationalistic ideologies, who often taunt them for being part of irrelevant movements. "Baiganay shadi may Abdullah Diwana" is a statement that you would hear a lot whenever the federalist youth are being taunted by their nationalist friends, for running the campaigns, while not being able to cast a vote legally.
The nationalists argue that the youth of Gilgit-Baltistan should leave the federalist parties and support regional parties to be able to get constitutional or political rights for the Gilgit-Baltistan region, where people do not have the right to elect their representatives for the country's National Assembly and Senate.
The federalists, in turn, argue that the nationalist parties lack vision, leadership and a clear agenda. They taunt the nationalists for having hollow and lofty slogans but no policy for the future of the region. Some even go as far as to accuse the nationalist parties of serving global powers in the name of nationalism.
The sense of deprivation and alienation among the masses, especially the energetic youth, of Gilgit-Baltistan is old and it has not been addressed seriously by any government during the last six decades.
It is for this reason that on social networks one often comes across youth activists displaying e-banners, on which the political deprivations of the region are highlighted and the authorities and the masses of Pakistan are asked to take stock of the situation.
While Pakistan goes to the poll hopefully on 11th May, amid bomb blasts and massacres, majority of the people of Gilgit-Baltistan will watch from the fringes of the society, willing but unable to vote.