World Environment Day celebrated by Serena Hotels Gilgit-Baltistan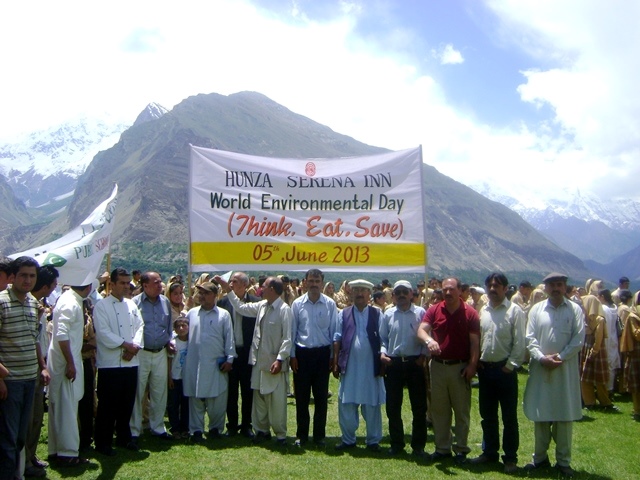 Special Reporter
Gilgit, June 5: Serena Hotel's Gilgit-Baltistan Collection celebrated "World Environment Day" on, 5th June 2013 the focus was reduce your foodprint, with theme Think .Eat .Save: reinforcing its commitment to operate its Hotels & Heritage properties as a Responsible Tourism business and with its dedication, bring a positive change within the Tourism Industry in Pakistan.
While taking initiatives to implementing many of its Corporate Social Responsibilities and  Responsible Tourism Policies, Environmental Responsibilities, support to Local Communities, awareness and encouragement to guests for offsetting carbon emissions during travel to Gilgit-Baltistan and reduce your foodprint,
World Environment Day is celebrated all over the globe to understanding and reducing your food's impact on climate change. Think.Eat.Save is an anti-food waste and food loss campaign that encourages you to reduce your foodprint. According to the UN Food and Agriculture Organization (FAO), every year 1.3 billion tons of food is wasted. This is equivalent to the same amount produced in the whole of sub-Saharan Africa. At the same time, 1 in every 7 people in the world go to bed hungry and more than 20,000 children under the age of 5 die daily from hunger.
While the planet is struggling to provide us with enough resources to sustain its 7 billion people (growing to 9 billion by 2050), FAO estimates that a third of global food production is either wasted or lost. Food waste is an enormous drain on natural resources and a contributor to negative environmental impacts.
Gilgit-Baltistan (GB) Pakistan is famous for fruits and the main strength of the economy of GB depends largely on fruits, huge opportunities exist in the agriculture sector and organic farming in GB. Climate and water resources make it ideally suitable for marvelous growth of variety of fruits and vegetables in GB; People of GB don't appreciate the usage of fertilizers and technology and prefer to use traditional farming which is good from the health point of view. The most popular fruit of Gilgit Baltistan are apricot, cherry mulberries, apples and, peaches, but lack of interest of public sector organizations towards this region, we could earn billions of rupees through fruits exports has remained neglected
Apricot being the major fruit of the region has a substantial share in Pakistan's annual total apricot production of over 220,000 metric tons. Due to a constraint of unplanned and scattered plantations, considerable fresh apricot fruits are wasted and the traders cannot find desired variety and volume at the same orchard or locality. On an average 16% to 57% fresh fruits are wasted depending on the fruit cultivars and the reason behind this wastage is varied varieties which are often a problem in marketing as fresh and dried.
This year all four of Serena hotels in Gilgit-Baltistan; Gilgit Serena Hotel, Hunza Baltit Inn, Shigar Fort Residence and Khaplu Palace & Residence with support of Aga Khan Economic Planning Board GB, Hasigawa Memorial Public School Hunza held World Environment Day events in their respective regions with the overriding theme Think.Eat.Save is an anti-food waste and food loss campaign that encourages you to reduce your foodprint.
Our Chefs trained 92 ultra-poor ladies from the local community of Khaplu, Shigar, Danoyre, Oshikindas, Sultanabad village and Jutial on cherry and apricot Jam making and caution of hygiene for quality product. The participants were also briefed by Assistant Director- Responsible Tourism and Responsible Tourism Managers on carbon foodprint by basic rules to buy unprocessed foods with less packaging, grow and harvest your own organic food & vegetable, cook with efficient appliances and techniques, compost, recycle, and relish. The local product can sell in local market and the impact will support the local economy and reduce carbon emissions of transportation of food supply which comes from the big cities of Pakistan to GB.
At Hunza a walk was organized by Hunza Baltit Inn participate by 400 people from bazaar to Hunza Baltit Inn by stakeholders Hasigawa Memorial Public School Hunza, Girls Guides Association, Karimabad Bazaar Association, Hotel Association, at Shigar Raja Azam Khan, Minster for Planning & Development Gilgit-Baltistan Govt. Dr. Hasan Khan Amancha, Ex Director Health, and Mrs. Tahira Sherazi, Garden Designer of Abruzi School participate in event and debating on  Environmental and Economic benefits foodprints.
Moving forward from World Environment Day Serena Hotel's Gilgit-Baltistan Collection encourages everyone to join them on their mission to ensure communities of Pakistan become to offset their carbon emissions created from their travel to Pakistan.