15 terrorists, incluing 10 from Diamer, attacked tourist base camp near Nanga Parbat, says police chief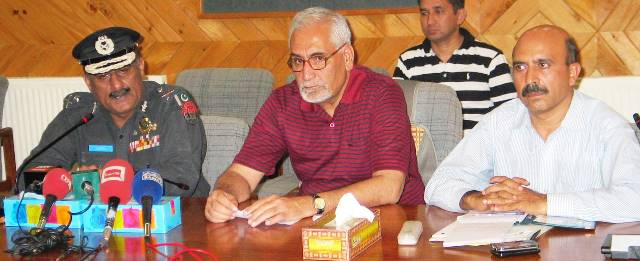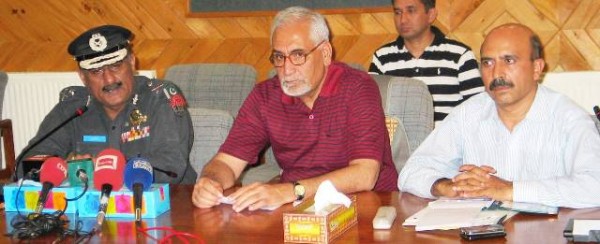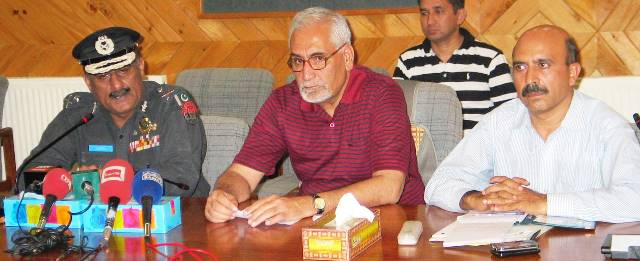 L-R: IGP, Chief Secretary and Home Secretary during the press conference
Monitoring Desk
Gilgit, June 27: Regional Police Chief, IGP Usman Zakariya, told the media that the tourists near Nanga Parbat base camp were attacked 15 people. Ten of the terrorists hail from Diamer District, 3 from Kohistan District of Khyber-Pakhtunkhwa and two from Mansehra, he said. He made the revelations at a press conference in Gilgit, in the presence of Gilgit-Baltistan's Chief Secretary, Munir Ahmed Badini, and Home Secretary Attaur Rehman.
He also praised the Diamer Qaumi Jirga for helping the government in identification of the alleged terrorists. The IGP and Chief Secretary identified the alleged terrorists hailing from Diamer as Shafi Ullah, Khasta Khan, Azizullah, Mehsudul Haq, Hazrat Umar, Majeed, Qari Rafaqat, Sanaullah, Malik Najat and Hidayat Shah.
It was revealed during the press conference that the master mind of the attack was a man named Majeed, resident of Gitidaas, Chilas.
He also said that detailed lists of the alleged culprits, including names, names of fathers and addresses, have been provided to the representatives of the Diamer Qaumi Jirga.
The IGP said that the terrorists are hiding in the district in small groups of three to four people. He said that efforts are underway to arrest the culprits. "The next two days will be important", the IGP said.
It was also revealed that some of the alleged terrorists may have been involved in the sectarian massacre near Babusar, last year.