Woman from Chitral wins "National Mico-Entrepreneur Award"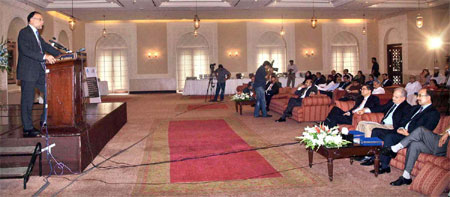 Karachi (PR): Qurban Bibi, a client of the The First MicroFinanceBank (an institution of the Aga Khan Agency for Microfinance) in Pakistan, won the "Best National Micro-Entrepreneur Award Female" at the recent Citi-PPAF Micro-entrepreneurship Awards 2012 ceremony held in Islamabad. Qurban Bibi, from Booni, Chitral, was awarded a cash prize of PKR 225,000. Another FMFB client Maryam Batool from Skardu also won the "Best Regional Micro-Entrepreneur Award – Female" from the Gilgit-Baltistan region.
Since the start of its operations in March 2002 as the first microfinance bank in Pakistan, FMFB Pakistan has reached out to millions of vulnerable people all across the country by offering credit, savings and life insurance services to facilitate sustainable economic development.
The objective of the Citi-PPAF Micro-entrepreneurship Awards Programme is to illustrate and promote the effective role that micro-finance plays in poverty alleviation. It recognises the extraordinary contributions that individual micro-entrepreneurs have made to the economic sustainability of their families as well as their communities.
Qurban Bibi decided to become a micro-entrepreneur after attending a Business Development Services (BDS) training program organised by The First MicroFinanceBank Pakistan (FMFB-P). She took a micro-loan to set up a sewing business. Over time, she has expanded her business, and now owns a variety of machines; and provides different services such as sewing, designing, and photographic services to her customers.
Qurban Bibi's success has also spurred positive social change in her surroundings. Today, Qurban Bibi has the basic amenities of life, and is also able to support her extended family. She also assists others in need within her community by lending them interest fee loans to pay school fees on time and has also trained many young women in embroidery etc. so that these women are able to acquire skills and improve their own livelihoods.
Maryam Batool from Skardu, was declared winner in the regional award category. She was an unemployed graduate when she attended a training workshop conducted by the Aga Khan Rural Support Program (AKRSP). She went on to do an informal market research and saw opportunities for establishing a beauty parlour in her area, and acquired cosmetic training with support from AKRSP. In 2005, she was selected by FMFB-P for an intensive 15-day training in entrepreneurship (business development services). Soon after, Maryam established a beauty parlour, with an initial loan of Rs 20,000/- from the FMFB-P. Her loan officer, Javaid Ali, not only encouraged her but also helped her establish market linkages which helped expand her microenterprise.
With the cooperation of AKRSP, Maryam was also able to establish the Woman Enterprise Support Initiative (WESI), which provides Business Development Services (BDS) training to women in Baltistan. She has been able to train about 80 women through her institute and, and in the future she wants to expand her institute to include other services, which would create more jobs for the community.
"Both the FMFB clients' journey reflects the development philosophy of the Aga Khan Development Network – to help the poor achieve a level of self-reliance whereby they are able to plan their own livelihoods and help those even more needy than themselves," said Akber Pesnani, Chairman FMFB-P.