Arms stolen from dealer's shop in Gilgit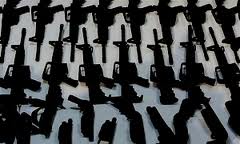 Monitoring Desk
Islamabad, August 10: Thieves have stolen a huge cache of arms from a dealer's shop in Gilgit last night.
According to details shared by senior journalist, Iqbal Aasi, the thieves broke into the shop of "Farid Arms Dealers", located in the city of City Police Station, in the middle of the night and took away a large number of rifles of different types and a 'thousands of rounds'.
Locals have expressed surprise that such a massive robbery could take place in Gilgit despite of heavy security in the city.
Fears are being expressed that the stolen arms may be used for terrorism.