Peace Committee meets in Drosh, Chitral, to discuss regional issues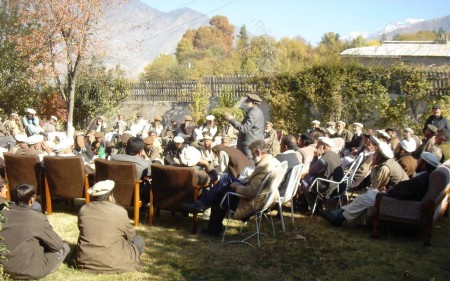 Gul Hammad Farooqi
Chitral, November 22: Peace committee of Drosh (Aman Jirga) held an emergency meeting at Rest house Drosh some 45 KM from here under the chair of Musharaf Khan. Professor Syed Tofiq Jan had called an emergency meeting of the elders of the area, representatives of all tribes and castes to discuss different issues related to inhabitants of the area.
Speaking on the occasion elites of the area said that some hidden hands are deteriorating peaceful environment of the area but the district administration is acting as a silent spectator, instead of taking stern action. They criticized Qari Jamal Nasir accusing him of creating law and order situation in the area. They said that he is a teacher in government school but never performs, instead taking part in politics and getting contracts on tenders.
They said that different uplift schemes including government girls Degree College Drosh are still pending and were not completed timely. As a result residents of the area suffering badly. They said that a hydro power station is under construction at Dameel area but despite dispatching its machinery the work on construction of the power house has been suspended.
They also lamented irrigation and public health engineering department for their apathy and using substandard materials in different schemes. They criticized district administration that no high official visited the area to listen problems of this area. They lamented health department that only two doctors working at Drosh hospital for 150000 populations. They alleged setting MNA for supporting his uncle Dr. Bakhtiyar who has been posted at Drosh hospital for the last 3 years but never performed his duty for a single day. They also expressed their concerned over the negative behavior of a lady doctor of Drosh hospital and a newly born baby was died due to her negligence.
They demanded for filling of vacant posts of Doctor, teachers and completing incomplete developmental schemes of the area. The speakers demanded from the chief minister KPK for special fund for development of this neglected area. They also demanded from the district administration for taking stern action against those miscreants who deteriorating peaceful environment of Drosh.
Giving a deadline of 8 days they warned the district administration for fulfillment of their demands within stipulated period otherwise they will came on roads as protest. The Peace Jirga meeting was attended by leaders of all tribes of the area. They also urged on the authorities to invite only elites and notable persons for meeting in future. Former Nazims Abdul Bari, Haider Abbas, Sher Muhammad, Haji Sher Muhammad, Syed Tofiq Jan, Musharaf Khan, Haji Abdul Khaliq, Haji Enzar Gul and other spoke on the occasion. A large number of people belonging to all walks of life attended peace jirga meeting. The meeting disbursed peacefully.