Workshop on "Farming Mechanization" held in Chitral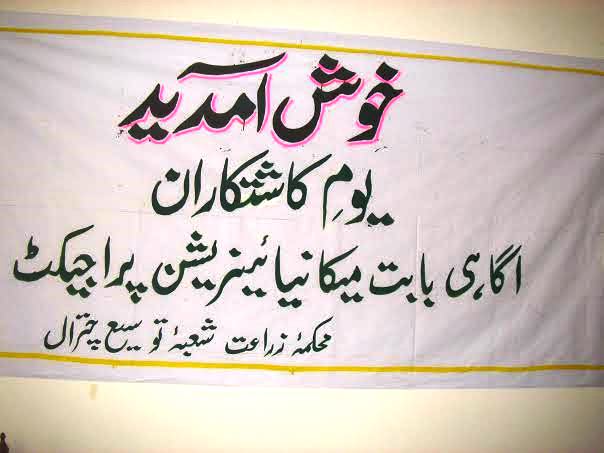 Gul Hammad Farooqi
Chitral, December 24: A day long awareness workshop on Farming mechanization project held at Agriculture Extension & Research Center Seenlasht Chitral. Assistant Commissioner Chitral Hafiz Saad was chief guest on the occasion while the ceremony was presided over by Shah Wazir Lal president of Farmers association.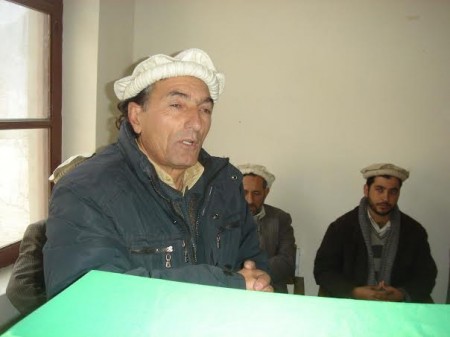 District director Agriculture Jan Muhammad Khan briefed the participants about importance of agriculture especially on the content of Chitral. He said agriculture is like back bone and most of Chitral people depend upon agriculture but very less land is cultivable. He said that agriculture department encouraging farmers to benefit from our machinery. He said that in farmers service association we have registered 43000 members who paying 600 registration fee while government also give matching grant in this fund which investing for benefit of our member farmers. He said we have 9.3 million rupees in this account and registered farmers can get seed, fertilizer, pesticide etc on subsidized rate from this center. As well as we have 6 tractors, rotator machine, plough and other latest machinery which can be used by our farmers on nominal rate. He said that agriculture department extending orchards on 30 Acres of land to promote horticulture in Chitral.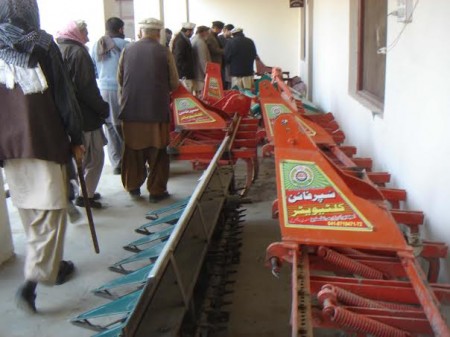 People in Karim Abad valley cultivate off-season bean and the department working with 15 farmers on experimental basis to promote them. Maize is another important crop of Chitral and we sowing maize on 60 Acre land this year as result we will get 35% more production Jan added. Agriculture department will sell 1200 bags of certified seed this year on concession rate. As well as the farmers can purchase other material from model farm services center on subsidized prices. Jan Muhammad said that a soil analyze laboratory is under construction and after its completion it will play a vital role in promoting of agriculture by testing soil of different areas.
We have 6 nurseries and last year we sold 8500 sapling on very less rate as comparative to market. And this year we will sell more than 10000 saplings for plantation in orchards and promoting horticulture. He said that our farmers can get latest machineries from model farm services center on subsidize rate. Shah Wazir Lal president of farmers association and AC Chitral also hailed efforts of agriculture department. Shah Wazir demanded for 2 sub centers of model farmers' services where our farmers can get machineries for cultivating their land. The speakers also criticized Deputy Commissioner Chitral Muhammad Shuaib Jadoon 's attitude as he did not attend this important session and he taking no interest in developing agriculture. They said that some of agriculture stores were occupied by food department but they reluctant to return it. They stressed upon expediting work on soil laboratory and demanded for more machinery. A large number of farmers from the entire district attended the session.