FOCUS Pakistan organizes DRR Documentary Festival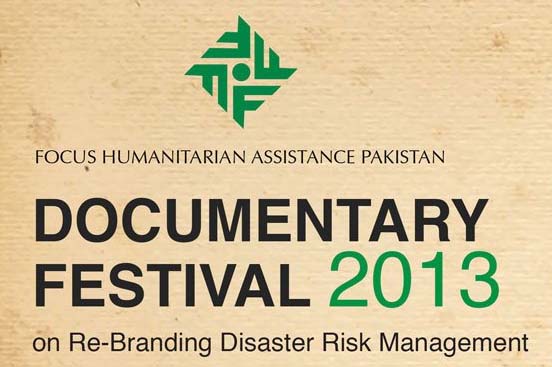 Islamabad, December 26 (PR): Focus Humanitarian Assistance (FOCUS) Pakistan, an affiliate of the Aga Khan Development Network (AKDN) organised a documentary festival on Disaster Risk Management (DRM). Entries were open to all individuals having an interest in themes such as Disaster Risk Reduction for Resilience, Climate Change Adaptation and Disaster Preparedness.
The festival showcased documentaries from many upcoming filmmakers from across the country. The panel of judges included renowned journalists and filmmakers including, Samar Minallah, Nadeem Iqbal and Haris Khalique. The best documentary prize was won by a graduate of National College of Arts, Rizwan Hunzai. His work highlighted the impact that the Attabad landslide of January 2010 had on the communities living in the region and was highly appreciated by the esteemed panel of judges. The second and third prizes were won by Sadaf Naeem and Saira Sarwar for their works on the earthquake of September 2013 and Attabad landslide respectively. The winners were also awarded with cash prizes.
The winning documentary depicted the story of a family whose vicinity has been wiped out by the unfortunate disaster. Portraying the after effects of the calamity on family and community life, film maker Rizwan, showed the role of a humanitarian agency in the process of recovery and rehabilitation. Second prize winner Sadif took the audience on a tour of the affected areas of the September 2013 earthquake in Pakistan through her documentary and captured the aftermath of the earthquake and National Disaster Management's reaction to the disaster. Winner of the third prize, Saira Sarwar also did her film on the Attabad landslide, her film was about the endeavors her parents made to provide her with quality education despite of residing in an area prone to natural disasters.
Major General Muhammad Saeed Aleem, Chairman National Disaster Management Authorities (NDMA), the Chief Guest of the event commended the efforts of FOCUS Pakistan and said "This festival is a great way to engage youth and masses to create innovative documentaries and increase awareness about DRR. These documentaries will serve as powerful tools for advocacy and raising awareness about DRR.
Highlighting the purpose behind organising the event, Nusrat Nasab, Executive Office, FOCUS Pakistan said: "The objective of this festival is to raise awareness about Disaster Risk Management. Advances in access to digital technology offer a great opportunity for us to use audio visual media to raise awareness, support capacity building, enhance transfer of best practices, and improve participatory processes for disaster risk management". The festival also promoted the goals of Hyogo Framework for Action (HFA) and National Disaster Management Framework through sharing and dissemination of information on Disaster Risk Reduction (DRR) among various sections of society and key stakeholders. 
Disaster Risk Management is a comprehensive framework of risk anticipation, hazard identification, disaster preparedness and organised response to disasters in order to ensure prevention and risk reduction of hazards and disasters. In order to have an effective DRM framework in the country, responsibilities are to be shared with government, civil society, media, academia and all spheres of life. FOCUS Pakistan, has been very actively involved in Disaster Risk Reduction (DRR) activities since its inception in 1998 and has used its 'Global Vision – Local Action' philosophy to benefit the people most vulnerable to natural disasters.