GBLA Speaker Wazir Baig sees bleak future for PPP in Gilgit-Baltistan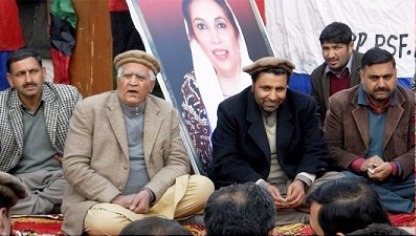 PT Report
Gilgit, December 27: Speaker of the Gilgit-Baltistan Legislative Assembly, Wazir Baig, who was elected on a party ticket, has painted a bleak future for Pakistan Peoples Party in the region. He has said that senior party leaders have strengthened their own personal positions at the cost of the party. Without mentioning any name, Wazir Baig said that by holding party and public offices simultaneously, PPP leaders have put the party in jeopardy. He also said that workers of the party have been sidelined and their concerns are not being addressed.
He was addressing a ceremony held at the PPP secretariat to commemorate the 6th death anniversary of Mohtarma Benazir Bhutto Shaheed, who was assassinated on this day six years back near Liaquat Bagh, Rawalpindi.
The Speaker also said that winning the future election for PPP in Gilgit-Baltistan will be a huge challenge. "We may even not be able to win ten seats", Baig said, as hundreds of party workers and GB cabinet members listened. He paid rich tributes to Zulfiqar Ali Bhutto and Shaheed BB for including Gilgit-Baltistan in the national mainstream.
The ceremony was also addressed by GB Council member Amjad Advocate, Ghulam Ali Shah, Wazir Ibadat, among other party leaders and workers.
Events were also held in different other parts of Gilgit-Baltistan to pay homage to the slain PPP leader.