Mandela's biggest legacy: forgive your enemies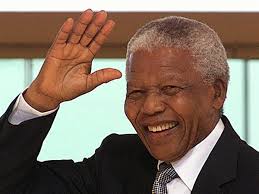 Mansoor Ladha
Twenty-seven years ago, prisoner # 46664 was released from Robben Island in South Africa and smelt freedom after spending 27 years in captivity. As a political science university student, I was familiar with Nelson Mandela and what the South African apartheid government had done to him.
He was my idol for fighting the apartheid regime so courageously. He had made a great impression on me and youth of my generation. The company where Dad worked sold imported items, such as canned foods like butter and tinned fruits and jams, imported from South Africa—at the time the bastion of racialism and apartheid. South Africa had enacted apartheid laws institutionalizing racial discrimination in the country since 1948.
As an astute and politically conscious high school student, I had a problem consuming these South African products manufactured by a repressive regime when my dad brought them home.
Plucking up courage one day, I told him, "Dad, you know we should not be buying these South African products because by doing so, we are supporting the economy of the apartheid regime which is so blatantly practicing racism and denying human rights to the non-white population.
"By buying their merchandize, we are promoting their regime and encouraging their business," I argued. "South Africa is the enemy of every progressive-minded person. I am going to stop eating these items until you accept my point of view or find an alternative source of supplies for the goods," I said, hoping to convince him.
My father had narrated my concerns to his colleagues in the office, and in no time it became a big issue. One by one, the staff saw the morale of the story and started boycotting South African goods, so much so that the demand for them in that office went down dramatically. The manager was concerned about the drop in business, and he summoned Dad to explain. He accepted Dad's point of view and was forced to seek alternative supplies. I was pleased that I made a small contribution against apartheid and made a dent in their export market at such a young age.
In 1961, Tanzania, then Tanganyika, was the first east African country to become independent. The first Prime Minister of independent Tanganyika, Julius Miserere declared while receiving the instruments of independence from the Duke of Edinburgh.
"We, the people of Tanganyika, would like to light a candle and put it on top of Mount Kilimanjaro which would shine beyond our borders giving hope where there was despair, love where there was hate, and dignity where before there was only humiliation.
"We cannot, unlike other countries, send rockets to the moon. But we can send rockets of love and hope to all our fellow [humans] wherever they may be.
"In addition, we have wider duties than those we bear towards ourselves alone. We have our responsibilities towards all those other African states with which our links are bound to be so close; and further, even the newest of nations has, in these days, duties towards all the nations upon earth and opportunities to influence by example the policies even of the most powerful."
Nyerere, as a devout pan-Africanist, firmly believed that no country in Africa was free until other neighbouring African countries were also independent. Hence, he gave strong support to liberation movements among them Mandela's African National Congress (ANC) and the Pan-African Congress (PAC) of South Africa. Liberation movements from Zimbabwe, Angola, South West Africa, and Mozambique also set up their headquarters in Dar es Salaam.
All of a sudden, Dar was full of bearded freedom fighters from several African countries, sporting coloured kitenge (cotton cloth with various brightly coloured prints) shirts. It was generally believed that Tanzania under Nyerere paid a sum well beyond the country's publicized contribution to the liberation movements fighting colonialism.
While Mandela was in prison, South African nationalists found a home in Tanganyika from where they could operate. As features editor of the Standard, the country's leading English newspaper, I was bombarded with press releases and personal visits by ANC officials, eager to trumpet their victories against the apartheid regime and get their news in the paper. It was like a soccer score: ANC killed eight South Africans – no casualties among ANC nationalists (other papers branded them as terrorists.)
Even in prison, Mandela was their inspiration. After he was released, Mandela showed his greatness by not taking revenge on those who imprisoned him. A person who was imprisoned for 27 years, he had the greatness to forgive those who imprisoned him. And that is the biggest legacy of Mandela to reconcile with one's enemies. As the first black president of South Africa, Mandela taught the world how to forgive one's enemies and live amongst them in the spirit of reconciliation.
The fact that 57 world leaders, including a large contingent from Canada, are scheduled to attend his funeral this week is a testimony of his greatness and the respect that he carries. How many of us would invite our jailor to the inauguration ceremony? I say kwaheri (farewell) to Mabida, my hero. There will never be another Mandela in our lifetime. May his soul rest in peace.
* Mansoor Ladha is a journalist, travel writer and author based in Calgary, Canada.