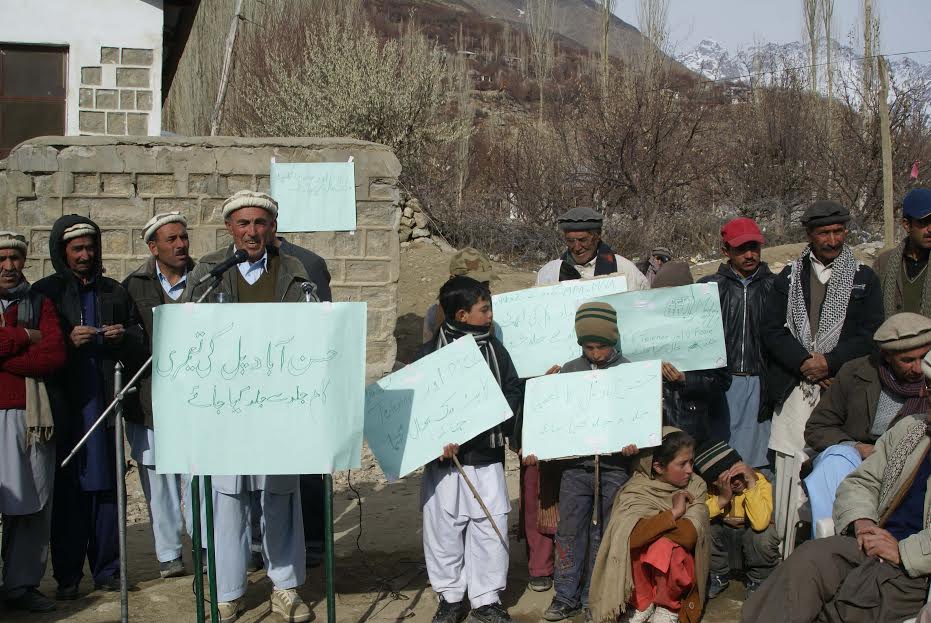 Gul Hamaad Farooqi
Chitral, Jan 11: The people of Sosom valley, Karimabad demanded immediate initiation of the reconstruction work of Hassanabad bridge and Sosom valley road to avoid mass protest after February 2. The protest was led by Syed Jamat Shah.
The speakers said that Hasanabad Bridge was damaged during the devastating flood in 2010 but the authorities have failed to reconstruct the damaged parts even after 5 years. They said that the 14,000 population of this beautiful valley is deprived of all basic amenities and the government has failed to complete any major development project since the creation of the country.  They said the valley lacks higher secondary school and college for boys and girls, basic health unit, utility store and other basic facilities.
They highlighted the deplorable condition of the road of Sosom and Karimabad valley, taking 3 hours to travel only 25 kilometers because of big ditches and many blind turn and without side walls.  They said that more than 11 precious lives were lost due to different road mishaps. The locality is still deprived of electricity in this era of information technology. An NGO funded micro hydro power house provides very low voltage electricity.
They criticized the member National Assembly Iftikharuddin and member Provincial Assembly Saleem Khan for their statements that Sosom road was handed over to Communication and Works Department with no practical benefits.
They said that due to lack of health facility at local level pregnant women are taken to Chitral hospital by using the road with poor condition.
In a unanimous resolution they demanded to immediately start work on Hasanabad Bridge and Sosom road.
Muhammad Yaqub, Sultan Shah, Syd Niyat Shah, Panah Kham and Syd Mazhar Hussain and others were among the speakers. They appealed to Prime Minister of Pakistan, Chief Minister KPK for releasing discretionary fund for construction of the deadly 25 Kilometers Sosom, road, establish BHU, colleges for boys and girls and utility store.