The why and how of student politics discussed at NSF-GB session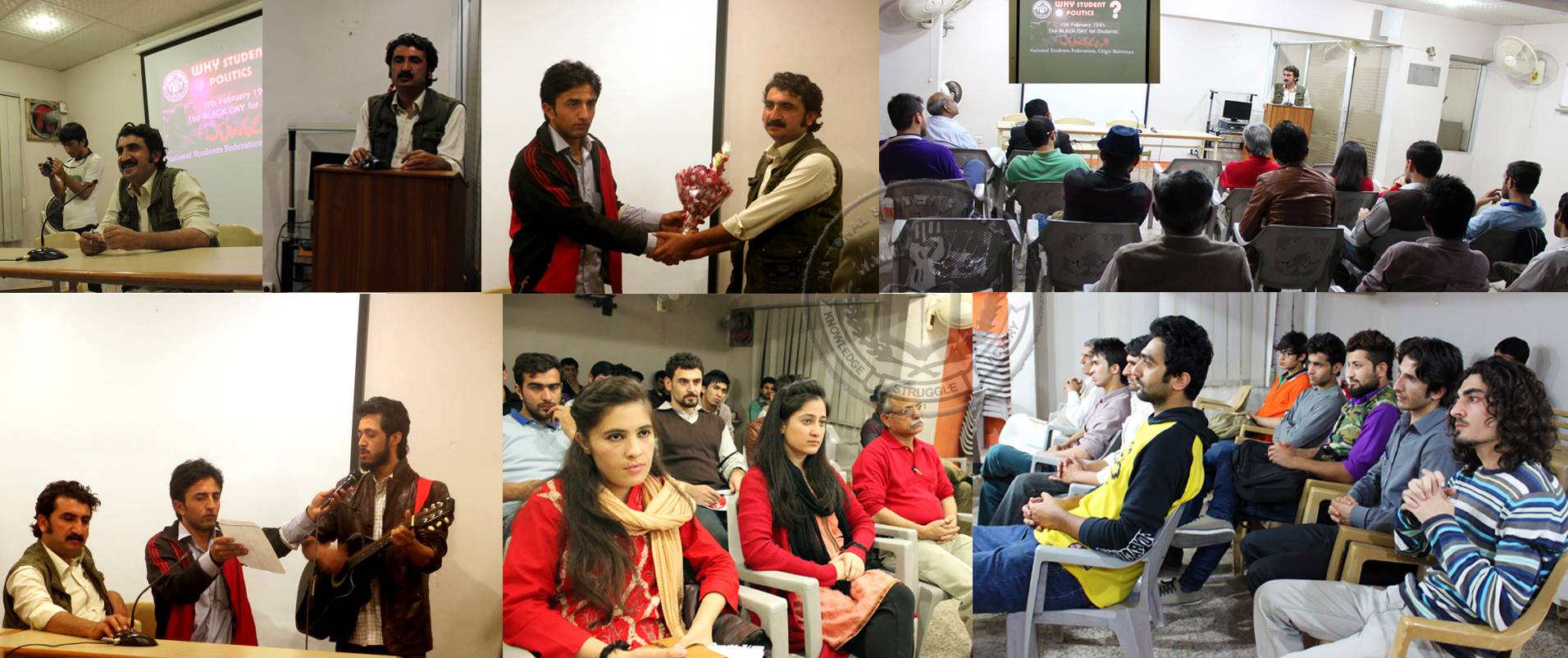 Karachi, February 11: National Students Federation, Gilgit-Baltistan (NSFGB), Sindh organized a session on the essence of progressive student politics in Karachi, titled as "Why Student Politics?" It was organized on the day when student unions were banned across Pakistan by Zia's dictator regime 30 years back. After a long gap, NSF started its organizational struggle back in 2000.
Rehmat Jalal, education secretary of NSF, Gilgit-Baltistan formally welcomed the audience and the guest speaker Dr. Bakhshal Thalho who is a veteran progressive political activist & Secretary General of Awami Workers Party, Sindh.
Speaking at the occasion, Dr. Balkshal Thalho, the guest speaker, expressed disappointment at the fact that students are questioning about "Why" student politics?. He said that question, instead, should "how students politics?". He said that "whether it is Gilgit-Baltistan or Sindh, KPK or Baluchistan or Punjab or any part of the world, the oppressed are facing similar situations. Progressive student politics contains vital role in describing the discourse of nations. This state itself has a limbo status. It is a confused and brutal state. It can never allow progressive politics in your campuses and in streets but you will have to make it up." He said that the state has failed to deliver any facility to the masses. It has failed to protect basic human rights of its citizens. He also appreciated NSF-GB for their struggle for the students of oppressed classes.
 "Almost one and half years back, we initiated the idea of NSF, Gilgit-Baltistan to mobilize students from Gilgit-Baltistan there in GB and in different cities of Pakistan on progressive basis. We worked in association with the progressive student organizations in Pakistan who were representing the students of oppressed classes. During this period, we have become successful in mobilizing students from GB in different universities of Karachi, Islamabad/Rawalpindi, Lahore, Abbottabad, Peshawar, and in some institutions of Gilgit-Baltistan" Said NSF's Jalal earlier, while thanking the guest speaker.

A documentary on the historical struggle of DSF and NSF made by Beena Sarwar (a Journalist) was also presented then. Anayat Baig, general secretary of NSF-GB, Sindh addressed the gathering about the structure of student politics in Gilgit Baltistan. He said that unfortunately Gilgit Baltistan did not witness any radical and progressive student politics in past due to its colonized structure and lack of progressive elements on grounds. "Although, there are a number of regional and sectarian student organizations active in GB and different cities of Pakistan, but regionalism and sectarianism has taught the students that only they are the suffered ones. They see their oppression separately, but our issues are common and we need to struggle collectively. So, to unite all these students regardless of their region and sect, NSF is the only ray of hope in today's scenario." He added.
Sajida Bibi, Vice president of NSF-GB, Sindh urged the women to strengthen the nascent progressive student organization. She said that without women's participation no organization can claim a genuine struggle. She stated, "I am in NSF, because I believe that only through progressive student politics, I can fight against gender-based discrimination and violence and I can also contribute towards a classless education system."
The session included progressive poetry and songs by students of different universities. At last, president of NSF-GB, Sindh, Ehtisham Ali conveyed vote of thanks to the audience and the guest speaker. "The only motive to gather here today is to tell the world that we rejected imperialism in the past and we are still rejecting it. The battle continues!" he said. He concluded the session by inviting all male and female students to join NSF-GB for making the struggle more radical and productive.