An exclusive interview with young mountaineer Ali Musa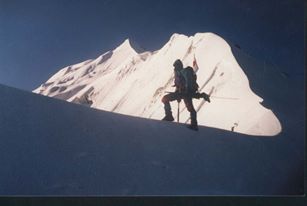 PAMIR TIMES has arranged an interview with the young and energetic mountaineer Ali Musa, who hails from Shimshal valley, the village of mountaineering greats like Rajab Ali, Meherban Shah, Samina Baig, and Mirza Ali. Musa has risen through the ranks, like other adventure lovers in Pakistan, to win name and fame as a high altitude porter and mountaineer. His love for the mountains is inspiring and his journey upwards is in progress.
PT: Can you tell us about yourself please? Where do you come from?
My Name is Ali Musa and I am a resident of the beautiful Shimshal valley, which is located northern most part of Pakistan, just 45 km away from the KKH. This valley is about 3100 meter high above the sea level board with Republic China. The valley is surrounded by snow-capped mountains, glaciers, pastures and the unique wakhi live culture.
PT: How was your early life and when did you join the tourism industry?
i got my early education (Primary Education) in Middle School Shimshal and proceeded to Karachi for higher education. When I returned to Shimshal valley after my intermediate studies, to my surprise there used to be a huge trend of visiting foreign tourist to this isolated valley for hiking, climbing, and most importantly for their own sake of lives. I became attached to them and then gradually became a tourist guide. Finally, I decide to join this adventurous field as my profession and officially become a tourist guide. Since then, I have visited various area of Pakistan. It was a paradigm shift in my life.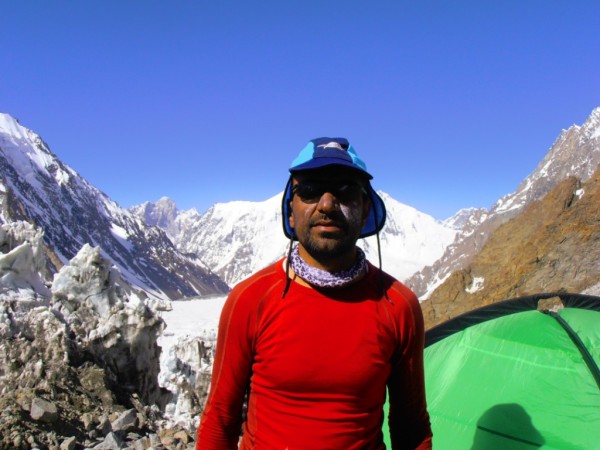 PT: Why didn't you continue with your studies?
The answer has a profound chapter of my life to reveal ….. but the bottom line is that at a young age my father died. Things changed after that. We unfortunately lost our great father, his love and support.
Being the elder son I had a critical decision at that point to make. Either I could have continued with my studies, or I could have sacrificed my own studies and helped my siblings get the best education. I sacrificed my bright future, my education for the sake of my young siblings. Today I feel happy to see that my two siblings have completed their master degrees and other has his own business.
 PT: What prompted you to become a tourist guide?
As a result of my curiosity, i was deeply inspired by the tourist and our local legends seeing them and their work on the mountains, so it provoked a sense in my mind to choose Mountain guiding as my profession so i joined this profession, by exploring various parts of Northern Areas Pakistan i was appreciated by the groups I worked with as a reward I received many appreciation letters and certificates from them and later on joined Alpine Club of Pakistan as a licensed mountain guide.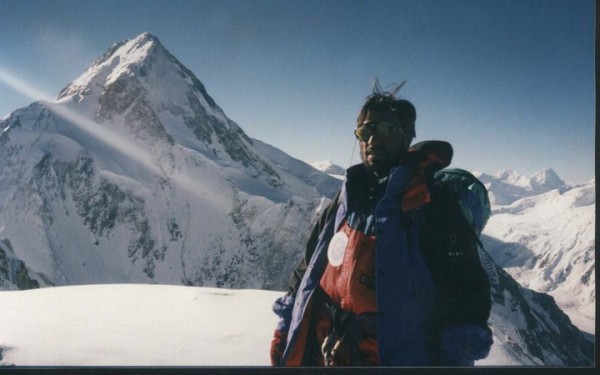 PT: Why is it important to become a professional guide?
To become a professional guide you need plenty of time and space in your related field, just like experts in all fields. If we take in account the international standard rules for the adventure guides, you need a lot more experience, training and sessions from concerned company to get trained. But in our case, I mean its due opposite in Pakistan just like the city guides are well educated but have no practical experience of the field, whereas on the other hand the mountain guides from the fields are less educated but have perfect understanding of the local geography that is why tourists prefer local guides.
PT: How did the transition from being a tourist guide to a high altitude porter/mountaineer take place?
Before entering into the field of mountaineering we used to organize local self-help based basic mountain climbing camps under the supervision of our renowned climbers, we received the basic training from them and in 1995 for the very first I along with my two other friends succeeded to scale Shifkthin Sar (6050m) peak in Shimshal. That was my official entry into the field of mountaineering.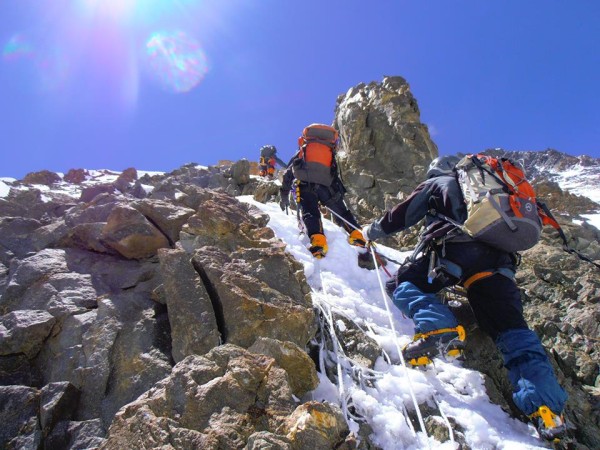 PT: Which peaks have you climbed so far?
In 1997 at the age of 25 year, I joined the Japanese expedition to Gashabrum -2 (8035m) as a camera assistant with NHK. It was a group of 20 foreign members plus 20 Pakistani high altitude professionals from Shimshal and Skardu . I was the youngest and the only person among the locals who could speak English. Every moment of time was a new experience, new skill and new to 8-thousand ascent. But unfortunately bad weather forced us to retreat from the summit.  Despite the success to the top, the expedition appreciated my hard work as a young mountaineer. That was the turning point the travel company offered me to work with them.
In 2000, I joined a famous Japanese mountain climber Nazuka Hadaji's expedition. We both succeed in hoisting our national flags on the summit of Broad Peak (8047m).
2001 again was another successful year, when I was able to summit Gashabrum-11,(8035m) without oxygen. Back from the expedition I was honoured by PTV Morning show to share my experience and success with them. The achievement was published in many local and foreign newspapers. It was really a great moment of joy for me to highlight my country's green flag on the summit of Board Peak and Gashabrum-2.
PT: Did you attempt to climb the Killer Mountain, Nanga Parbat and the beautiful K2 peak?
Yes. I attempted thrice to get to the summit of K2 but, unfortunately, was able to only reach at the height of 8000m, camp-4. Bad luck. Heavy wind storm forced us to withdraw the expedition. But speaking broadly, I really enjoyed the climbing of the savage mountain. Nanga Parbat is yet another challenge on list. I have been to the mountain once on the Rupal side and another on Diamar side but again nature was not in our favour.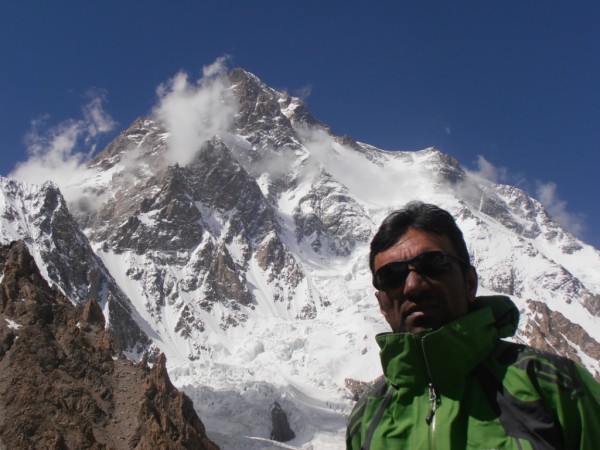 PT: Did you have an opportunity to climb in any foreign country?
Yes….. !! 2002 was the lucky year especially for me when I got a chance to climb on the china's famous mountain Mustaga-Ata 70546m Peak. It was an amazing trip to china. I loved every bit of it..
PT: So, you have grown form a tourist guide to a high altitude porter, a mountaineer. Do you manage your own tours also? Have you established a company of your own?
 True. Initially, I started working as a tourist guide and then as a high altitude porter. Years of hard work and determination opened doors to the outer world finally I thought to establish my own travel company. My company is called the Star Expedition and I had established it in 2006. However, sadly, after the 9/11 incident, when tourism in Pakistan dwindled, I had to shut the company up.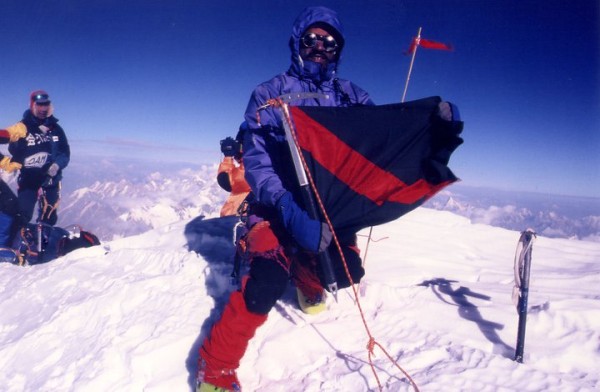 PT: Sad indeed. So, have you been recognized for the wonderful mountaineering work that you have been doing?
Yes. I have received Green award from AKYSB and some medals from Alpine Club Of Pakistan.
PT: How do you plan to transfer your skills and knowledge to the younger generation?
That's an important question. Indeed, the skills, knowledge and experiences need to be shared. At my level, I have organized a number of climbing training camps for the youth in Malanguthi Glacair, Shimshal and another first ever  winter ski training  expedition at  4700mt Shimshal pass in  2002.
PT: Wonderful to hear that. Do you engage in other social work in your community?
I have served my community as an assistant commissioner of Scouts two years. Also, I have for four years worked a village representative, engaging with the government. I feel good after sharing my spare time with the community.
PT:  If you got sponsorship, which other mountains would you like to climb?
Nothing is impossible… speaking with reference to all mountain climbers across Gilgit-Baltistan. We have had one common lacking and that is sponsorships. We have no ways of resource agencies to walk with them to organise cross-country expeditions. I'm pretty confident to say that we Pakistani mountaineers have enormous potential and stamina to climb all 14-eight thousand meter Peaks.. But again we lack in the shadows of our resources. If get sponsored… i would definitely choose to climb K2, which is my dream.