Chitral: Peace and social mobilization strategies discussed at workshop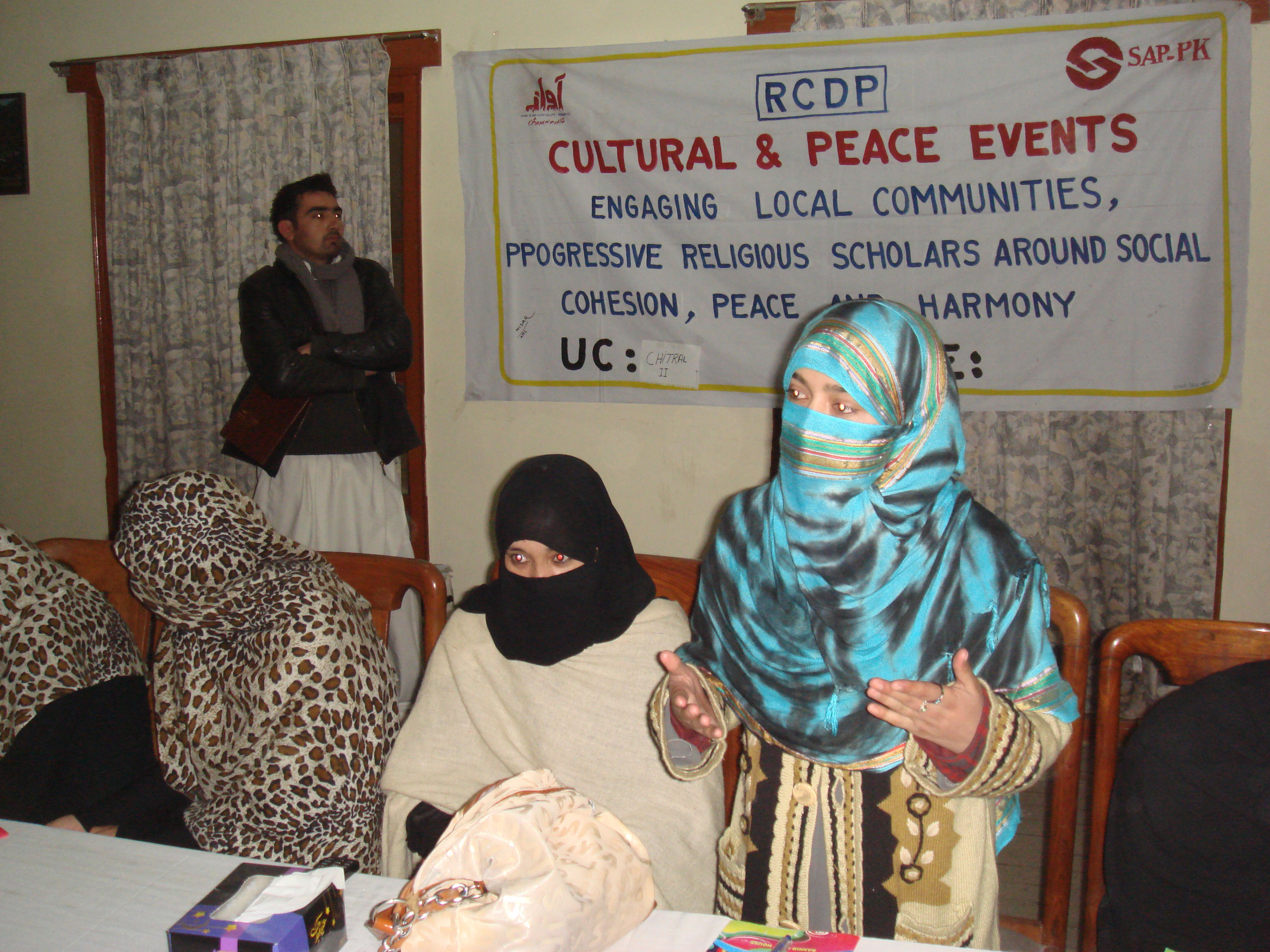 By: Gul Hamaad Farooqi
CHITRAL:   A day long training workshops were  held on Peace dialogue with partner organizations of Rural Community Development Program (RCDP) in a local hotel. Women and men organizations from several villages participated in these two sessions. The first session was held under auspices of Citizen Action for peace & Development (CADP). The participants were trained in social mobilization and emerging needs. During the training the present era issues and its possible solution were discussed by the participants. Social organizer Abdul Nadir Khan introduced the participants.
Program coordinator of RCDP Engineer Temour Shah briefed the stakeholders during his training session about creating of integrated organizational talent for solving the problems. He said that we must be play vital role in redressing different issues in collective efforts. He said that RCDP play vital role in this connection with SAP Pakistan partnership to solve local conflicts with an amicably way of dialogue and negotiations for strengthening this program.
President of women group Shamim Ajaz said that women are very important component of the society. She emphasized on women folk to utilize their hidden talent to play their positive role in developmental process. She thanked RCDP and SAP Pakistan Program who enabled women folk of their area for sensitization to know about their rights.
President of youth group of village Faizabad Kashif Qadir said that youths of his area are fully committed for any type of cooperation for uplifting of the area. He said that timely guideline of youth can be caused for pointing out and solving of several local issue of youth.
The second session was held on Culture and Peace event on engaging local communities' progressive religious scholars around social cohesion peace and harmony. Abdul Nadir Khan highlighted importance of peace and harmony in the area and termed major component of development. Engineer Temour Shah said that mutual harmony, peace and cooperation can energize development process in an region. He said that youth and senior citizen should play simultaneously role in this connection.  He said that no development is possible without peace. He stressed upon the youth to must play their role in peace and development of the area.
Walullah member of youth group thanked RCDP and south Asia partnership for involving of youth in process of peace and development.  Zakia Jameel president of women organization stressed upon the women folk to play their role in development process shoulder by shoulder with men. Deputy coordinator of program Nasreen Bibi and other also expressed their views. A large number of men and women folk participated in these two sessions.