Leila Esfandyari-The Mountaineering Queen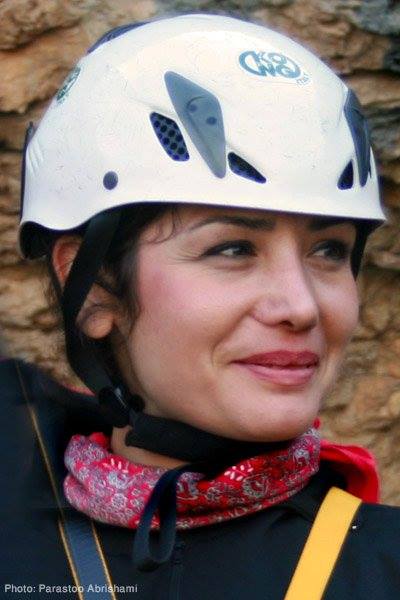 Didar Ali
"When I fall let me remain, as Roof of the World is my final resting place". A wish of Iranian climber forlornly fulfilled, on her return from the successful summit of Gasherbrum 2, she slipped and died on July 22nd 2011.
Leila Esfandyari, born on February 17, 1970 in Karaj Iran, was brought up and graduated in Tehran. Worked as a professional microbiologist in Tehran hospital but then left her job to climb K2 in 2010. Luck was not on her side so she couldn't make it to the summit.
A courageous woman who refused to go with the flow rather preferred to BE the FLOW. Succeeded in breaking the Iranian taboo as women can't work with strangers nor allowed to participate in sports activities, especially climbing, which was devoted to men only.
Below is quoted paragraphs from the Iran Mountain Zone (IMZ), which is believed to have reliable facts about Leila's passionate struggle and final account.
Statement from the family of Leila Esfandyari about G-II accident
One day after the fatal event on Gasherbrum II, family of Leila Esfandyari expressed their opinion on this event. The Esfandyari family's statement is as follows: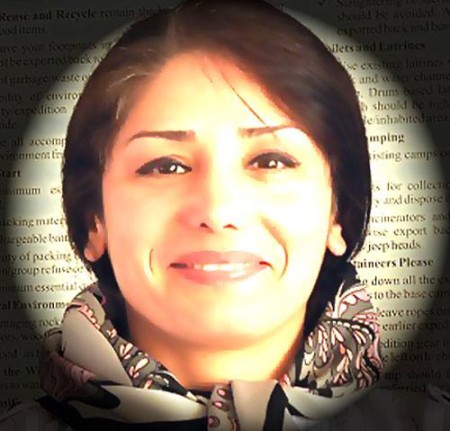 "Hearing about Leila's fatality was terrible. We are really sad, but from another point of view, it looks like that Leila has gained her desires. She has been unified with her most beloved subject in the world and we should respect her way of thinking. Therefore, we should say that it is our satisfaction to leave Leila's dead body on the mountain."
1- Climbing AlamKouh wall via "Polish-1973" route along with Monire Rafi'ee in 2006. They put a record as the first all-women attempt on the wall forever.
2- Complete survey of "Paro" cave, Iran's deepest cave in Kermanshah province in 2001.
3- Complete survey of "Namakdan" cave, world's longest salty cave in Qeshm Island in Persian Gulf.
4- Summit on Mt. Damavand, the highest peak on the country from huge "Yakhar" glacier along with Kazem Faridian and Husain Abolhasani in 2008.
5- Summit on Nangaparbat, the ninth highest peak in the world in 2009. Leila was the leader of the first Iranian expedition on the mountain consisted of six men.
6- Attempting K2, the second highest peak in the world in 2010 up to 7400 m. K2 has seen just three Iranian climbers already; Leila and two men climbers.
7- Member of an international caving expedition in Megalaya, India in 2009 along with Erfan Fekri. The expedition was led by British Simon Brox.
8- Summit on GII in 2011. Leila was the first Iranian woman on the mountain.
It is worth noting that the European filming company of Iceburg has produced a documentary about mountain sports in Iran in 2011. A part of this film is dedicated to an interview with Leila Esfandyari.
Iran Mountain Zone (IMZ) News Department-July 25, 2011
G-II accident in detail by Mahmud Hashemi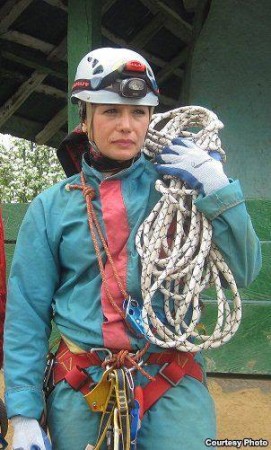 "Leila Esfanyari sat below the Serac in a short distance beneath the summit on GII. She was too mush exhausted. Suddenly she slipped. Sliding got faster, faster and faster, and Leila couldn't control herself and disappeared in a flash." Mahmud Hashemi reported from BC on Tuesday, July 26.
Iranian Mahmud Hashemi told IMZ News about the fatal accident happened on Friday to Leila Esfandyari, while descending from summit on GII. He said:
"Weather forecast on last Monday showed a good window for coming days. Therefore, all Iranian climbers (ten men and Leila) left BC toward higher altitudes on July 19. They split into two groups. Advanced group composed of Azim Gheychisaz, Leila, Rasoul (Leila's Pakistani porter), Iraj Ma'ani, Kurosh Negahban, Husain Moqadam, Abdolazim Berahmani and I, while the team behind us included four men; Sohbatollah Bahadorani, Reza Bahadorani, Husain Gholi-Pour and Abbas Ranjbari."
"We stayed in each camp for one night and reached C3 at 7000 m on Thursday, July 21 in the evening. At the time, the second group settled in C2. Friday was a busy summit push day and we would like to join, but everything due to weather and our physical condition, so we prefered to take a rest before making any decision."
"Early morning, we were ready. We took the trail toward the top. After a few hours going up in good weather, when we had passed 7800m, Kurosh, Abdolazim and Iraj returned."
"There was no fixed line above C3, even in the traverse beneath the pyramid. Leila put aside her ice axe to Rasoul and used trekking poles instead. She was the last climber. Azim was heading up faster than all. He reached summit at 12:00 local time and after a quarter Husain and I joined him, while Pakistani man arrived a few minutes later. We stayed on the top more than one hour for Leila. She got to the top at 13:30. She was obviously tired."
"We should be in C3 prior to sunset. Leila took Azim's axe and proceeded down. Husain and I was descending at the head of the team." Mahmud reported, "Leila sat down just after the summit serac to rest. Suddenly she slipped. She moved down and sped up. Unfortunately, she lost the ax and couldn't stopped sliding."
Coming down, climbers found Leila's dead body around 7650, flagged it and returned to C3. "Iranian climbers gathered in C3 in the evening to argue about the situation," Mahmud told, "We were all overwhelmed with this question, "Could we recover Leila's dead body or not?" It was difficult. It needed at least 10 powerful climbers and we were not. So we decided to leave her there and returned back to Base camp."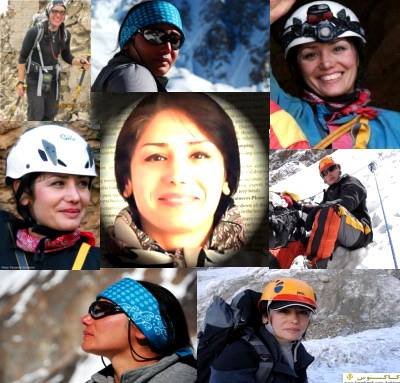 Iranian climber are now in base camp sitting out bad weather. GII summiteers will attempt on GI, while rest of party is going to accomplish their mission on GII.
Iran Mountain Zone (IMZ) News Department-July 26, 2011
She faced plenty religious, cultural and financial challenges during her quest, as many times she had to inhale souring realities of life but she continued her journey.
"Having been unable to find a sponsor, the venture cost her an enormous amount of money, for which she had to sell her share in a house which was her only asset. Previously, she had even had to give up her job as a microbiologist in a Tehran hospital, in order to fulfill her goal of climbing the second most difficult mountain in the world- Nanga Parbat. It must have been a sacrifice worth making, as the expedition, in the company of an Iranian team three years ago, ended successfully."
                                                                                                www.jadidonline.com (25th July 2011)
As per her wish, her body rests in the frosty Himalayan mountain range of Pakistan.
She is gone but not forgotten, she has paved the path for many out there, to come out of their shells and do what they love and live for.
The newcomers of today are following her footstep, as memories and stories of the courageous woman are still fresh and alive in the high mountain regions of Gilgit-Baltistan Pakistan.
May the diviner spirit rest her soul in eternal peace.  Amen! 
Didar has a passion to write about arts, culture, history, environment, philosophy, politics, technology and tourism. He is also a cultural and social critic. He blogs at OINOMANCY and SHUPUN