Group of employees refuses to work under "abusive" Deputy Commissioner of Ghizar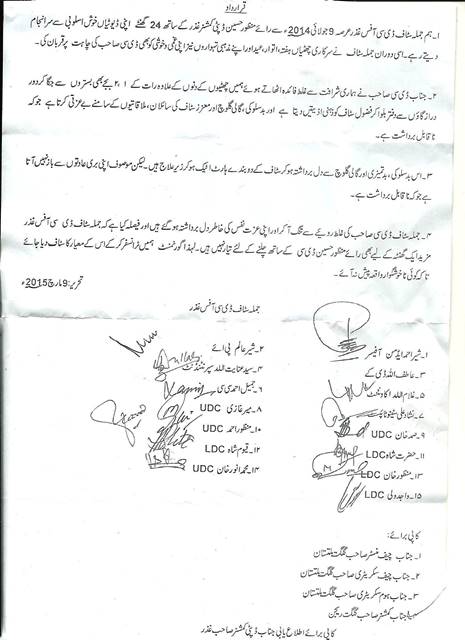 Gilgit, March 10: A group of govt employees in the Ghizar District have signed a resolution against what they have called 'mistreatment' and 'mental torture' at the hands of the Deputy Commissioner. The employees have accused the DC, who is the administrative head of the district, of being exploitative and abusive. The employees have demanded to be transferred out of the district.
The resolution goes on to mention that the employees are stressed and that two of their colleagues have had 'heart-strokes' in the past due to severe work load and mistreatment.
They have also accused the DC of demeaning the staff in front of visitors and asking them to be present in the office at odd hours.
The employees have said that based on the alleged 'mistreatment', they have decided to not work for the DC anymore.
A delegation of the employees also called on the caretaker Chief Minister and other high officials yesterday to lodge complaint against the Deputy Commissioner.
Some people have said that the employees are overplaying and that they are trying to build pressure against the DC because he is strict and expects results from the employees.
By any standards, this is a unique case of subordinates 'revolting' against a higher official.