Rally held in Hunza Valley to demand freedom for "political prisoners"

Aliabad, March 26: A rally was held in the Hunza Valley to demand freedom for Progressive Youth Front (PYF) leader Baba Jan and his 12 other companions, all hailing from Hunza Valley. Participants of the rally traveled from Nasirabad, the hometown of Baba Jan, to Aliabad, the unofficial headquarters of Hunza-Nagar district on bikes and other vehicles. They were carrying banners and posters and raised slogans in favor of the prisoners who have become famous as "GB 12" or, for some, "Hunza 12".
The rally was addressed by a large number of people, including Izhar Hunzai from PTI, who said that in order to prove its credibility as a genuinely democratic government, the Prime Minister of Pakistan should take appropriate measures to ensure freedom of the political prisoners. It is pertinent to note that Baba Jan is a senior leader of the Awami Workers Party (AWP), a left-leaning national party.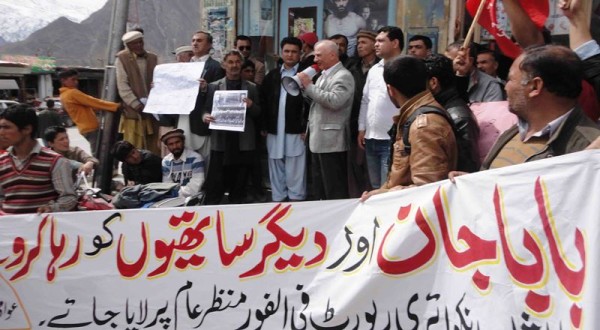 The speakers also demanded of the federal and the provincial government to make the judicial inquiry of the Aliabad shooting public and name and punish its perpetrators and executors.
These 13 people have been sentenced to multiple sentences of life-imprisonment by the AntTerrorism Court (ATC) court of administrative judge Shahbaz Khan. They stand convicted on charges of arson, rioting, damaging public property and thrashing police officials. Many of them were arrested in the wake of riots that erupted in the otherwise peaceful Hunza Valley after police killed two Internally Displaced Persons (IDPs) belonging to the disaster struck Shishkat Village of Gojal Valley, Upper Hunza. The bloody incident had occurred on 11th of August 2011, while the region's chief minister was visiting Hunza-Nagar district.
Baba Jan and other convicted people have denied the accusations and have termed their sentencing to be politically motivated and in violation of basic human rights.