Gilgit: 7 MWM leaders declared abscondors by anti-terrorism court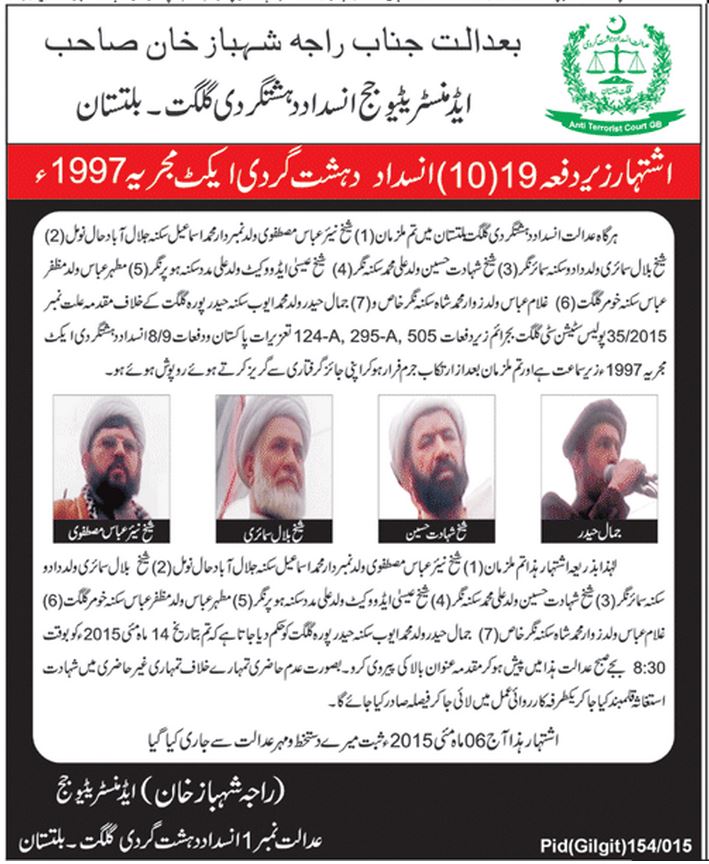 Gilgit, May 6: Judge Shahbaz Khan of the Anti-Terrorism Court in Gilgit has said that seven leaders of the Majlis-e-Wehdatul Muslimeen are absconders in a case filed against them. The judge has ordered the seven leaders to appear in the court latest by 14th of May to defend themselves.
The leaders declared absconders include Sheikh Nayyar Mustafvi, Sheikh Bilal Sumayri, Sheikh Shahdat Hussain, Sheikh Issa Advocate, Mathar Abbas, Ghulam Abbas and Jamal Haider.
They are wanted in a case filed against them on 31st March after MWM staged a protest rally condemning Saudi Arabia's attack on Yemen. The MWM leaders had rallied from Gilgit to Danyore, an adjacent town located across the Hanisara River.
The sections under which case number 20/2015 has been registered are 124-A of PPC, related to act of treason, 505 (Spreading of mischief in  public), 295-A (Use of derogatory remarks), and section 8-A and 9 of the Anti-Terrorism Act (ATA), which relates to  acts intended or likely to  stir up sectarian hatred.
The ATC judge has also published advertisements in regional newspapers declaring the leaders absconders and ordering them to appear in the court on 14th May, at 8:30 in the morning.
It is pertinent to note that MWM claims to be a major political party in the Gilgit-Baltistan region. It has fielded candidates from majority of the 24 constituencies and its candidates and supporters are busy in election campaigns throughout the region. The party's central leader Allama Abbas Nasir has also reached the region to take part in the election campaign.