Sitara-e-Pakistan conferred on ambassadors killed in helicopter crash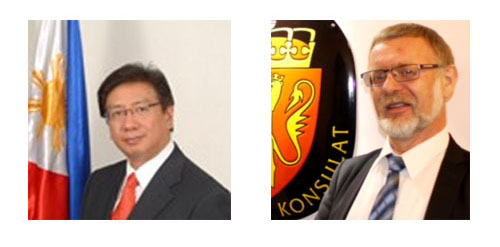 Islamabad: Pakistan on Monday handed one of its highest civilian awards to two foreign ambassadors killed in a helicopter crash in a remote northern valley in the Gilgit-Baltistan region.
Prime Minister Nawaz Sharif announced the award at a memorial ceremony held in Islamabad on Tuesday, saying it would also be conferred to the wives of the Malaysian and Indonesian ambassadors, killed in the same incident.
Leif H. Larsen, the Norwegian envoy, Domingo D. Lucenario Jr of the Philippines and their fellow ambassadors` wives were killed along with the helicopter`s two pilots and a crew member while landing in Naltar valley on Friday.
"In recognition of their services, for their contribution towards forging closer bilateral relations, I am recommending to the President to bestow our civil gallantry award, Sitara-e-Pakistan, on Ambassador Larsen of Norway, Ambassador Lucenario of the Philippines, Madam Habibah binti Mahmud of Malaysia and Madam Heri Listyawati of Indonesia," Sharif announced in a televised speech.
"Let us bow our heads in prayer to the Almighty for the souls of the departed. May their families have the strength to bear this irreparable loss. Let us also pray for the speedy recovery of all our friends, who are injured and are undergoing treatment," Sharif said
The helicopter was one of three carrying a delegation of ambassadors on a three-day trip to Gilgit-Baltistan, where they were set to inspect projects and meet with prime minister Sharif.
The military and Pakistan`s foreign office said the crash was due to a technical fault while landing.