Vigils held in Gilgit and Hunza to express solidarity with Safora Carnage victims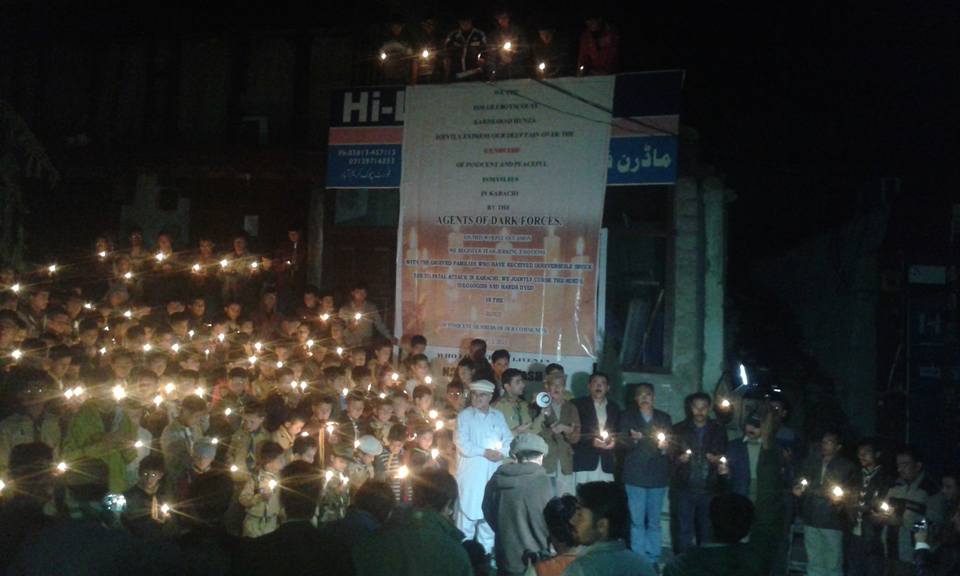 Gilgit/Karimabad/Gulmit/Sost: People from different faith groups expressed solidarity with victims of the Safoora Carnage, which resulted in the death of at least 45 members of the Shia Ismaili sect of Islam. The attackers shot the passengers, including 25 men and 16 women, on point blank. Two children traveling in the attacked bus were spared.
The news of the attack created anger and uproar among the Ismailis of Gilgit-Baltistan. Protest demonstrations were held in Gilgit, Aliabad (Hunza) and Gulmit (Upper Hunza). The Karakuram Highway was blocked by protesters for several hours today to register protests. Shops and markets remained closed in different parts of Gilgit and Hunza after the carnage.
Business community in the border town of Sost has announced closure of business tomorrow in protest.
Shia leaders from Islami Tehreek Pakistan, MWM and other groups joined the protests in Aliabad and Gilgit. They expressed solidarity with the victims and demanded action against the culprits. The speakers expressed confidence in the capacity of the armed forces to take out the terrorists who have killed thousands of Pakistani during the last decade.
PMLN leaders and workers held a vigil in memory of the #SafooraCarnage victims #Gilgit pic.twitter.com/hAiBBsA9cb

— pamirtimes (@pamirtimes) May 13, 2015
PMLN leaders and other political figures visited the Ismaili community centers and expressed solidarity with the Ismaili Jammat. Prayers were also offered for the victims and the injured ones.
Students of the Karakuram International University also protested against the carnage and demanded strict action against the terrorists.
Students of Karakuram Int'l university protested to condemn bus attack in Karachi #SafooraChowrangi #Gilgit pic.twitter.com/l3mPoCdFe7

— pamirtimes (@pamirtimes) May 13, 2015
In the evening, civil society groups held candle-light vigils in different parts of Gilgit city and Karimabad (Hunza). Participants of the vigils said that they are not afraid of the terrorists.
Leaders of PMLN, MWM and other parties hv expressed solidarity with Ismailis #SafooraChowrangi #Gilgit pic.twitter.com/xVtZZ1o9VX

— pamirtimes (@pamirtimes) May 13, 2015
It is pertinent to note that various world leaders and global organizations have expressed shock and anger at the carnage and demanded more measure to curb terrorist networks in the country.
Meanwhile, the Chief of Army Staff General Raheel Sharif has reached Karachi along with other senior army officials to discuss the latest security situation. In the wake of the attack, the COAS cancelled his official visit of Sri Lanka. The decision has been praised by the local communities in Hunza valley. They were joined in the evening by the country's Prime Minister to attend a special meeting convened to discuss the issue. The national civilian and military leadership have condemned the attack and vowed to bring the culprits to justice.
Peaceful protest demonstration held in Gulmit village of Upper Hunza against #SafooraChowrangi attack pic.twitter.com/n7mMrTBi6v

— pamirtimes (@pamirtimes) May 13, 2015