Peak fragility: Conserving mountain soils an urgent matter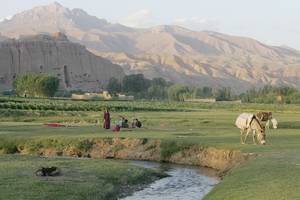 New book on the importance of management of mountain soils
23 June 2015, Rome
– Mountain soils are the fragile foundations of ecosystems that ultimately provide water for more than half the world's population. A new FAO book offers technical insights on the sustainable management of mountain soils, which are home to a vast array of human activities ranging from quinoa cultivation in the Andes through European ski resorts to the collection of medicinal plants in Tajikistan's "roof of the world" Pamir range.
"Understanding Mountain Soils," published by FAO with theMountain Partnership Secretariat, the Global Soil Partnership  and the University of Turin, contains a host of case studies from around the world covering human, productive and geological issues.
It is a contribution to the UN's International Year of Soils 2015, which seeks to raise awareness of the importance of preserving a critical natural resource that is home to nutrients and micro-organisms which make agriculture and plant life possible.
"Mountain soils are particularly susceptible to climate change, deforestation, unsustainable farming practices and resource extraction methods that affect their fertility, trigger land degradation, desertification and disasters such as floods and landslides, leading to poverty," FAO Director-General Jose Graziano da Silva writes in the preface to the volume.
The book aims to "promote the sustainable management of mountain soils on behalf of mountain peoples – who are often marginalized, not included in decision-making processes and development programmes, and increasingly affected by soil-related disasters," writes Ermanno Zanini, an expert on glaciers and natural risks and professor at the University of Turin.
Shade-grown coffee and high-tech mapping
The book describes the main features of mountain soil systems, their environmental, economic and social values, the threats they are facing and their cultural heritage. Case studies provided by Mountain Partnership members include how shade-grown coffee improves soil conservation, the surprising carbon storage powers of the windblown Scottish coastline, the viability of shifting cultivation in Bangladesh's Chittagong Hill Tracts, and unusual peat bogs in Lesotho.
Two FAO-assisted programs are also featured, one that led to a slash-and-mulch agroforestry system replacing slash-and-burn practices in swathes of Central America, and a high-tech mapping of erosion hot spots in Vietnam that has allowed farmers to change the way they tend coffee trees, sharply reducing soil runoff.
Others focus on soil geology. One on Nepal suggests that planting fast-growing nitrogen-fixing broadleaf trees and local grasses is a more effective conservation strategy than the traditional planting of chir pine forests, as rapid plant cover keeps the region's exhausted soils from forming clay crusts which don't conserve water in the dry season but exacerbate landslide risks during the monsoon.
An analysis of the rapid decline of vegetarian pastoralists herding Bargur cattle in southern India, due mostly to regulations that deny them access to forests, exemplify the value of the intricate ecosystem and social services they have provided for centuries, including an unusual cyclical grazing pattern that both gives farmers manure in a timely manner and reduces fire risks in upland forests. Fewer herders have prompted local farmers to use more chemical inputs in their fields, allowed invasive species to replace native flora and grasses, and made illegal poaching in forest areas more common.
Another chapter looks at the impact winter sports has on alpine ecosystems, noting that  the use of piste-grooming tractors compacts snow and reduces its insulation capacity, effectively freezing underlying soil systems. Moreover, artificial snow's nutrient load is different than that of real snow, which is likely to affect summer flora types after it melts.
Mountain peoples are the custodians of traditions and promoters of innovations
"Mountain peoples' relationship with their soil is deeply rooted in their heritage and, over the centuries, they have developed solutions and techniques which have proved to be a key to resilience," writes Thomas Hofer, Mountain Partnership Secretariat Coordinator. The book highlights solutions and techniques, indigenous practices, knowledge and sustainable soil management approaches as well as ways in which to steer local communities towards better land-management models.
Overgrazing in western Mexico has been tackled by promoting the cultivation of agave. The plant serves as a landscape retainer allowing for other crops to be growth with greater success, while farmers were able to reduce their livestock herds thanks to income derived by selling their agave to makers of mezcal and tequila.
Mountain soils are usually less fertile than in lowlands and steep slopes accelerate erosion, with broad effects on larger downstream ecosystems.
While mountain landscapes can be harsh habitats, the result of humans abandoning them can be adverse. More than 40 percent of farms in the European Alps were abandoned in the last two decades of the 20th century, prompting forests to expand into former grassland. Researchers found the net result is a lower carbon storage capacity for greenhouse gas emissions produced elsewhere.
"The benefits of healthy mountain soils go beyond mountain regions and contribute to the wellbeing of the world at large," writes Ronald Vargas, one of FAO's soil experts, says in the concluding chapter.
The book recommends a "landscape approach" for the provision of ecosystem services, promoting mechanisms that compensate mountain communities for the carbon sequestration, biodiversity conservation, erosion control and protection of water sources that their sustainable soil-management systems produce.
Global Soils Partnership Plenary Assembly looks at sustainable soil management beyond 2015
Understanding Mountain Soils was launched at the start of the annual meeting of the Global Soils Partnership, taking place at FAO's Rome headquarters and running through June 24. Member countries, non-governmental organizations, academic scholars, civil society groups and international organizations gathered to review the progress made in the promotion of sustainable soil management since the launch of the partnership three years ago and during the 2015 International Year of Soils.
A group of "Regional Soil Partnerships" presented their implementation plans geared to protecting healthy soils and restoring degraded ones. And GSP partners are also working to support the development of Voluntary Guidelines for sustainable soil management as a complementary step for implementing the just-endorsed World Soil Charter.