Cultural festivals brings together the people of Gupis Valley, Ghizar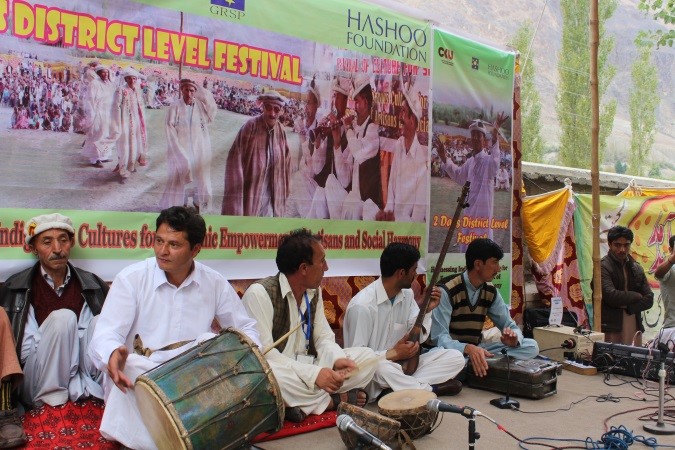 Gupis: (PR) A cultural festival was held in Gupis, a Tehsil in the Ghizar district of Gilgit-Baltistan. The two days long 'District Level Festival' attracted large numbers of people, allowing them to rejoice and get inspiration for sustenance of their cultural heritage.
This event was part of a series of festival jointly being organized by Hashoo Foundation and the Centre for Culture and Development (CKU). It endeavors to revive the indigenous culture to empower traditional musicians, local artisans, singers, poets, culinary arts and create social harmony.
The festival had all cultural recipes one would love to see, which includes, traditional dance, shina and khower songs, folk comedy and flok drama, traditional food stalls, woman honey business groups stalls and culinary arts stalls.
The First day event was attended by more than 1200 spectators from all over the Ghizer, mostly families participation in the program was spectacular i.e. "traditional famous event Gurolum", traditional ritual of "Tao" and Payalo Bazam ( Party of Sheppard's) and flok dance of the senior citizens, traditional food stalls and stalls of the culinary arts.
The second day event was well attended by more than 600 spectators from all over Ghizer. The items of festival are Cultural Dances, Musical Show, Traditional Dances, Traditional games, Stage performances, Cultural Dress show, Local Dances, Folk skits and dramas, Prizes Distribution ceremony.
The traditional culinary stalls, traditional embroideries and local made instruments stalls were overwhelmingly appreciated by the crowd.
Besides traditional music performers from Ghizer, musicians and singers from Gilgit also participated.
The efforts of Hashoo Foundation, Centre for Culture and Development (CKU), Gupis Arts and Culture Council and Local Support Organization (LSO) were well appreciated by people and Chief Gust, Mr. Fida Khan Fida (Provincial Parliamentary Secretary for Planning and Development, GB. He told such remarkable efforts in culturally enriched regions like Ghizer would definitely help in cultural promotion. He further stated, we GBLA member will support Hashoo Foundation in the implementation of the events.