Earthquake Aftermath: 8 killed, 20 plus injured, in Gilgit-Baltistan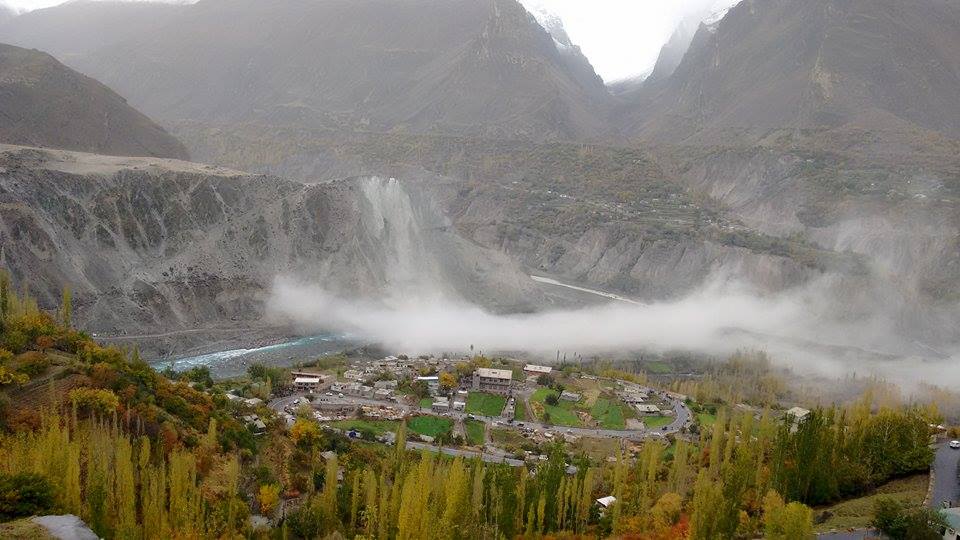 Gilgit/Hunza/Skardu: At least eight people were killed and around two dozen were injured across Gilgit-Baltistan as a result of various incidents triggered by a 7.7 magnitude earthquake today, said a GBDMA official.
Having its epicenter in Afghanistan, the earthquake shook the entire mountainous GB region, spreading fear among the residents and forcing people to run out of their houses in all districts.
[dropshadowbox align="right" effect="horizontal-curve-bottom" width="200px" height="150px" background_color="#8bd776″ border_width="2″ border_color="#dddddd" inside_shadow="false" ] 32 people have been injured in different parts of Gilgit-Baltistan: Diamer (13), Ghizar (09), Gilgit (04), Hunza (02), Nagar (01), Ghanche (03) – Abdul Rehman bukhari[/dropshadowbox]
Hundreds of houses were damaged and roads were blocked in Ghizar District, which is relatively closer to Afghanistan's Badakhshan province. One source has put the death toll in Ghizar at 4. The deaths occurred when a vehicle was reportedly hit by a boulder while traveling on the Gilgit-Shandur road. Meanwhile, there are also reports that two children were severely injured in Thoi village of Yasin Tehsil after a wall fell on them as a result of the tremors.
A car carrying five people of a family was hit by a landslide or rockfall in the Kohistan area. Three of the passengers are reportedly missing, while dead body of one has been recovered from the Indus river. An injured woman present in the car has been shifted to safety, said Shahabuddin Ghauri, a local reporter. The people traveling in the car were residents of Danyore Town of Gilgit district.
In Diamer district two people, including a child, were killed while at least 13 people sustained minor and major injuries in Darel, Tangir and Tatta Pani area. The deaths reportedly occurred due to roof collapse.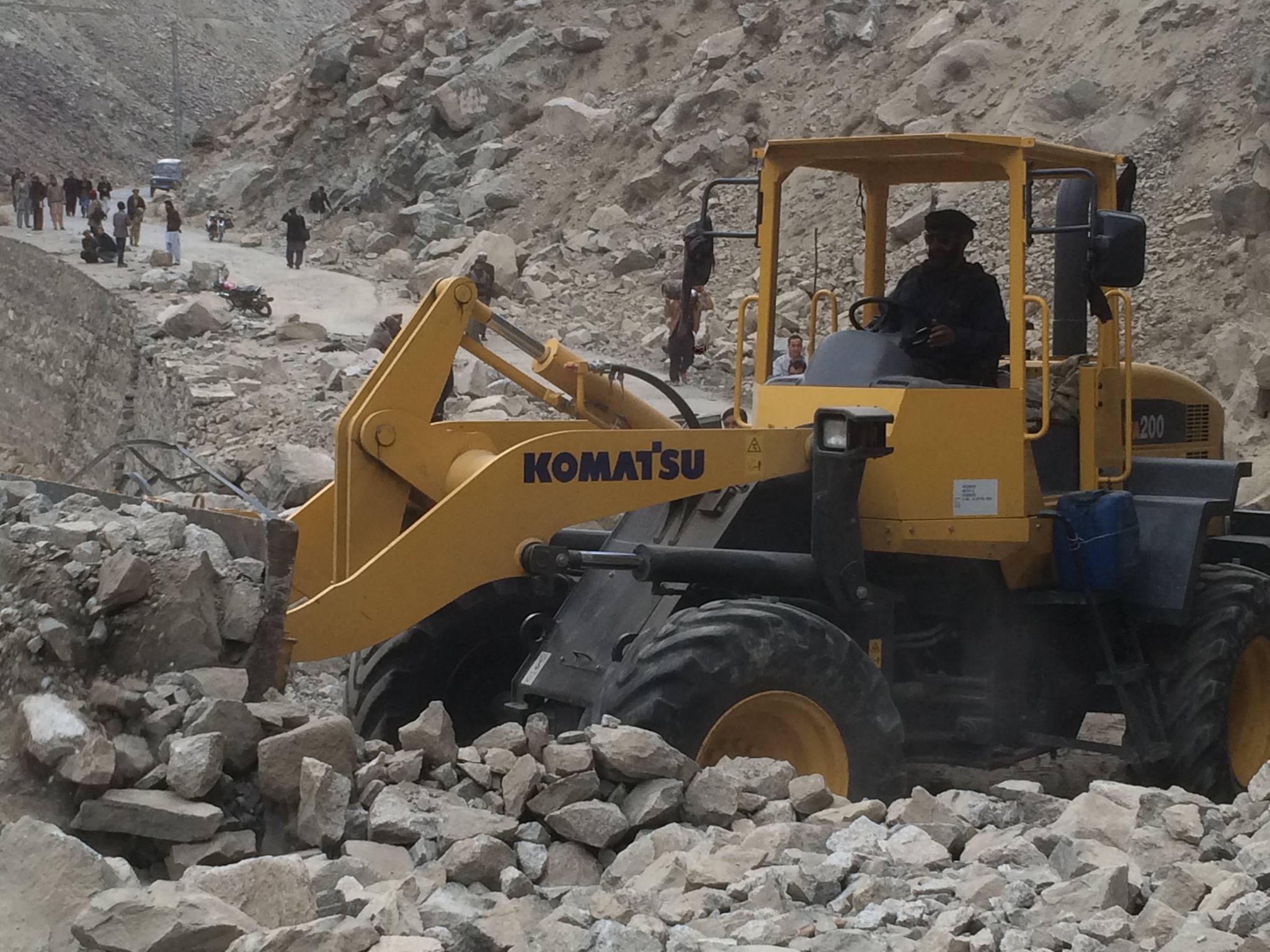 In Hunza, a female teacher died after being hit by a landslide between Ganish and Sumayar. She was returning home from a school in Sumayar (Nagar), where she taught. The landslide threw white dust across the valley, while also blocking the road to Nagar Khas. However, the landslide debris did not affect flow of the Hunza River.
Boundary walls fell and some buildings got cracks in Gilgit as a result of the tremors.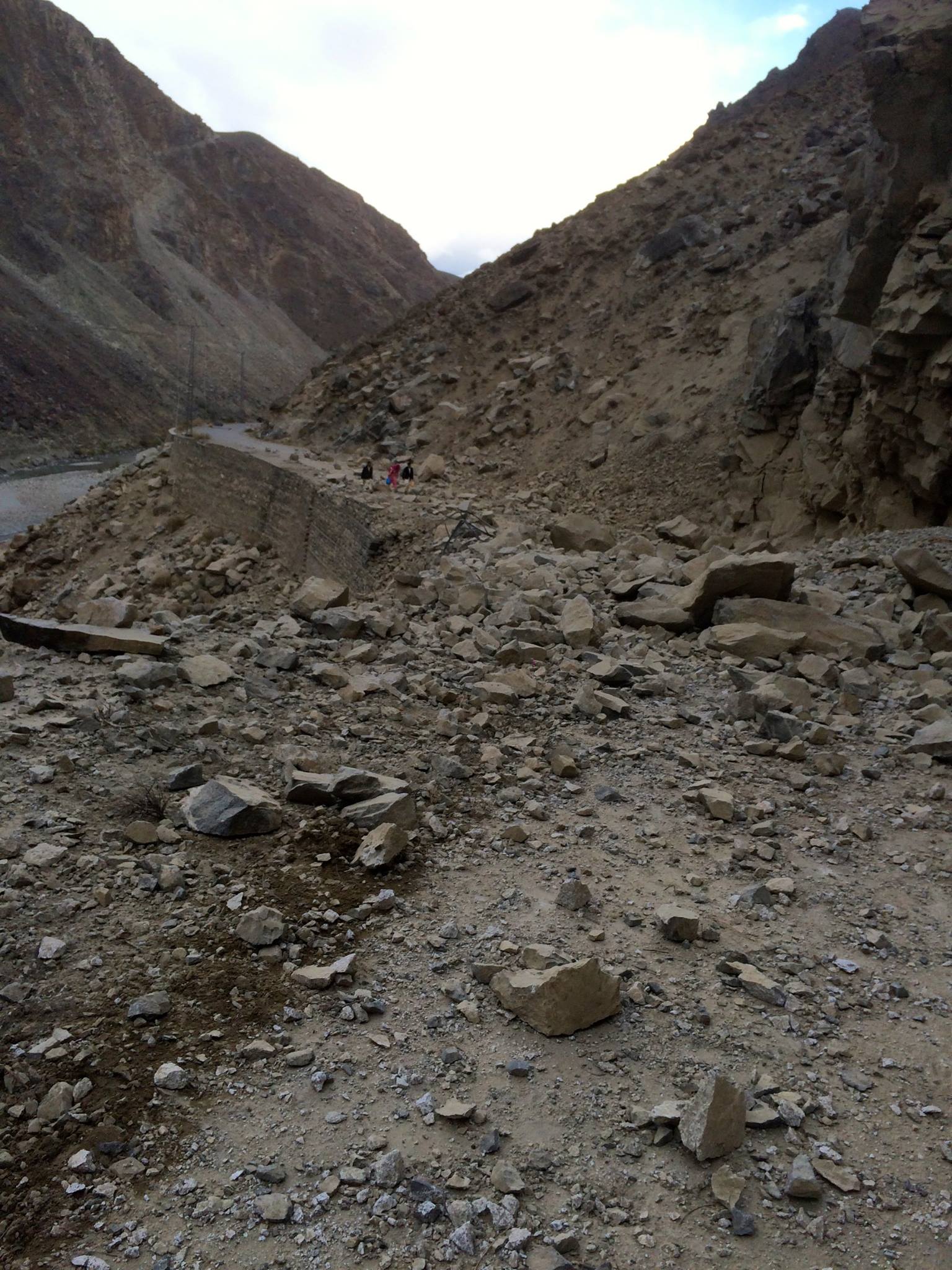 Main and link roads have been blocked by landslide and rockfall across the GB region
Roads were blocked in Astore District also, but there was no report of loss of life.
A couple of people were injured in Ghanche district. An injured woman was shifted to Skardu for treatment.
Landslides occurred in different parts of Skardu District. There were no reports of loss of life.