First Tehsil Educational Conference held in Gojal, Hunza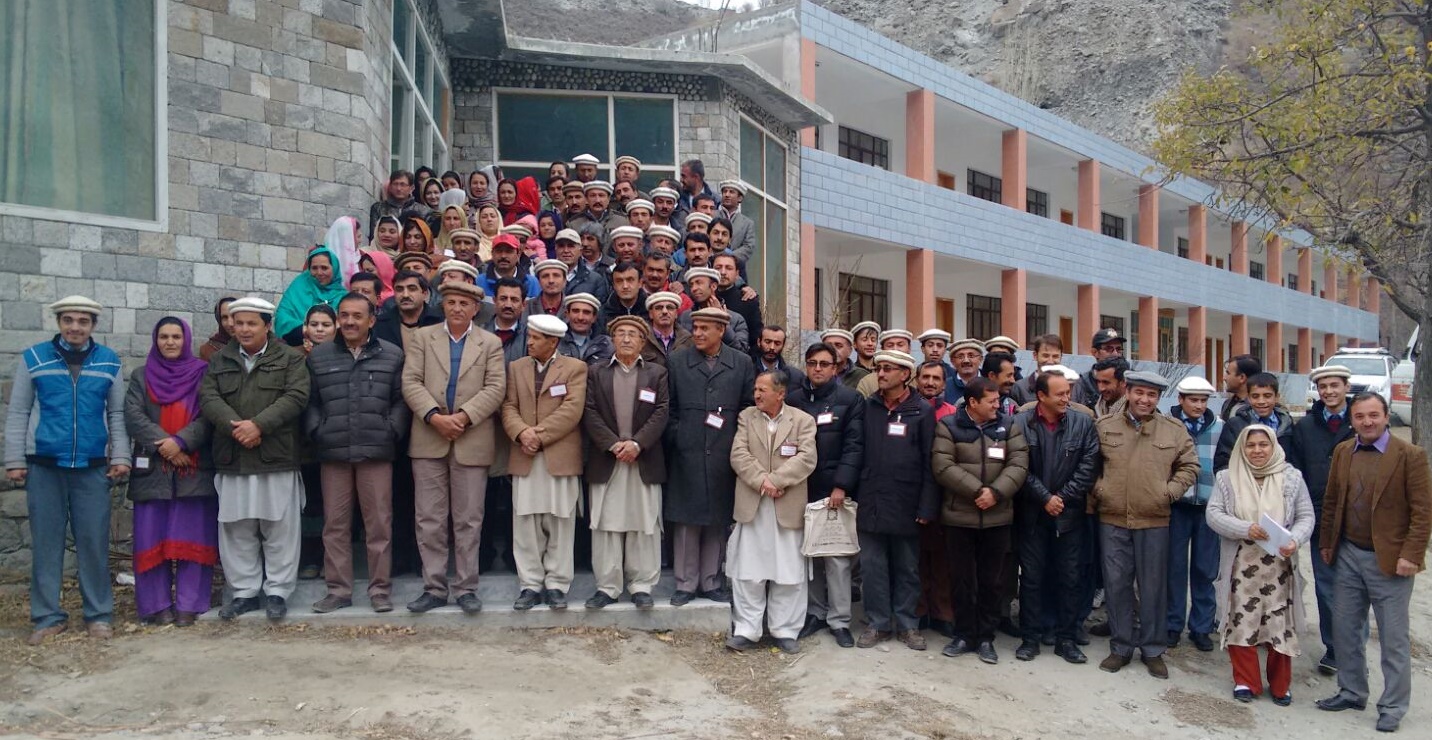 Reporting by Didar Ali and Ali Ahmad
Gojal: The First Tehsil Educational Conference concluded today here in Gulmit, the headquarters of Tehsil Gojal, upper Hunza. A resolution was put forth and endorsed by the delegates, making important suggestions for improvement of the educational system in the region.
Through the resolution the delegates of the first Tehsil Educational Conference have said that the students and the community overall needs to prepare for the opportunities offered by the China-Pakistan Economic Corridor. This would necessitate teaching and inculcating skills and ideas demanded by the market. The conference resolution highlights the importance of integrating ICT and other modern teaching and learning methods to create students fit for the future. The delegates have said that in line with the development goals set recently, education needs to be the top most priority for policy planners. The conference delegates agreed that the education policies need to be inclusive and aligned with the needs and trend of the time. Reading, writing and listening were identified as important learning processes. Creation of a centralized data bank about educational resources and needs will help decision makers and researchers. Creation of resource centers, professional groups and forums for sharing of experiences and learning. This conference should be continued in the future, because it provides an important platform for people related to the field of education. The conference resolution also said that community participation in educational planning, management and monitoring must be ensured by all stakeholders.
Speaking at the occasion, ex-MLA Mutabiat Shah said that the creation of an enlightened and egalitarian society depends on how the educational journey of the region continues and grows. He said that the Gojal region has come a long way in a very short period of time. He said that every individual of the society has played an important role in spreading education, and therefore everyone takes pride in the relative success of the educational journey. He hoped that the organizers of the conference will sustain the effort and continue it for the years to come.
He further added that there's a need for bringing local philanthropists in loop and summing their contributions for educational development. In this regard the families of Late. Sultan Ali (Samarqand) and Late. Rai Ghulam Uddin have already contributed.
Sharif Khan, President of the Ismaili Regional Council for Hunza, congratulated the organizers of the conference. He said that the event is an important milestone in the region's educational development. Highlighting the challenges of the future, he hoped that the region's populace will continue preparations and be successful in creating opportunities and advancing the region's development further.
Assistant Professor Sultan Ahmad and Sajjad Ahmad conducted the programme as masters of ceremony.
 Conference Details
Speakers from various organizations continued sharing their experiences, services and interventions on the second and final day of the First Tehsil Educational Conference here in Gulmit.
Sharing her views, Khush Phuner and Abida Parveen from PDCN said that since establishment in 1999, their organization has focused on six important thematic areas, including quality of teaching and learning, leadership management and administration, and social and spiritual development. They said that the quality of education can be increased by making serious efforts during the first 10 years of a child's development. They emphasized the importance of investing in ECD level teaching and learning.
Later, Pari and Laila from Rupani Foundation discussed their projects, including Agah Waldain (Aware Parents), which invests in capacity development and awareness raising of parents.
Click to Read Details of First Day
Ibarhim Baig from Pakistan Reading Project said that reading habits need to be developed because without engaging with reading students and teachers cannot improve their skills and insights. He said that their organization has trained more than 700 teachers in the GB region to help them improve reading habits of their students.
Speaking at the occasion, Aman Ullah, head of CICD Mehnaz Fatimah Welfare Organization said that students with known weaknesses and issues can be helped better by developing individual plans for them. He emphasized the role of creating more inclusive education interventions for greater good.
Discussing AKRP's EELY project, Aejaz Karim said that they have trained 137 youth facilitators, including 56% women, to impart training session on youth development, entrepreneurship and life skills. He said that more than 6,000 youth in the Gilgit-Baltistan and Chitral have been reached through the project.
Attaullah Baig from AKRSP highlighted the burning issue of unemployment, based on a labor survey conducted a couple of years back. He said that a large number of youth remain unemployed in GB. He emphasized the need for increasing employability of the youth, especially those who have not been able to complete their education beyond 10th grade, along with the rest.
Gender expert Yasmin Karim said that to create a more gender-balanced society, the area needs to be treated as a priority at the centers of learning. She said that gender is a social construct and through education alone can women be given equal spaces in all spheres of life. She urged the teachers and educational administrators to adopt a more gender-neutral approach inside the classrooms.
Concluding the session, Sharifullah, a renowned researcher and senior faculty member at PDCN, said that serious efforts need to be taken to bridge the gap between government run and private or community based schools. He said that by creating synergies by educational institutions the learning and teaching environment can improved to a great extent. He also urged the participants to be more systematic and analytical in their approach towards tackling under-performing educational units. He also emphasized on the importance of setting concrete outcomes to be able to measure educational development.
SPEAKERS
SELA AWARDS CEREMONY
Outstanding teachers, students and schools were honored at the end of the conference by presenting awards and shields. 5000 cash prize were given each for best teachers,  while 20000 cash prize (fund) each was given for implementation of innovative ideas in their respective schools. Token of appreciation and certificate were also given to the best teachers.
Mr. Nazir Ahmed Bulbul, Principal of Al-Amyn Higher Secondary School, Mr. Rehmat Karim Principal of Govt. Girls Higher Secondary School Gulmit, Ayub Khan Principle of DJ School, Zoodkhun Chipursan were honored for their meritorious services.
Best teacher awards were presented to Mrs. Shama Rehman from Govt. Higher Secondary School Gulmit, Mr. Fazal Karim Govt. Boys H/S Gulmit, Mr. Sadru Din, Avi Cina Model Acadamy Jamalabad, Mr. Mubashar Ali DJ High School Zoodkhoon and Mrs. Bibi Aftab DJ High School Zoodkhoon.
It is pertinent to note that the Simurgh Educational Leadership Award (SELA) is an initiative taken by local philanthropists to recognize and encourage educational practitioners, managers and students.
Day Two In Pictures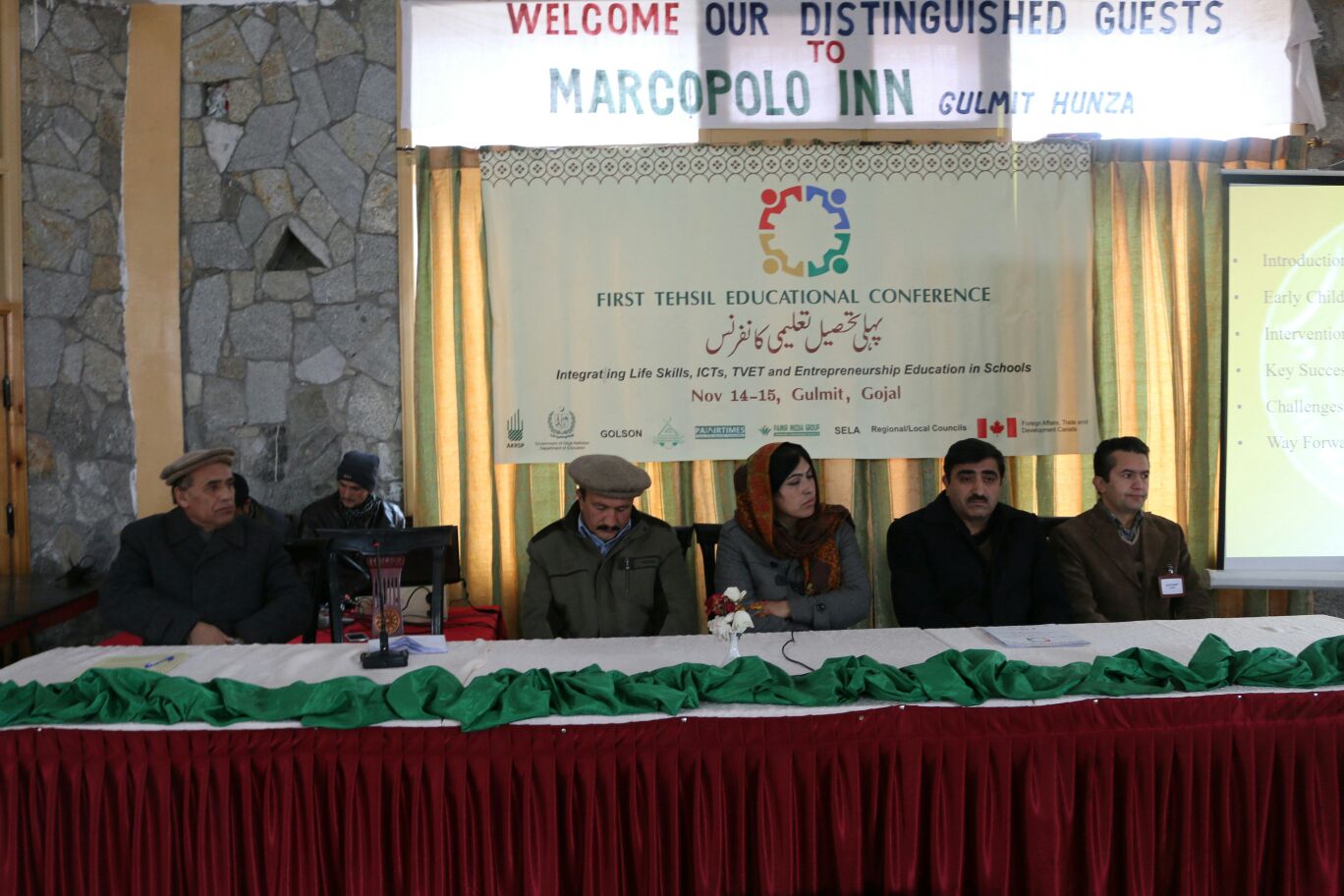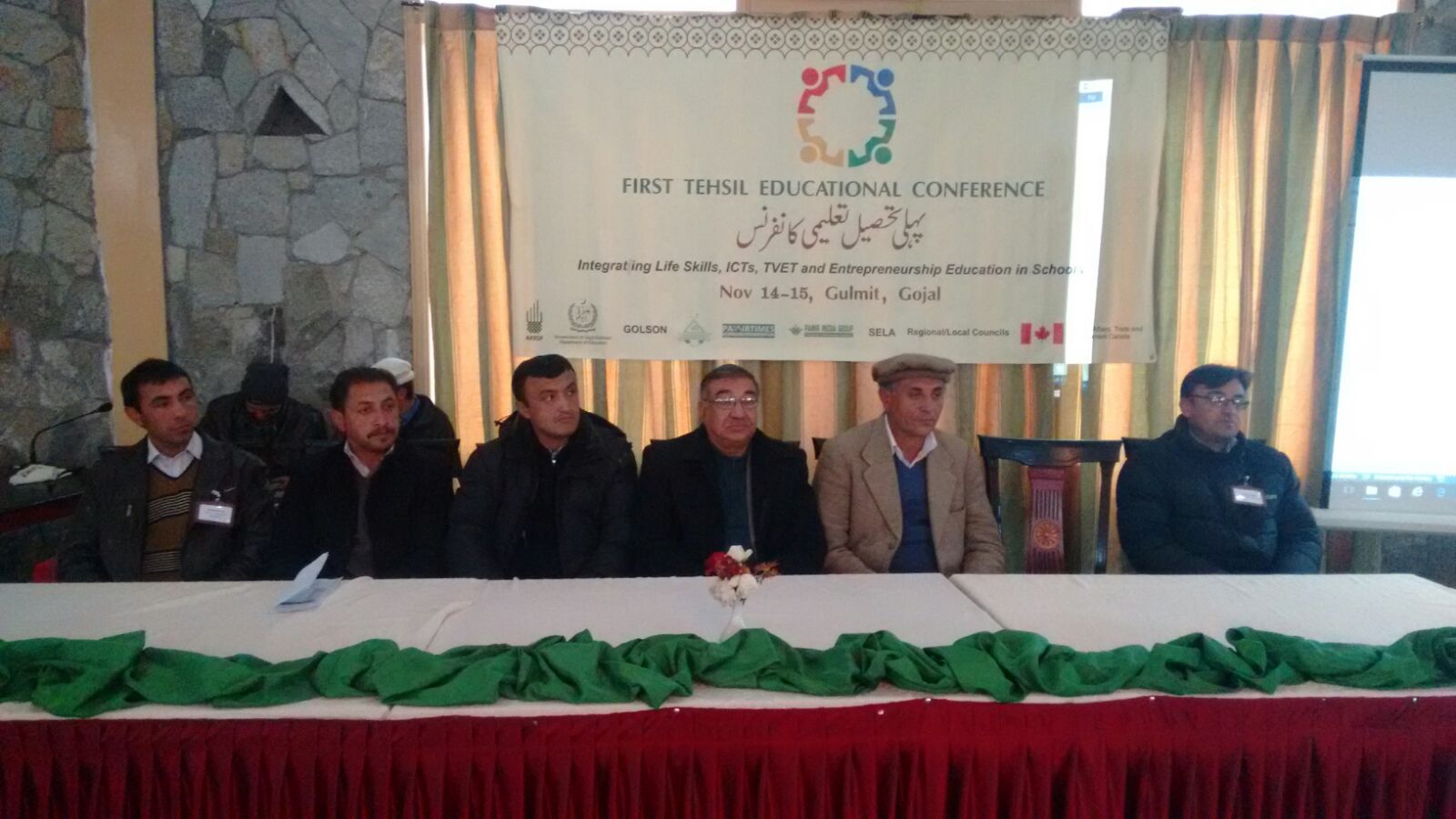 Ex MLA Mutabiat Shah chairing a session on the second day of the First Tehsil Educational Conference