Zahid Hamid vows to highlight Pakistan's climate vulnerability at UN-led climate conference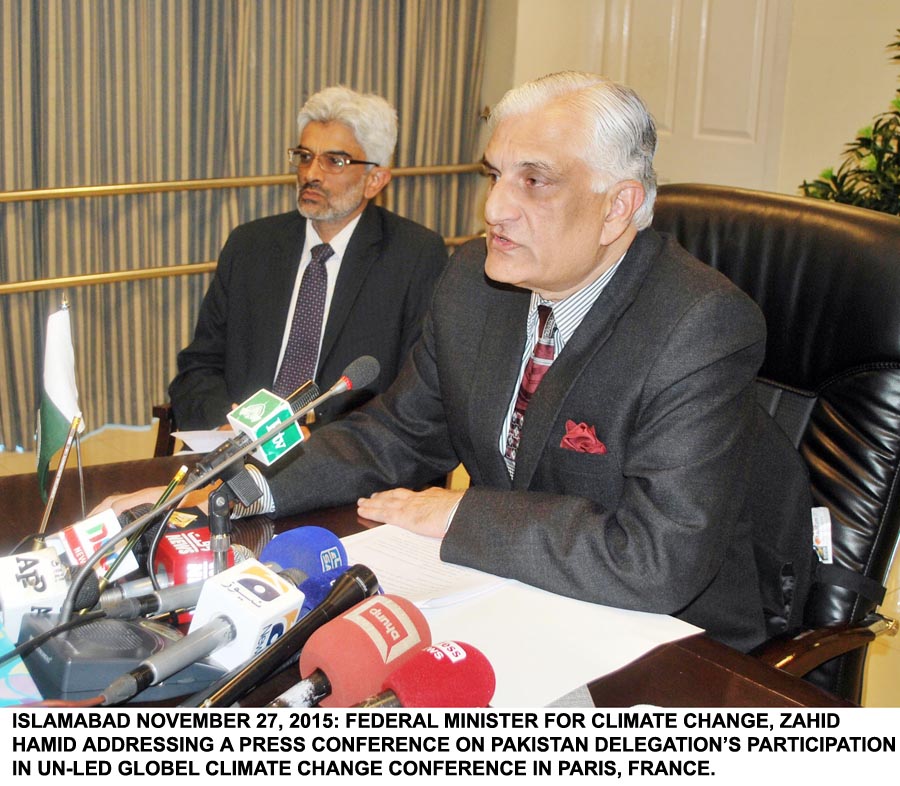 By Saleem Shaikh and Sughra Tunio
ISLAMABAD, November 27: Federal Minister for Climate Change, Zahid Hamid, on Friday pledged to highlight Pakistan's case of growing vulnerability to climate change-induced disasters and push rich countries for financial and technical support for coping with the extreme weather events and boosting country's climate resilience.
"Sustainability of Pakistan's economy is at stake. Because, extreme weather events, particularly flash floods, cyclones, droughts, glacial lake outburst floods, and erratic rainfall patterns, have already badly affected water, agriculture and energy sectors, which are at the heart of the national socio-economic development goals," he emphasized during his press briefing in the climate change ministry on "Goals and Expectations of 27-member Pakistan Delegation's Participation in the UN-led Global Climate Conference in Paris, France.
"During the last 20 years our average annual economic losses due to climate related events have been estimated as US$ 4 billion," he added.
The minister highlighted that the most recent Global Climate Risk Index issued by GermanWatch ranks Pakistan among the 10 most climate change-affected countries.
Briefing about the core goals of the UN-led Paris Climate Change Conference 2015, he told media that the historic event was indeed a defining moment in the history of international climate policy development process. The conference in the shape of the expected 'Paris Agreement' would determine and shape up the contours of the global climate regime with profound economic, social, technological and policy implications and opportunities for countries.
The two-week long climate moot is beginning this year from  November 30 and will be attended by delegations from around 195 developed and developing countries.
The climate change minister Zahid Hamid is leading the Pakistani delegation comprising top key government officials from different federal, provincial government departments, representatives of non-governmetnal organisations, educational institutions and private sectors.
He highlighted that Pakistan's contribution to global emissions was minuscule – roughly 0.8% of global GHG emissions. On the basis of per capita GHG emissions, the country stands at 135th in the world.
"Yet, the country is frequently exposed to climate change-induced extreme weather  events such as droughts, sea level rise, floods, landslides, recession of glaciers and glacial lake outburst floods (GLOF), heatwaves and cyclones," he said.
"The case for Pakistan's exposure to the climate change risks and prevailing opportunities would be compellingly presented at the climate change conference," he vowed.
In the climate change conference, broad focus of the country's participation in the conference would be on highlighting the country's vulnerability to the prevailing and future threats of climate change, with particular focus on our political, institutional and policy readiness to address such threats in a pro-active manner and identify the areas, where international financial and technical assistance would be required.
"We will portray our future economic growth and development objectives and plans as mentioned in Pakistan Vision 2025 and National Climate Change Policy to forcefully accentuate that the country as an economy and the society presents the true and most profound opportunities of interweaving climate finance with cleaner technologies in achieving effective mitigation of emissions in a cost effective manner, particularly, in our energy and industrial sectors. And also to present Pakistan's potential and resilience of our economy and population in adapting to the threats of climate change," he elaborated.
He said that all-out efforts would be taken to strengthen the role and participation of the country in the Warsaw Mechanism for Loss and Damage both institutionally and through other means of influence. Seeing this mechanism is very much important to Pakistan as under this mechanism, the country can claim for funds to recover losses and damages being caused by now increasingly fluent floods, cyclones, paced glacial-melt and shifting, erratic and shrinking rainfall patterns.
"The overall goals and expectations, the Pakistani's delegation is heading to Paris climate change conference with does aim to harness the potential benefits from this global climate event of unprecedented importance and highlight the position of Pakistan in a convincing manner and that the country stands with the global community to combat the common menace of the global warming," The minister told media.
Zahid Hamid said, "We are going to Paris with a very positive and open mind to engage in the development of a globally responsive climate governance framework to save the future of earth and the life on it."
During the press conference, the climate change minister called on world leaders, who are converging in Paris next week, to seal a strong agreement at the Paris climate change meeting, adding that transforming current development models was a "political and economic obligation" for averting the biggest possible humanitarian crisis in the human history by limiting climate-altering carbon emissions into atmosphere.
The minister placed particular stress on the need to adopt low-carbon energy systems and end the "throw-away culture" that contributes to greenhouse gas emissions, major cause of global warming which has made the climatic conditions highly unpredictable.
"In next two weeks, an important meeting on climate change… it would be dismal, and I dare say even disastrous, were particular interests to defeat the common good," he said. "In this international perspective, we are grappled with an inevitable choice: either to improve or to ruin the environment and make the earth and the life on it all unsustainable."
The global climate conference commonly called 21st Conference of Parties (COP-21) represents an unprecedented moment in the process of developing a new energy system, which relies on a minimal use of fossil fuels, aims at energy efficiency and makes use of energy sources with the lowest possible carbon content.
"The global community is, indeed, confronted with a great political and economic obligation to rethink and correct the dysfunctions and distortions of the current model of development," he highlighted.
Secretary Climate Change, Mr. Arif Ahmed Khan and Director-General (Climate Change) Mr. Ifran Tariq, Inspector General of Forests Mr. Syed Mahmood Nasir were also present at the press conference.