Provincial status for GB to jeopardise Kashmir cause, warns Yasin Malik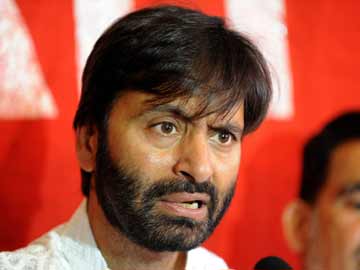 TARIQ NAQASH
MUZAFFARABAD: A Sri­n­agar-based pro-freedom leader has advised Prime Minister Nawaz Sharif to beware of implications of a proposal to convert Gilgit-Baltistan into a province for the Kashmir cause.
In a letter to Mr Sharif, Jammu Kashmir Liberation Front (JKLF) Chairman Yasin Malik referred to media reports suggesting that the government was going to hold a meeting on Jan 14 to deliberate upon GB's future and that the meeting might reach a consensus to merge the territory with Pakistan.
"This will have implications on the dispute over Jammu and Kashmir. If Pakistan imposes its sovereign writ over Gilgit-Baltistan, Delhi will then have a political and moral right to integrate Kashmir with India. Thus with one stroke, Pakistan will be helping India to consolidate its writ on Kashmir," Mr Malik said.
"I, as someone who represents the aspirations and sentiments of the people of Jammu and Kashmir, urge and appeal to you to stay away from such a course of action," he advised the prime minister.
Mr Malik said it was not just his political wisdom but also the regard for the sentiments, sacrifices and aspirations of Kashmiri people that had driven him to make the appeal.
Since 1947, he said, people of Jammu Kashmir had been struggling for their right and despite loss of hundreds of thousands of lives, they held that struggle dear to their heart.
"If your government incorporates Gilgit-Baltistan into Pakistan and, as a consequence, India consolidates its hold on Kashmir, this will amount to a bartering of (Kashmiri) people's aspirations."
Kashmir, he added, was not about territory, but about the rights of people, and bartering the rights for land meant killing aspirations.
Reminding the premier of the promises he had made at a meeting in Lahore way back in 2009, the JKLF leader claimed that then he (Mr Sharif) had defended Kashmiri position on GB and opposed any proposal aimed at changing its legal or constitutional status.
Mr Malik also referred to media reports that the move was linked to China-Pakistan Economic Corridor and said that economic development should not be sought at the cost of the future of millions of Kashmiris.
"History is not made by small bargains and territorial exchanges but by respecting the will of the people… History also judges people in the light of (their) greatness and achievements…. So I urge you to seize the opportunity and become a statesman by not bowing to economic pressures and short-term temptations," he advised Mr Sharif.
Rafiq Dar, an Azad Kashmir-based JKLF leader, told Dawn that Yasin Malik had personally handed over a hard copy of the letter to Abdul Basit, Pakistan's High Commissioner in New Delhi, and emailed it to Sartaj Aziz, the PM's adviser on foreign affairs, on Tuesday.
Source: Dawn