Gilgit: Filipino hunter bags season's largest Astore Markhor trophy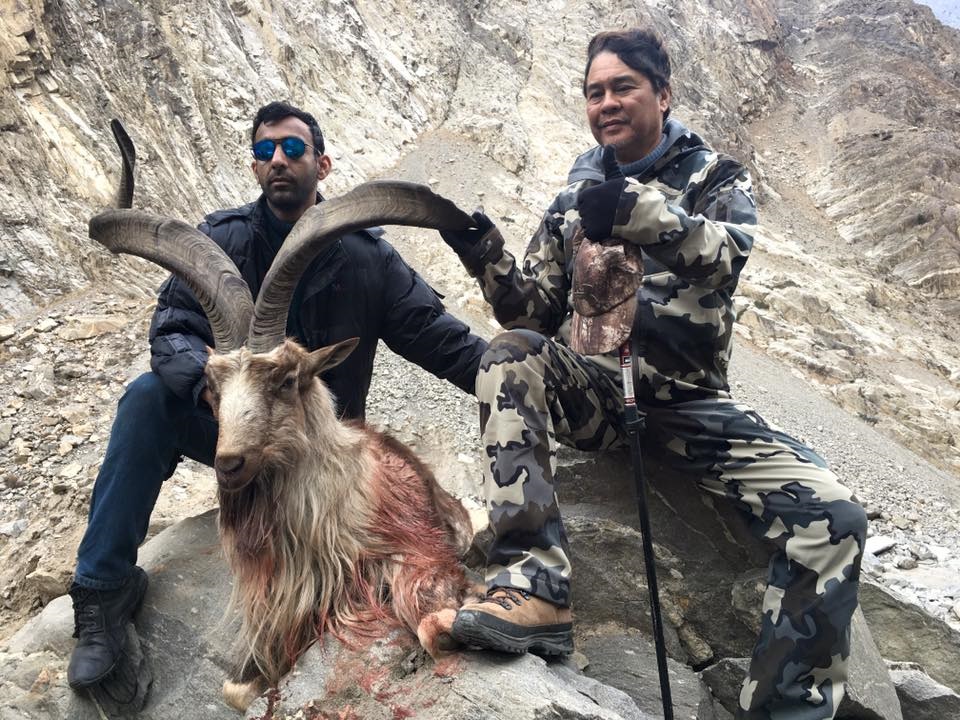 Meraj Alam
Gilgit:  As the trophy hunting season draws to a close in Gilgit-Baltistan, a Philippine hunter has killed the season's largest Astore Markhore in Sasi valley of district Gilgit on Monday. Hunting of the Astore Markhor costed the Filipino hunter a good 67,500 US dollars.
"Astore Markhore, with a trophy measuring 44 inches,  was hunted from a distance of 260 meters", said Ali, a local guide, while sharing details with Pamir Times. The hunter has been identified as Anariky Founandous, a resident of Philippine.
"It was a wonderful experience for me. Without the support of Sasi valley community I wouldn't have been able to collect the trophy or make the hunt", Anariky Founandous told Pamir Times.
Meanwhile, G-B government set this year's hunting permits for four markhors, 60 ibexes and eight blue sheep were auctioned in Gilgit this week. The licence fees for markhors, Himalayan blue sheep and ibexes have been set at $67,500, $8,800 and $3,000, respectively.
The hunting season begins in November and ends in April every year.
Mobashir, RFO Wild life Gilgit told Pamir time that the trophy hunting quota is decided on the basis of annual surveys conducted by wildlife experts.
 Trophy hunting programme began in the 1980s. It is carried out under the Convention on International Trade of Endangered Species of Wildlife and is allowed only in notified areas of G-B in collaboration with the relevant communities.
"Threatened species in G-B  markhors in particular  are hunted by foreigners in return for thousands of dollars.With each hunt, GB government would give 80 per cent of the proceeds to the respective local communities and the rest of 20 per cent would go to the government exchequer" he added.