Gojal: Chipursan Valley left at the mercy of nature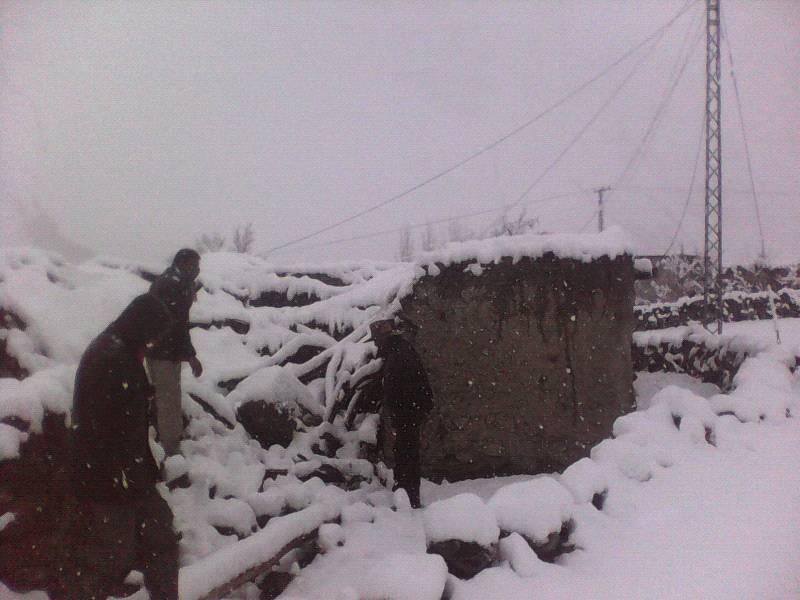 Gojal: This morning it was snowing again in the Chipursan valley are of Tehsil Gojal, Hunza. The traumatized and already strained populace are helplessly looking towards the government and the administration, with none offering any strategy.
The valley, bordering with Afghanistan's Wakhan strip, has been hard hit by landslides and avalanches during the last week. The only road connecting the valley to Sost, the nearest town, is blocked at multiple locations. There's a growing fear in the region that people will soon run out of food and the meager medicine supply available to the thousands of people scattered in around 12 villages.
"Schools are still open in the valley, and the teachers and students are finding it very hard to attend classes", says Haider Ali, a Gilgit based resident of Chipursan Valley. He added that so far the administration and the government have no plan whatsoever to provide relief to the residents of the valley.
"The Naib Tehsildar (assistant magistrate) in Sost has confessed that no emergency plan is under consideration for the stranded populace", Haider added.
The failure of the government to empower the administration in Gojal Valley, an area spread over 8,000 square kilometers, has resulted in inefficiency and lack of resources, some locals believe.
It is pertinent to note that while Hunza has been declared as a district more than 10 months ago, so far there's only one Assistant Commissioner based in Aliabad, and for all administrative purposes Hunza is still being governed as a sub-division. "This is deliberately being done for political purposes", Tahir Ali, a local from Gojal Valley opined. "They want to delay administrative reforms to cash it during elections", he added.
Meanwhile, the Gojal valley remains cut-off from central Hunza due to avalanches and landslides in the vicinity of the Pak-China Friendship Tunnels.