KADO and Hashoo Foundation train 150 people in wood carving, beads-making and music skills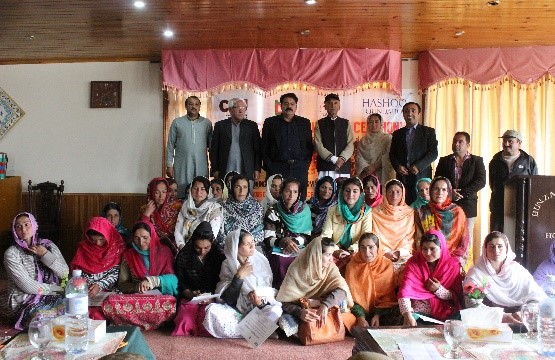 Hunza: Karakoram Area Development Organization (KADO) in collaboration with HASHOO FOUNDATION empowered 150 youth and women from Hunza region by training them in Wood carving, Beads making and revival of traditional music skills.
The training was conducted as part of the project "Harnessing Indigenous Culture for Economic Empowerment"  implemented by KADO in collaboration with the Danish Centre for Culture & Development (CKU) and  Hashoo Foundation (HF). Under this project around 150 trainees completed three months course in the specified trades and 15 business groups formed with the provision of value chain development.
A certificate distribution ceremony was arranged by Karakoram Area Development Organization in Karimabad Hunza, where the Deputy Commissioner of Hunza, Mr. Burhanuddin Afandi distributed certificates among the participants.
DC Hunza appreciated the effort and contribution of KADO and Hashoo Foundation for their diligent contribution in the cultural revival, creating of livelihood empowering opportunities and building of peaceful environment and social harmony in the whole region.
Mr. Kamal Uddin CEO KADO and  Mr.Bulbul Jan Shams RPM Hashoo Foundation briefed the audience about the goals of the project and congratulated the trainees for successful completion of the training.