27 candidates submit papers for Hunza by-elections, Baba Jan's papers rejected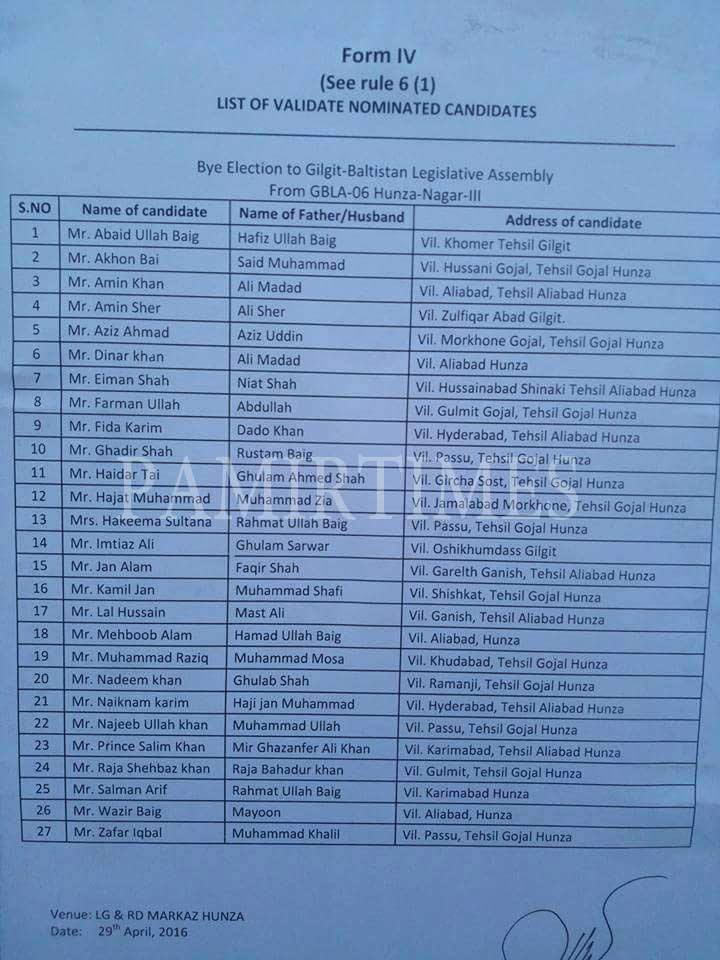 Hunza: Nomination papers of 27 of the candidates have been accepted for the next stage of scrutiny for the GBLA by-elections scheduled on 28th of May in Hunza.  Among the candidates are previous candidates, like ex-speaker Wazir Baig and Zafar Iqbal.
Salim Khan, son of GB Governor Mir Ghazanfar, has also submitted his papers.
Other prominent candidates include Col (r) Abaidullah Baig, Kamil Jan, Raja Shahbaz Khan, Hajat Muhammad, Eman Shah, Naiknam Karim, Lal Hussain and Aziz Ahmad. One female candidate, Hakeema Sultana, has also submitted her papers.
The party tickets have not been decided yet yet, therefore several people from the same parties have submitted their nomination papers.
The nomination papers of progressive leader Baba Jan, who won the second highest votes in last election contesting from jail, have been rejected. The Awami Workers Party (AWP), a federal party having a socialist manifesto, has said that an appeal will be filed with the election tribunal against the rejection of the papers.