Experts urge GB youth to start scientific evidence based awareness initiatives to mitigate climate risks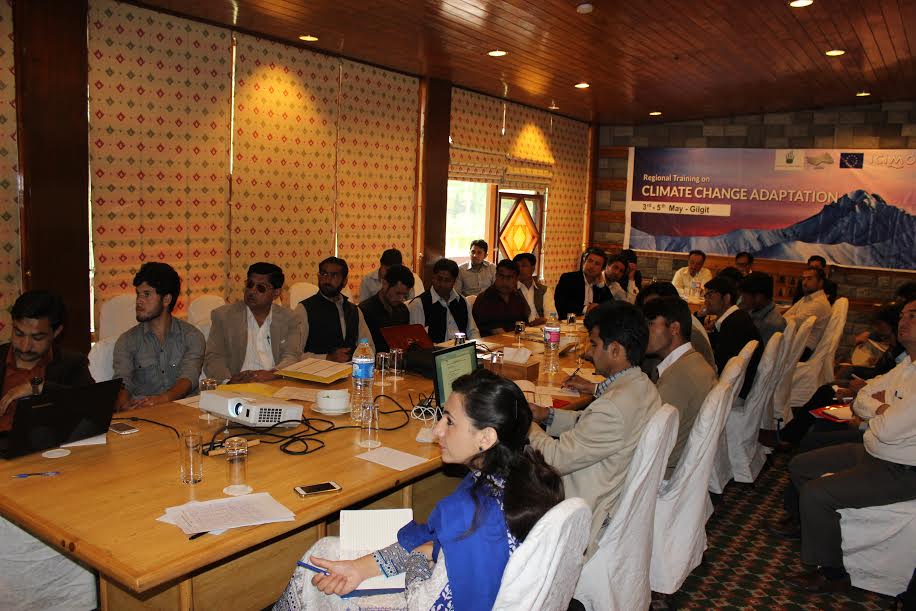 Safdar Ali Safdar
Gilgit: Environmental experts during a workshop urged the young generation of Gilgit-Baltistan to educate the local communities about scientific evidence based actions to manage climate risks and vulnerabilities.
Speaking at the occasion renowned environmentalist and WWF Regional Head Dr. Babar Khan said that Climate Change is an emerging threat to lives, livelihoods and ecosystem in the mountain communities. Over the areas of the Himalayas, the rate of warming is more than five times than warming globally, he added while referring scientific studies.
"The HKH region is geographically diverse, climatically unique, culturally and ecologically rich but is exposed to an array of natural hazards, which impact human life tremendously" said Dr. Babar.
He said that sudden onset of flash floods, earthquakes, landslides, avalanches and glacier lake outburst floods (GLOFs), as well as slow onset drought, desertification, land drifts and soil erosion are common climate related hazards in the region. Therefore, it is important for the young generations to work with governmental and Nongovernmental organizations need to raise awareness among the local communities about the potential threats of Climate Change.
"Climate Change becomes a burning issue of today's world and people should believe its impact on their lives and livelihoods in local context" said Jamiluddin, Regional Programme Manager of the AKRSP while addressing to the closing ceremony of the three days workshop.
He said that Gilgit-Baltistan can be made a smart region by identifying roles and responsibilities of different stakeholders by making climate friendly planning and taking adaptation measures at grass rout levels.
The workshop was facilitated by Sosan Aziz, Gender and Social Development Specialist of AKRSP, Dr. Ghulam Raza, Environmental Sciences Department KIU, Anila Ajmal, Climate Change Adaptation Officer, WWF GB, Shehzadi Hussain and Lal Khan from Focus Humanitarian Assistance (FOCUS) Pakistan.
The workshop titled "Rural Livelihoods and Climate Change Adaptation in the Himalayas" (HIMALICA) was jointly organized by the Aga Khan Rural Support Programme (AKRSP) and Rural Support Programmes Network (RSPN) in collaboration with the International Center for Integrated Mountain Development (ICIMOD), which was attended by dozens of med-career professional from various organizations across the region.