Ghulkin Youth Association celebrates Mother's Day in Gilgit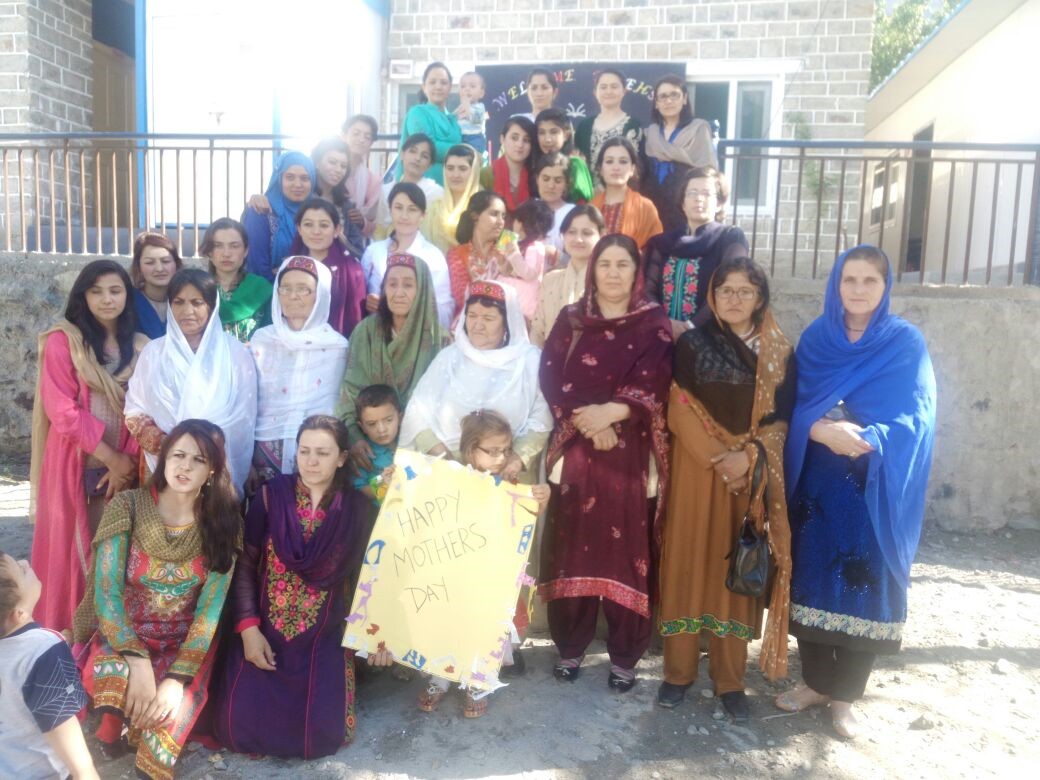 By Wali Ahmed Shah
روز  مادر مبارک
Around the world mother day is celebrated on different dates. In Pakistan it happened on 8th May this year when the very day was also observed for eradication of Thalassemia. Sons and daughters in honoring their mothers and respecting her role of motherhood offer greeting cards and other special gifts. Keeping in view paramount role of mother in family unit, Ghulkin Youth Association, Gilgit (GYAG) gathered moms on mother day here in Gilgit, to pay gratitude for their caring, schooling, unconditional loving and guiding role in the family. The members of this youth platform pay heartfelt salute to all mothers especially those up in the mountains braving the rough and tough vicissitudes of life but providing security blanket saving us from all impending problems.
A home without mother is like a body without soul. A mother is everyone's best friend because she takes care of everything we need. One cannot live without mother and her caring love. She cares and shares our every laughter and sadness, not leaving us alone any moment so long they are breathing in this world. Mothers are the perennial source of love and comfort for us. She is the one who rises before every family member and goes to bed after everyone has gone to sleep. We certainly cannot negate the importance of mother's nurturing quality from our lives. It lays the foundation of our growth and development throughout our life on every dimension.
Mother's lap is first seat of learning, philosophers opine. She teaches us good manners, etiquettes, morality, humanity and helping others in life. She teaches life's most valuable lessons in terms of unconditional love, kindness and many moral values. There are some relations that go through the test of time, among all such relations, the connection we share with our mothers is really priceless as it is constantly being nurtured with love and kindness. There is no relation in this entire world that can be at par with the one we share with our mothers.
Listen to a mother's day song in Wakhi language
The presence of mother makes our childhood memories sweeter, inculcates good habits, and molds our thinking such adjectives are starkly found amiss with those grow in life without presence of mother. It brings to us huge sense of pride and ardent feeling. Though we feel our love and appreciation through mundane gifts and appreciation cannot match or equate with their unlimited maternal affection and tireless efforts.  Whatsoever the token of appreciation, we offer them, it makes huge difference in strengthening our bond and relation with our mothers.
 If the reader of this piece of write-up happens to be wakhi speaker, then you must tune in to the poetic rendition on motherhood by our budding young poet Saif Uddin Saif. Apparently our young dot.com generation are savvier to music listening than reading any serious literature! So listen this song one more time. Some sketchy translation of this meaningful and well worded song on mother may be like
No longer will I remain uncontented

No need to go somewhere to healer

I have my mother physician with me

I would not be sparing in my generosity

My mom who guides me so

In thy healing I need not any medication

Lost her own self in purging me

I am glistening pearl

My mom is the art mistress of this gold making
An anonymous poet of Urdu has expressed his love and feeling for mother, few lines are reproduced here
 موت کی آغوش میں جب تھک کے سُو جاتی ہے ماں
تب کہیں جاکر سکوں تھوڑا ساپاجاتی ہےماں
اوڑھتی ہے خود توغربتوں کا بوسیدہ کفن
چاہتوں کا پیرہن بچوں کو پہناتی ہے ماں
جانے کتنی برف سی راتوں سی ایسابھی ہوا
بچہ تو چھاتی پہ ہےگیلے میں سو جاتی ہے ماں
گھر سے جب دور ہوجاتاہے کو  ئ نو ر نظر
ہاتھ میں قرآن لیکر در پہ آجاتی ہے  ماں
She keeps her emotions, feelings and problems at bay and listens to us. As we go through our lives, we need to take time to come close to our mothers. She is the only person who can give us valuable guidance whenever we feel the need and she is there to encourage us when we feel down. We should keep our mothers happy and never make her sad. She always wants to make us a good human being in the life. So it is time that we realize her significance in our wellbeing.