Government of Gilgit-Baltistan Launches Sehat Hifazat Health Protection Programme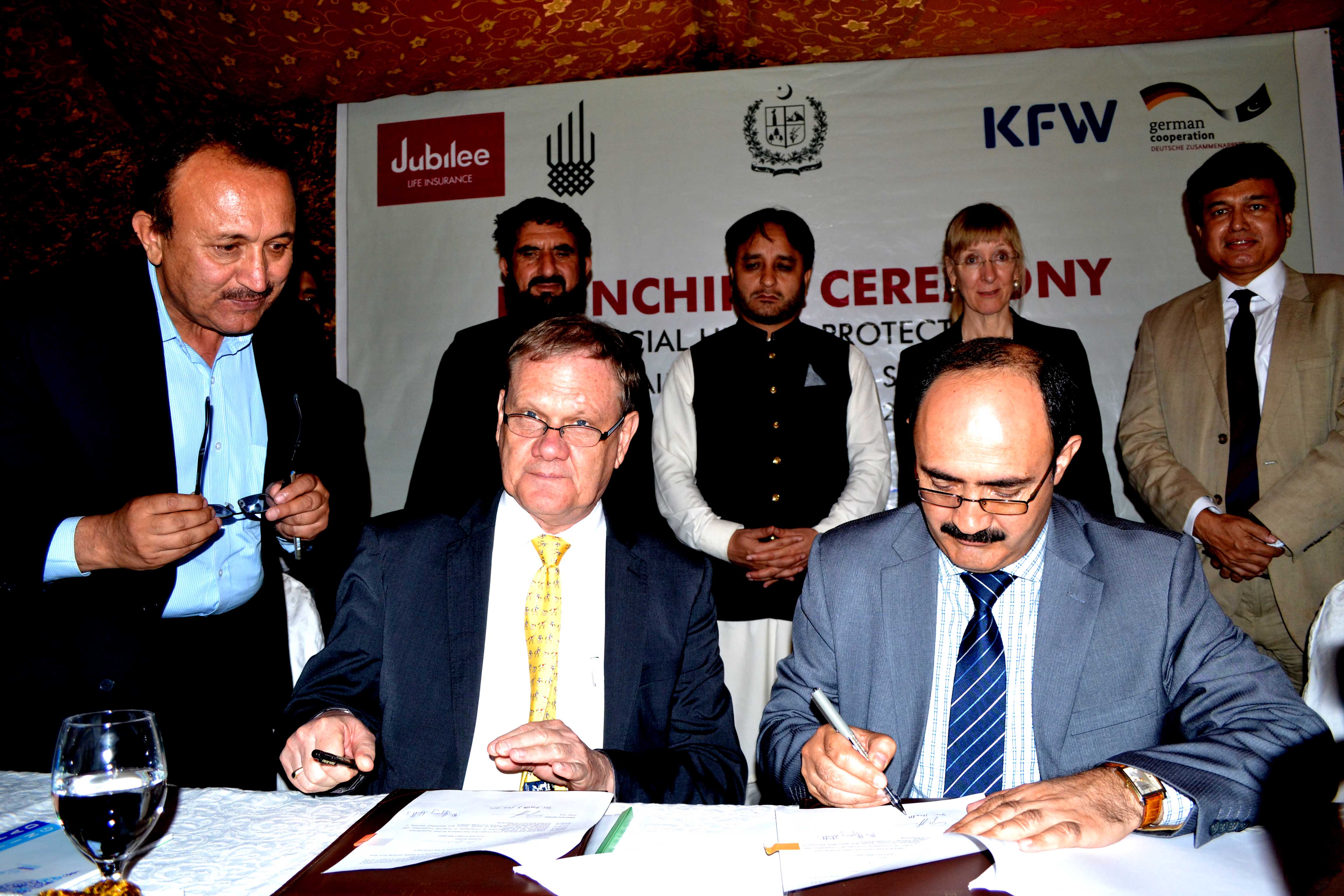 Gilgit, June 3, 2016: Chief Minister Hafiz Hafeez-ur-Rehman formally launched the Sehat Hifazat Programme, a social health protection scheme for Gilgit-Baltistan, in a ceremony held at the Gilgit Serena Hotel.
Under the scheme, "the population of Gilgit-Baltistan will be insured for hospitalisation through payment of a nominal annual premium of Rs. 1700 per family of seven members equating to Rs. 243 per person per year," said Sohail Fakher, Group Head of Jubilee Life Insurance.  "The premium of the poorest 21% households of Gilgit District will be paid by the Government of Gilgit-Baltistan out of the programme funds. The benefits will be up to a maximum of Rs. 25,000 per person per annum. This scheme shall provide cashless facilities at empanelled hospitals and each household will be issued a Sehat Hifazat Card for identification purpose."
The ceremony was attended by the Ambassador of Germany to Pakistan, Ina Lepel, First Secretary, German Embassy, Almut Knop, Director KfW, Wolfgang Moellers, Project Coordinator KfW, Dr. Masuma Zaidi, Chief Secretary Gilgit-Baltistan, Syed Tahir Hussain, Secretary Health & Population Welfare Gilgit-Baltistan, Raja Rasheed Aly, other high officials of Government of Gilgit-Baltistan and representatives of Aga Khan Development Network (AKDN), Oxford Policy Management  (OPM) and other community based organisations.
The German Government, through KfW Development Bank, is supporting the Government of Gilgit-Baltistan for the EUR 1 million (PKR 115 Million) programme. Through a competitive bidding process, the project was awarded by the Department of Health GB to an AKDN consortium comprising of Aga Khan Foundation, Jubilee Life Insurance, Aga Khan Rural Support Programme and Aga Khan Health Service.
The overall goal of the Government of GB's programme is to improve the health status of the population, especially the ultra-poor, and to lower the burden of poverty by reducing out-of-pocket health expenditures.
Speaking on the occasion, the Chief Minister thanked the German Government for its keen and long standing interest in the development of Gilgit-Baltistan, particularly in health, social protection and water and sanitation. He also appreciated the role played by AKDN in the development of GB and hoped that this project will also be well-implemented and that it would create a new model for replication elsewhere in the region and other parts of the country.
Chief Minister Hafiz Hafeezur Rehman and Ambassador of Germany to Pakistan, Ina Lepel, distributed the Sehat Hifazat Cards among the beneficiaries.
The launching ceremony was concluded with a vote of thanks by Secretary Health and Population Welfare, Raja Rasheed Aly to the dignitaries and representatives of the various organizations.