PTI Chief Imran Khan spends busy day in Chitral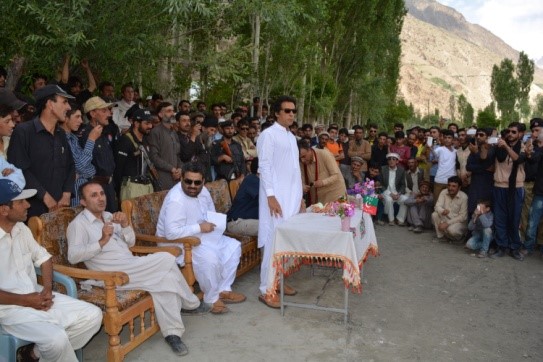 Bashir Hussain Azad
Chitral: On June 29, 2016 Chairman Pakistan Tehrek e Insaf Mr. Imran Khan visited two remote valleys of Chitral Baroghil and Yarkhun. In Yarkhoon Mr. Khan visited visited 800 KVw Mini Hydel power project initiated by Aga Khan Rural Support Programme in Pawoor village Yrakhoon with financial support from Swiss Agency for Cooperation and development.
Present on the occasion was Imtiaz Ahmed Project Manager Water and Energy Security through Micro Hydel (WES) AKRSP who briefed Khan about the ongoing project and shared newly introduced concept of community owned power utility companies through AKRSP WES Project. Mr. Khan appreciated the concept of community owned power utility companies and stressed on replicating the same model in other areas. While valuing the efforts, Mr. Khan extended his maximum support to the WES project.
He also visited few sites of billion tree Tsunami project facilitated by AKRSP. Mr. Khan appreciated community's participation as well as the role of AKRSP in the billion tree Tsunami project. While addressing to Large number of local population gathered on the occasion he emphasized on the need for increased trees plantation in order to prepare for the threat of Global warming in future.